Passover Programs
Thailand
Dear Users: TJT is monitoring the Passover Program industry in the age of coronavirus (COVID-19) for the upcoming year (2021). TJT will be keeping you updated as information about Passover Programs 2021 becomes available.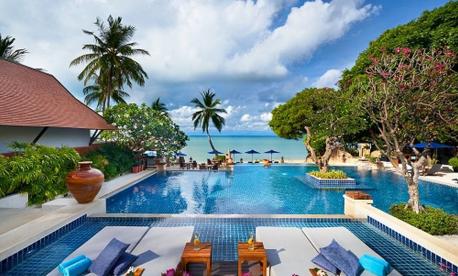 Thailand
Passover Program Koh Samui, Thailand
Passover Program Koh Samui Thailand At The Renaissance Koh Samui Resort & Spa with Keshet Tours
Pesach Vacation in Thailand at The Renaissance Koh Samui Resort & Spa with Keshet Tours. Glatt kosher food, private beach, pools, kids activities, spa, fitness center and exciting attractions and trips.
More Info
Thailand Passover Programs 2021 - Pesach Hotels & Vacations in Thailand

Enjoy a memorable vacation this Pesach in Thailand. We have two programs at Five Star beach resorts and spas along the beach. The weather at that time of year is perfect for a Thai beach vacation. Enjoy luxurious rooms, pools, spa, golf and fitness center. All of the food is kosher, non gebrochts prepared by talented Isreali chefs. This is an amazing family vacation experience whether you want adventure, relaxation, fun or a little bit of everything.
There are so many fun activities for children: swimming with the dolphins, waterpark, Teddy Bear Museum and Underwater World. Spend the day hiking, paintball, biking, snorkeling or kayaking. Visit the unique marketplaces in the area.
Unique family trips in Lamai Beach, Koh Samui Area:
The Samui Elephant Sanctuary where you can help with the elephants' rehabilitation.
Jeep Tour to out of the way sites such as the Mummified Monk, the Secret Buddha Garden and the Na Mueang Waterfall.
Tour the nearby islands, see the fish reef and visit the magical outlook on the Blue Lagoon.
Songkran Festival for the Thai New Year is a water festival with water fights in the street.