Dear Users: TJT is monitoring the Passover Program industry in the age of coronavirus (COVID-19) for the upcoming year (2022). TJT will be keeping you updated as information about Passover Programs 2022 becomes available.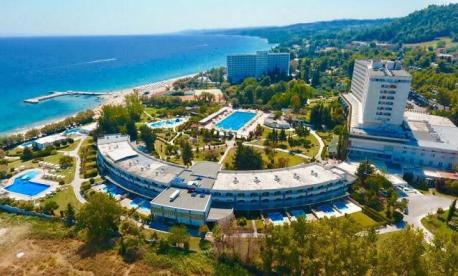 Greece
Amazing Passover Program 2022 in Greece with Arie Traiteur
Amazing Passover Program 2022 in Greece with Arie Traiteur
At the the Theophano Imperial Palace on the Halkidiki Peninsula. Glatt Kosher LePesach LeMehadrin with chef Shalev Kimhi from Israel. All food is Glatt kosher, no kitniot and no Gebrochts. Enjoy shiurim, lectures, entertainment, family game nights and more. There is also kids club.
More Info
Passover Programs 2022 Greece |Pesach Vacation 2022 Greece
Pesach is a great time of year to visit Greece. Greece is located in southeastern Europe with thousands of islands throughout the Aegean and Ionian seas. We have fantastic Passover programs in Greece and surrounding islands. The weather is great at that time of year for sitting on the beach and touring the local attractions. Enjoy a luxury vacation surrounded by natural beauty, crystal clear waters, sandy beaches, culture and history.
Pesach at any of these resorts on the beach would be a dream vacation. They offer golf, tennis, water sports, pools and spas. The Pesach programs provide strictly kosher gourmet food, Glatt Kosher, no kitniot, no gebrochts. No need to worry about anything this Pesach with kids club, lectures, shiurim, entertainment and day trips.
Enjoy a Glatt Kosher Pesach Vacation on the beaches of Greece and the Greek Islands!