Best Passover Programs 2024 in Greece
Passover 2024 begins at sundown on Monday, April 22nd and ends on Tuesday night, April 30, 2024 (Monday night, April 29th in Israel)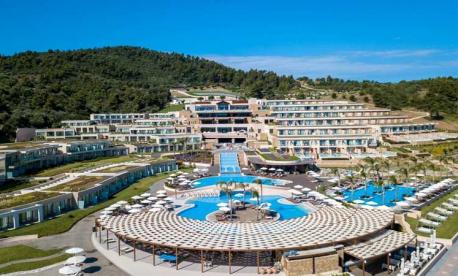 Greece
K Luxury Passover 2024 at the Miraggio Thermal Spa Resort, Chalkidiki, Greece
K Luxury Passover 2024 at the Miraggio Thermal Spa Resort, Chalkidiki, Greece
Greece is a travel inspiration. Join us, to explore a memorable and unique culinary experience with 15 Israeli chefs, within famous singers, mentalist, sport coaches, kids club, tours and activities.
Passover Programs 2024 Greece |Pesach Vacation 2024 Greece

Pesach is a great time of year to visit Greece. Greece is located in southeastern Europe with thousands of islands throughout the Aegean and Ionian seas. We have fantastic Passover programs in Greece and surrounding islands. The weather during Passover is perfect for sitting on the beach and touring the local attractions. Enjoy a luxury vacation surrounded by natural beauty, crystal clear waters, sandy beaches, culture and history.

6 amazing Passover Programs in Crete
Luxury Pesach Programs in Rhodes
Fabulous Passover Program on Mykonos Island
Great Pesach Program in Athens
Pesach at any of these resorts on the beach would be a dream vacation. They offer golf, tennis, water sports, pools and spas. The Pesach programs provide strictly kosher gourmet food, Glatt Kosher, no kitniot, no gebrochts. No need to worry about anything this Pesach with kids club, lectures, shiurim, entertainment and day trips.
Enjoy a Glatt Kosher Pesach Vacation on the beaches of Greece and the Greek Islands!
Make sure to visit TJT's comprehensive guide to
Passover Programs for 2024!