Dear Users: TJT is monitoring the Passover Program industry in the age of coronavirus (COVID-19) for the upcoming year (2022). TJT will be keeping you updated as information about Passover Programs 2022 becomes available.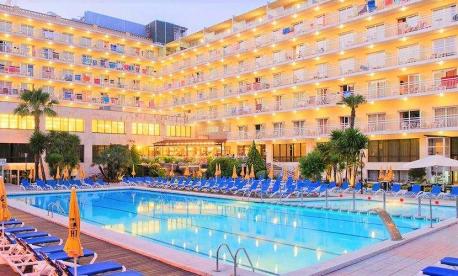 Spain
Pesach Vacation 2022 on the Costa Brava, Spain
Pesach Vacation on the Costa Brava, Spain with Ocher Holidays
Ocher Holidays is proud to present The Hotel Oasis Park & Spa on the Costa Brava, Spain! Glatt kosher Pesach Program in Spain, near the beach featuring pools, spa, gym and playgrounds for the kids. Day trips to Barcelona, Girona and Parc Port Aventura.
More Info
Passover Programs 2022 Spain | Pesach 2022 Vacations in Spain
We have amazing Passover Program in sunny Spain. After the long cold winter, head to the beaches of Spain for your Pesach Vacation. Spain is located on the Iberian Peninsula in southwestern Europe. Spain is known for its beaches and sunshine as well as cultural regions and historic cities. We have fabulous Pesach programs along the beaches of Costa Brava, Costa Dorada, Cadiz, Ibiza and Mallorca.
All the Pesach Programs in Spain are at spa resorts on the beach. They have pools, fitness centers, spa, sauna, jacuzzi and more. There is an abundance of gourmet kosher cuisine; glatt kosher, mehadrin, no kitniot, shmura matzah. Enjoy activities and entertainment for the entire family, with day camp, scuba diving, kayaking, fishing, jet skiing and more. There is so much to do in Spain if you can tear yourself from the beaches. Tour the local area, take in the natural beauty, visit the larger cities and the UNESCO World Heritage Sites.
We offer two Pesach programs at seaside resorts along the Costa Dorada coastline. Costa Dorada is known as "The Golden Coast" featuring sandy beaches, pristine waters and spectacular natural landscapes. We have three programs along the Costa Brava coastline, which sits in the northeast of the country overlooking the Mediterranean Sea. Enjoy water sports, visit the local museums or enjoy the breathtaking views. Spend Pesach in the ancient port city of Cadiz, one of Europe's oldest cities or in Ibiza, an island in the Balearic Islands of Spain with more than 100 miles of coastline and large parts of the island are registered as UNESCO World Heritage sites. Discover the history, culture and breathtaking views of Mallorca. Pesach resort on the beach in Andalusia, on the southern coast of Spain, by the border of Portugal.
Choose your Glatt Kosher Pesach beach vacation in Spain!