Passover Programs
Czech Republic
Dear Users: TJT is monitoring the Passover Program industry in the age of coronavirus (COVID-19) for the upcoming year (2022). TJT will be keeping you updated as information about Passover Programs 2022 becomes available.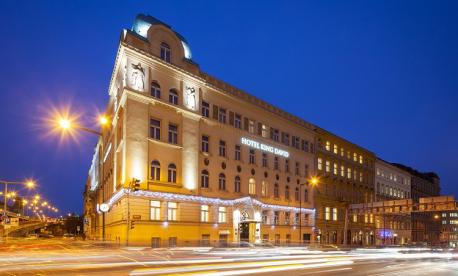 Prague, Czech Republic
Passover Vacation 2022 in Prague, Czech Republic
Passover Vacation 2022 in Prague, Czech Republic
Passover Program 2022 in the Czech Republic. Come to the Hotel KING DAVID & be impressed by the city of Prague. Visit the local Jewish historical monuments, the Jewish Quarter and the Jerusalem Synogogue. The kosher Hotel King David offers spa, steam room, mikveh and synogogue.
More Info
Pesach 2022 Vacation in Prague, Czech Republic
We have two fantastic Passover Programs for 2022 in Prague, the capital of the Czech Republic where you will be surrounded by history. Venture out on Chol Hamoed Pesach to visit Prague Castle, the Charles Bridge, Old Town Square and many more sites.
Join the Minkowitz Family and Leisure Time Tours for a Pesach Program at a five star luxury hotel in the center of Prague. The hotel itself is from the 14th century and is a blend of history and modern design. Pamper yourself at the spa which is spread over two floors of the hotel. The scholar in residence will be Rabbi Yisrael Meir Lau. Enjoy Glatt kosher gourmet food, interesting lectures and shiurim, children's programming and tours.
Spend Pesach vacation at the Hotel King David, the only kosher hotel in the Czech Republic. The hotel has its own synagogue, SPA with relaxation pool, steam room and mikvah. Enjoy Kosher meals in the hotel's restaurant.
Discover the history of Prague during your Glatt Kosher Pesach Vacation!