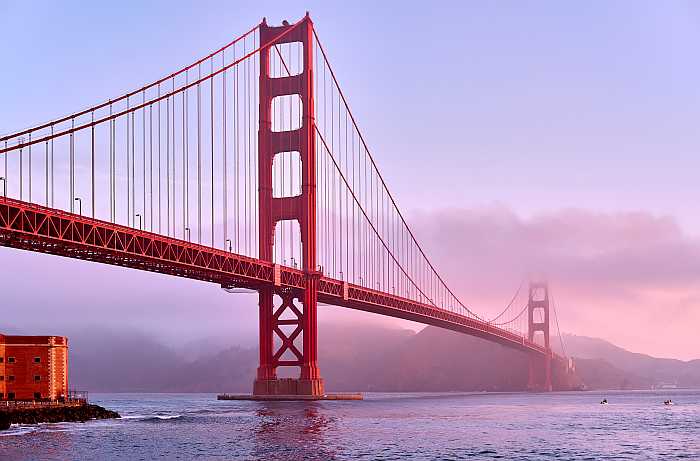 Golden Gate Bridge at sunrise (Photo: Envato)
San Francisco, the captivating city by the bay, is often affectionately referred to as the "Jewel of Northern California." It's a city that promises a variety of experiences - the nostalgic clatter of the cable cars, the bracing sea breeze by the piers, the vibrant murals adorning the Mission district and the dramatic views of the bay at sunset. Yet beyond these memorable sensory experiences, the city also stands as a beacon of cultural diversity and rich history, making it an ideal destination for those seeking a kosher vacation destination
San Francisco, known for its year-round mild climate, offers different shades of beauty in every season. In the summer months, the city enjoys a cool and pleasant climate with an average high in the mid-60s to low 70s Fahrenheit, making it an ideal escape from the scorching heat elsewhere. Then comes fall, arguably one of the best times to visit. Less fog, more sun, and just the perfect amount of warmth. Winter ushers in the rainy season, with temperatures dropping to the mid-50s, and yet, the city's charm continues to glow amidst the drizzle. And as for spring, it's a burst of colors as flowers across the city come alive. So, no matter when you decide to visit, San Francisco greets you with its unique blend of picturesque landscapes and comfortable weather.
San Francisco, along with its neighboring city of Oakland, offers a selection of
kosher dining options
, including a couple of meat restaurants, pizza and catering. There is a Chabad House and hotels nearby if you are in the Bay Area for Shabbat. Check out our guide to
kosher and Jewish life in San Francisco
for more details.
Alcatraz Island (Photo: Envato)


Unforgettable Icons: San Francisco's Must-See Attractions
San Francisco is a city brimming with iconic landmarks, each telling a unique tale of the city's past and present. Topping the list is the awe-inspiring
Golden Gate Bridge
. This towering masterpiece of engineering, painted in its signature International Orange, offers breathtaking views of the city and bay. This landmark is
featured in many movies
and is destroyed in no fewer than 14 films - check out Superman (1978) and X-Men: The Last Stand, just to name a few.
Just off the coast, in the chilly waters of the Pacific, lies the infamous
Alcatraz Island
. Once a formidable prison housing notorious inmates like Al Capone, Alcatraz now serves as a stark reminder of the city's history. Alcatraz is also known as "The Rock" because it is an island located in the middle of the San Francisco Bay. I highly recommend the movie of the same name,The Rock, starring Nicholas Cage and Sean Connery. The island is accessible by ferry and offers a fascinating glimpse into the lives of the inmates, as well as panoramic views of the San Francisco skyline.
Next, immerse yourself in the vibrant and bustling atmosphere of Fisherman's Wharf, where Pier 39 is a major highlight. This popular spot is teeming with specialty shops and entertainment. Its most charming residents, a colony of playful sea lions, have made the Pier's docks their preferred sunbathing spot. The Pier also serves as an excellent vantage point for soaking in views of Alcatraz, Angel Island, and the Golden Gate Bridge. Make sure to explore the various shops and attractions throughout the Wharf for a comprehensive experience.
Navigate your way next to Lombard Street, fondly referred to as the most crooked street in the world. With its sharp turns, beautiful flower beds, and quaint homes, it is a sight that perfectly encapsulates the city's quirky charm.
Finally, end your day at the
Palace of Fine Arts
. Originally constructed for the 1915 Panama-Pacific Exposition, this architectural marvel is a tranquil oasis within the city. The lagoon, the ethereal swans, and the grand Greco-Roman style architecture form a beautiful tableau, making it the perfect place to relax and reflect on your San Francisco journey thus far.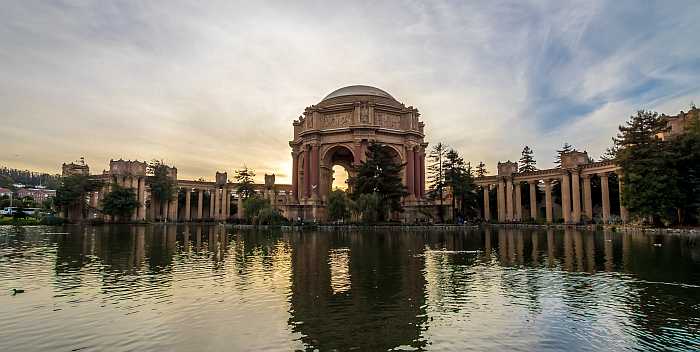 Palace of Fine Arts at sunset (Photo: Envato)
Embracing the Great Outdoors: Adventure Awaits in San Francisco
San Francisco is a dream destination for outdoor enthusiasts, offering a multitude of beautiful landscapes and adventurous activities to explore and enjoy. Nestled between the city's urban sprawl and the sparkling Pacific, these outdoor attractions provide the perfect escape from the hustle and bustle.
Start your outdoor adventure at
Crissy Field
, a lush green park transformed from a former military airfield. Picnic under the clear blue sky while taking in views of the Golden Gate Bridge and the sweeping bay. The beachfront offers an opportunity to dip your toes in the Pacific's cool waters, or simply enjoy a serene sunset.
For a birds-eye view of the city, venture to Twin Peaks, two prominent hills located near the geographical center of San Francisco. Hike to the summit at sunrise or sunset for an exceptionally stunning panorama of the city awakening or bidding the day farewell.
Another outdoor gem in San Francisco is the sprawling
Golden Gate Park
, encompassing over a thousand acres of gardens, playgrounds, and lakes. Venture through its botanical garden boasting over 8,000 plant species, paddle around Stow Lake, or unwind in the Japanese Tea Garden. The park serves as a green sanctuary within the city, offering endless opportunities for leisure and exploration.
If your hiking boots are itching for a walk, the Land's End trail awaits. This scenic coastal trail offers breathtaking views of the Pacific Ocean, the Golden Gate Bridge, and even the ruins of Sutro Baths. Keep an eye out for the labyrinth, a rock maze located on a rocky outlook, and enjoy the serenity it offers.
Finally, don't miss the opportunity to immerse yourself in the tranquil beauty of
Muir Woods National Monument
. It's definitely worth the 40-minute drive from San Francisco. Home to a grove of towering redwoods, the oldest and tallest trees on the planet, Muir Woods is truly a nature lover's paradise. Hike among these ancient giants, listen to the gentle rustle of their leaves, and feel the cool, earthy peace of an old-growth forest.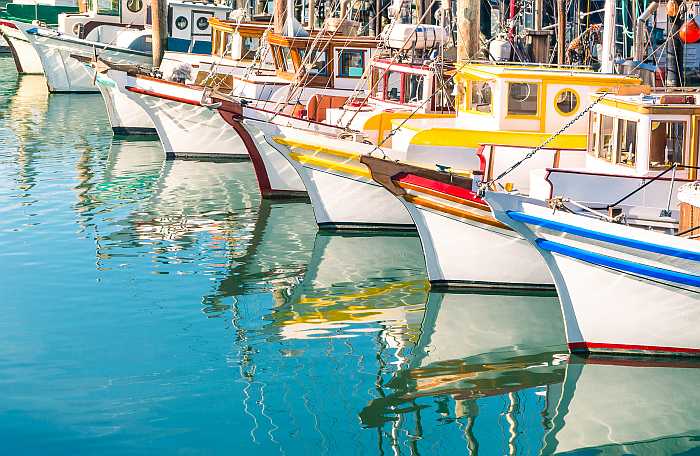 Colorful sailing boats at Fisherman's Wharf (Photo: Envato)
Family Fun Unleashed: Exciting and Educational Activities for Kids in San Francisco
San Francisco is truly a city where fun and learning collide, offering a treasure trove of family-friendly activities that delight both the young and the young-at-heart. These interactive experiences not only bring joy but also spark curiosity and foster an appreciation for the world around us.
Start your family adventure at the
San Francisco Zoo
, home to over 2,000 exotic, endangered, and rescued animals. Explore this fascinating animal kingdom spread over 100 acres, where your little ones can witness majestic lions, playful penguins, and intriguing insects. Engage in animal encounters, participate in feeding times, and enjoy educational exhibits that make learning a fun-filled experience.
Take the reins of creativity at the
Children's Creativity Museum
, a space that fosters innovation and imagination. Your kids can bring their ideas to life through hands-on exhibits featuring animation, robotics, music production, and more. It's a place where art and technology blend, encouraging children to think outside the box.
Next, embark on a thrilling journey of science and natural history at the
California Academy of Sciences
, in the heart of Golden Gate Park. With an aquarium, planetarium, and natural history museum all under one living roof, the Academy offers a multi-faceted learning experience. Marvel at the myriad of marine life in the aquarium, reach for the stars in the planetarium, and uncover ancient mysteries in the natural history museum. It's a place where questions meet answers and science comes alive.
Just a stone's throw away at Pier 39, the
Aquarium of the Bay
invites you to dive deep into the underwater world. Walk through 300 feet of crystal clear tunnels surrounded by more than 20,000 marine animals indigenous to the San Francisco Bay. From mesmerizing jellyfish to sleek sharks, the Aquarium offers an exciting up-close view of aquatic life.
No family trip to San Francisco would be complete without a ride on the city's historic cable cars. As they clatter and clang up the city's steep hills, these moving landmarks offer a whimsical way to tour the city. Children and adults alike will delight in this uniquely San Franciscan experience, providing memories that will last a lifetime.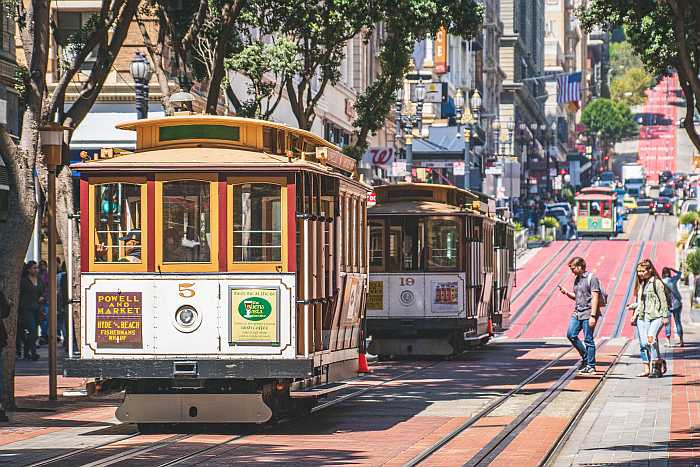 Cable cars (Photo: Alina K - Unsplash)
Conclusion
This city, with its iconic landmarks and stunning landscapes, is a treasure trove of diverse experiences and endless adventures. As we've journeyed together through its eclectic neighborhoods, lively piers, lush parks, and dynamic art scene, we've uncovered a city that's more than just its postcard-worthy vistas. San Francisco is a city that thrives on diversity and creativity, where every corner tells a story and every view leaves you in awe.
When planning your vacation, be sure to check
TJT's list of kosher restaurants
in San Francisco and Oakland. It is always a good idea to plan where you are eating, especially when traveling with small children. If you are spending a Shabbat in San Francisco then get in touch with the Chabad in advance to reserve your spot for meals. See our list of hotels within walking distance to the Chabad house.
So, what are you waiting for? Put together your must-visit list, pack your adventurous spirit, and gear up to experience San Francisco like never before. Trust me, no matter the season, you're in for an unforgettable journey!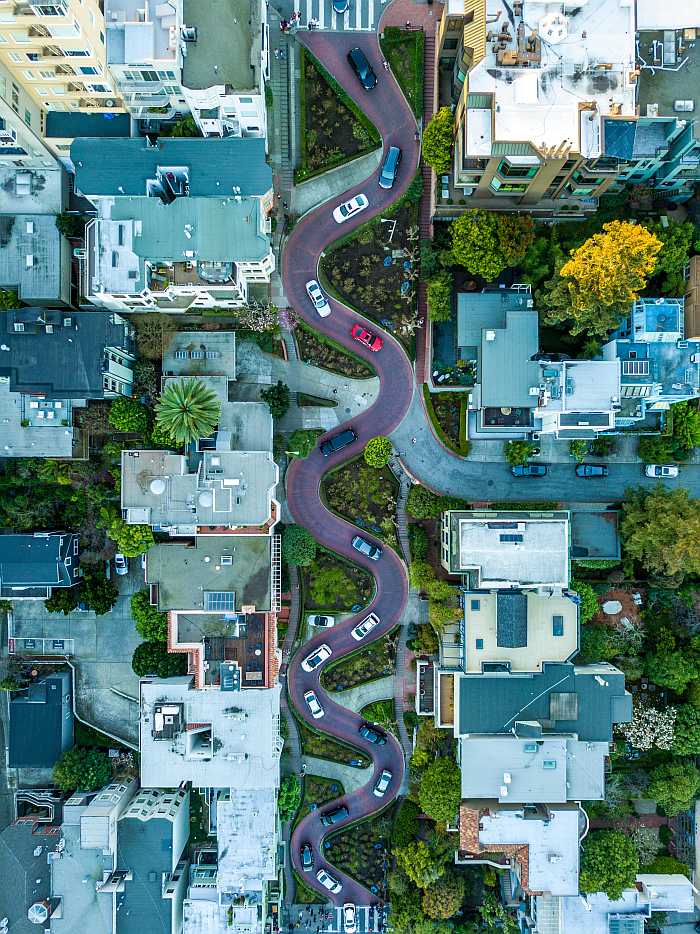 Lombard Street (Photo: Brandon Nelson - Unsplash)