Passover program dessert buffet (Photo: Envato)
Pesach 2024 begins with the first seder on Monday night, April 22nd and ends on Tuesday night, April 30th (Monday night, April 29th in Israel). The food at the seder includes matzahs, wine and the symbolic food on the seder plate: egg, maror (bitter herbs), lettuce, charoset, zeroah (shankbone) and karpas (vegetable - usually potato or celery).
Jewish holidays typically revolve around food.
Passover programs
are no different. There are feasts in the evening, kiddush after davening followed by a huge lunch meal. While Pesach revolves around food and feasts, there is a huge caveat. Jews are forbidden from eating
chametz
(also spelled
hametz
or
chometz
) during the eight days of Pesach (seven days in Israel). Chametz refers to
food products made from the five grains, which include wheat, barley, rye, oats or spelt that come into contact with water and allowed to rise. Many people miss their carbs and feel hungry for the entire holiday of Passover. However, attendees of Passover programs are usually stuffed with huge meals, tea rooms and pool-side BBQs.
There are many
different minhagim, or customs
, regarding food for Passover, the main ones being kitniyot and gebrochts. All these rules and customs come into play when cooking for guests or choosing a Passover program. With only one week to go until we sit down to Seder, many of those staying at home have already begun food shopping and menu planning. I know people who eat kitniyot but don't serve kitniyot when they have Ashkenazi guests. When having guests for meals on Pesach, it's important to ask in advance what their custom is when it comes to kitniyot and gebrochts.
What's the deal with kitniyot?


Kitniyot is a Hebrew word that is defined as legumes, which includes beans, peas and lentils. When used in reference to Pesach the word kitniyot also includes: seeds and grains such as corn, rice, sunflower seeds as well as peanuts and soy. Rabbis in Eastern Europe during the 13th century advised Jews to avoid kitniyot because they were often grown near chametz and could be confused with chametz. This has become an established custom for Ashkenazi Jews but Sephardi Jews never adopted this custom. Sephardi Jews eat kitniyot so their diet doesn't change that much for Pesach. Jews living in Israel need to check all labels before purchasing Passover products since most Passover products contain kitniyot. Also, many restaurants in Israel that are open for Pesach usually have kitniyot.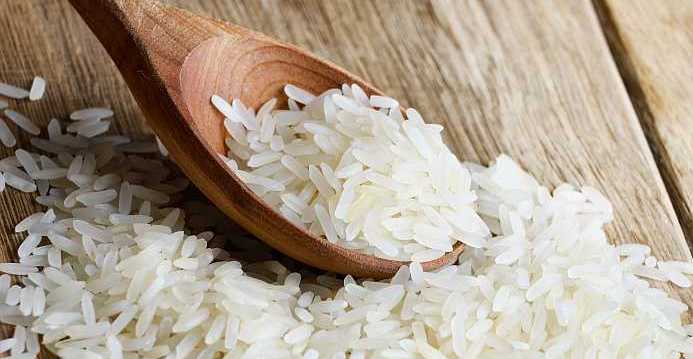 Rice is considered kitniyot - some have custom not to eat rice on Pesach. (Photo: Envato)
In recent years, there has been controversy surrounding the custom of kitniyot. Many Ashkenazi Jews will eat derivatives of kitniyot or will eat food items that contain kitniyot but don't look like kitniyot. Most Ashkenazi Jews aren't serving rice and green beans but there is a trend to be more lenient when it comes to kitniyot. That being said, there has been a shift in kosher for Pesach restaurants in Israel. In the past, many restaurants, especially in Jerusalem, did not serve kitniyot in order to cater to the tourists, most don't eat kitniyot. However, this past year saw many restaurants opening for Passover and serving kitniyot. This is not an issue at Passover programs since almost all Passover programs do not serve kitniyot. However, if you want to join and program and eat kitniyot, there is good news for you.
Gebrochts or non-gebrochts: it's all about the matzah balls in your soup


Gebrochts is a Yiddish word meaning broken and refers to matzah that has absorbed liquid. Gebrochts is also known by the Hebrew word shruya, meaning soaked matzah. Hasidic Jews developed a custom of not putting matzah or any matzah derivatives into any liquid for fear of any clumps of flour possibly coming into contact with liquid and leavening. Jews who don't eat gebrochts don't eat any products made with matzah meal. This means no matzah balls in your chicken soup. They eat mostly products made with potato starch. The custom of not eating gebrochts applies to the first seven days of Passover. Most are lenient on the eighth day of Passover and eat gebrochts.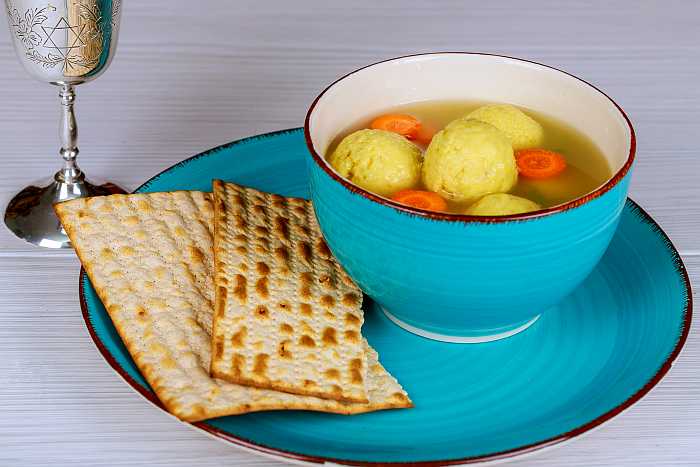 Matzah ball soup (Photo: Envato)


Passover programs are all about the food


Passover programs are known for lavish meals and non-stop food. The food at Pesach programs will depend on your budget. Obviously, higher end programs will have more food at the tea room, more snacks and food all day long. Many Passover programs bring in well-known gourmet chefs to cook for them. The Kluxury Passover program at the Miraggio Thermal Spa Resort in Greece brings in Chef Meir Adoni to cook for their guests. The chefs are very creative and serve up meals that leave you wondering how the food is kosher for Pesach because it is so good. Many people choose their program based on the quality and amount of food served and if top chefs are brought in to cook. There are lots of Jewish foodies and they want to know that they are going to be eating well when they shell out money for a Pesach program. Over the past decade, food presentation has gone viral with people photographing their food and sharing across social media platforms. The Passover programs take care to put together beautiful buffets filled with delicious food.
Chef Meir Adoni at Kluxury Passover program at the Miraggio Thermal Spa Resort in Greece
Guests of Passover programs don't feel the limits of the dietary laws of Pesach. The chefs and kitchen staff are very creative when sourcing ingredients and creating dishes to offer up tasty meals. They have advanced techniques to create special Pesach dishes to please all palates. Most people who make Pesach at home don't have access to all these ingredients and techniques. When eating at Passover programs, guests sometimes don't even feel like it is Pesach, other than the matzah on the table. Passover programs take care to make sure that their guests don't go hungry by providing lavish tea rooms and boxed lunches for day trips.

Conclusion


For some people "Pesach food" conjures up images of potatoes and the taste of dry chocolate cakes. Many people feel like they are hungry for the entire week of Pesach. It is difficult to feel full with the dietary restrictions imposed by the holiday of Passover.
Pesach programs make every effort to ensure that their guests don't go hungry. They hire top-rated chefs, source local ingredients and keep up with the latest food technologies. Passover programs provide three meals a day, boxed lunch for day trips, tea room, pool side BBQs and some have elaborate Mimouna celebrations after Pesach ends. TotallyJewishTravel.com has all the information that you need to plan your
Passover vacation for 2024
.
Originally published: August 3, 2022