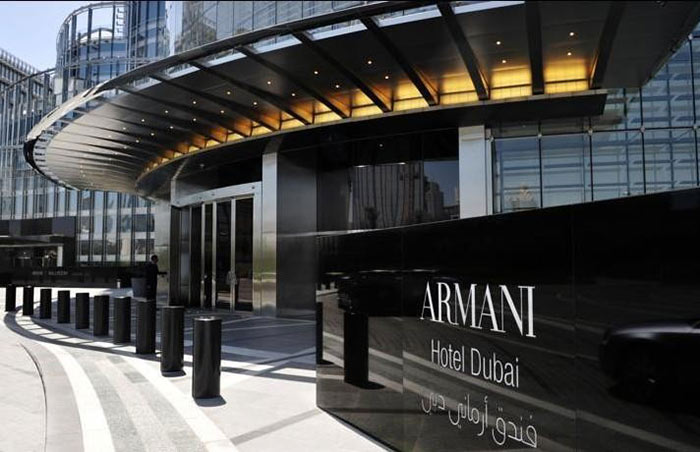 Armani Hotel Ballroom Entrance / The Armani Hotel Dubai

UAE's first kosher restaurant opened a few weeks before the signing of the historic Abraham Accords. Located in Burj Khalifa's Armani Hotel Dubai announced the opening The Armani/Kaf kosher restaurant opened on Thursday, September 17, 2020.
The Armani Hotel Dubai
is nestled in the world's tallest tower, occupying concourse level through to level 8 and levels 38 and 39. The Armani Hotel Dubai offers sweeping views across the city and Arabian Gulf. With its own dedicated entrance, it is situated within walking distance of The Dubai Mall, the world's largest retail destination, set within the vibrant Downtown Dubai business and leisure district.
Kosher Cuisine: WIth Rabbi Duchman & Chef Fabien Fayolle of the Armani Hotel

For those seeking kosher meals, the Armani/Kaf is located on the second floor operating from 18:30 to 23:00 (Orders till 23:00) Please note that the restaurant has moved to larger venue and can now host up to 120 guests.
The hotel will also offer a take away menu for breakfast and Shabbat meals. Orders will need to be collected at the Armani/Lounge, located at lobby level from 10am to 22:00.

The Kashrut is Glatt LeMehadrin Cholov and Pat Yisroel, with supervision provided by EAKC - the Emirates Agency for Kosher Certification - which is led by Rabbi Levi Duchman the Chabad-Lubavitch Emissary to the United Arab Emirates.

Starguest Winter Sun Kosher Vacation in Dubai / Habtoor Palace Hotel, Dubai


Since the announcement of the Armani Hotel's new kosher restaurant, several more new kosher establishments have opened in the UAE;

Starguest, a UK based premium Kosher caterer, will have a luxurious kosher winter sun program at the Habtoor Palace Hotel Dubai, located on the banks of Dubai Water Canal, Habtoor Palace, LXR Hotels & Resorts resides in the finest address alongside a permanent water-based theatre production and an array of retail and leisure facilities including boutiques, stylish cafés and signature restaurants.

With its personalized Butler Service and a palatial experience, guests will be spoilt for choice with exclusive access to facilities and services available across Al Habtoor City, Dubai's first-ever integrated urban resort.

Shaineld is operating a full kosher winter program (from Hanukkah till March 2021), as well as a kosher Passover program in the Conrad (Hilton) hotel

Gaya Tours together with My Tours has started (November 2020) to offer kosher travel packages hosted at the Grand Hyatt Dubai Hotel

Chabad of the UAE has started a special Shabbat hospitality program which is taking place in the Address Marina Hotel Dubai, with Kiddushim, Shabbat meals and Shabbat services, making the stay a comfortable and spiritual experience in a luxurious hotel.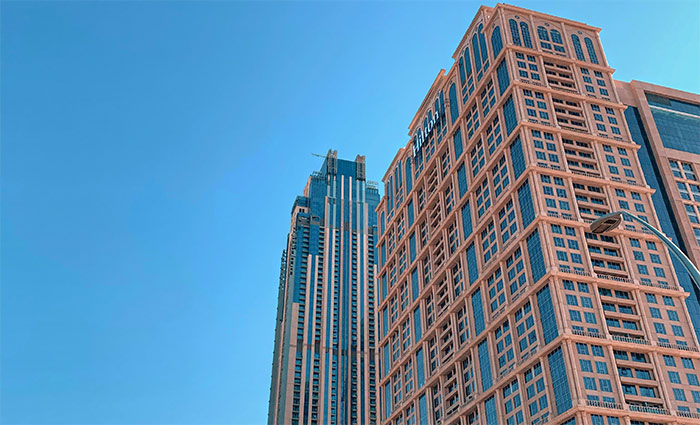 Elli's Kosher Kutchen in the Hilton Supervised by the OU / Photo: Evans Akanno

Elli's Kosher kitchen is operating a kosher kitchen in
the Hilton Dubai Al Habtoor City Hotel
, this kitchen is supervised by the Orthodox Union (OU). The hotel is located off Sheik Zayed Road and next door to La Perle by Franco Dragone. Downtown Dubai sights, shops, and restaurants are a 10-minute drive away.
The Hotel offers rooftop pool, kids' club, spa, WiFi and free parking. A free shuttle will take you to the beach and nearby mall.

To sum up, here are the five kosher venues:
The Armani Hotel Dubai, featuring the Armani/Kaf (contact the hotel directly)
Kosher winter programs at the Habtoor Palace Hotel Dubai (contact Starguest for Bookings)
Kosher Winter and Passover programs at the Conrad Hilton Hotel (contact Shainfeld for bookings)
kosher winter programs at the Grand Hyatt Dubai Hotel (contact Gaya Tours)
The Dress Marina Hotel Shabbat hospitality by Chabad (contact Chabad of the UAE)
Ellie's Kosher Kitchen at the Hilton Dubai Al Habtoor City Hotel (contact Ellie's Kosher Kitchen for bookings)
From speaking to kosher tour operators we have learned that quite a few are planning interesting kosher programs for the coming winter and also Passover, stay tuned!
On September 8, in a letter to all hotels the Department of culture and tourism in Abu Dhabi has stated that they are looking ensure that kosher food will be available for all visitors and tourists to the emirate of Abu Dhabi as well as advising all hotel establishments to include Kosher food options on room service menus and at all food and beverage outlets.

For detailed information about the various possibilities please check our guide to Dubai and the United Arab Emirates, we will be updating our listings and information on a daily basis.