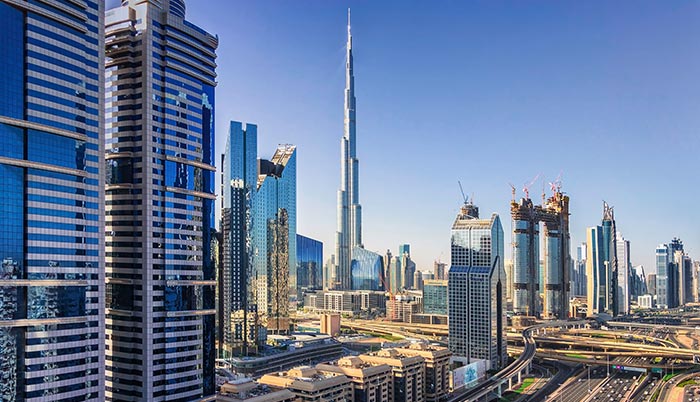 Dubai, a city in constant development / Photo: Kent Tupas
Well before the historic
Abraham Accords
were signed in October 2020, there were kosher eateries already established in Dubai, serving religious Jewish travelers to the area.
Read ahead for the list of kosher restaurants and to learn about the latest updates added February 17, 2022.
Launched in 2019,
Ellie's Kosher Kitchen
, run by Ellie Kriel, was the pioneer operation operating a kosher catering service, mainly serving Jewish observant business travelers and diplomatic staff who were visiting Dubai and the UAE. Elli's Kosher Kitchen received OU Certification in November 2020 and is certified Glattt Kosher Lemehadrin. We were informed that the kosher catering received its EAKC kosher certificate as well, under the supervision of Rabbi Levi Duchman.

Ellis Kosher Kitchen has moved from the Hilton Dubai Al Habtoor City and has plans to open a kosher Cafe and bakery in the Golden Mile Galleria (Palm Jumeirah)- all dairy items are Chalav Yisrael. This is in addition to Elli's Kosher catering and Kosher take away services available throughout the year. Elli's Kosher Kitchen provides packed meals for desert safaris, yacht cruises and any other tour activities for travelers on the go. Elli's Kosher Kitchen delivers Shabbat meals to most hotels in Dubai.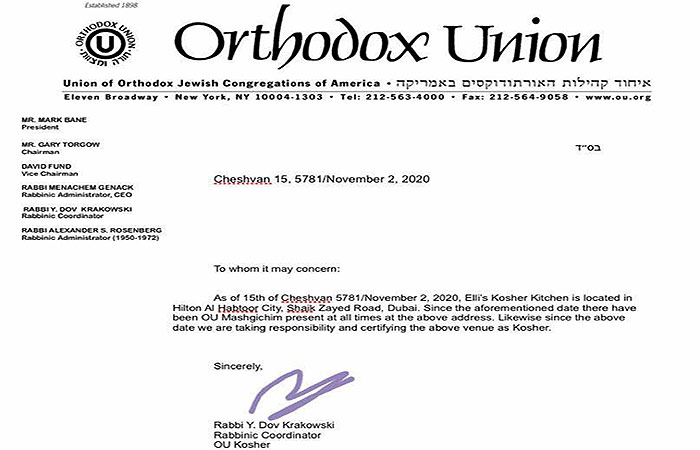 OU Kosher Certificate / Ellie's Kosher Kitchen
Located in Burj Khalifa's Armani Hotel Dubai, the
Armani/Kaf Kosher Restaurant
is United Arab Emirate's first kosher certified Restaurant. The restaurant has tripled its occupancy from 40 to 120 seats and moved from the ground floor to the second floor of the award-winning luxury hotel, adjacent to Armani/Hashi, and will deliver a standalone culinary experience. The Armani/Kaf is certified by Rabbi Levi Duchman. Since it launched, the kosher restaurant has been a huge success, fully booked every day.
Update: The Armani Kaf Kosher restaurant is now open for Lunch and Dinner from 12:30pm to 3:00pm and 6:30pm to 11:30pm Sunday to Thursday. 2 Course menu AED149. 3 Course - AED199

Rabbi Levi Duchman established the Chabad House in the United Arab Emirates and provided kosher products as well as operating a small kosher catering service. Rabbi Duchman was officially appointed as the Chabad emissary to the UAE in October 2020. Chabad operates Shabbat hospitality programs at the Jumeirah Creekside Hotel, including Shabbat services, Kosher Shabbat meals, Kiddushim etc. Contact the
Chabad House
before your visit.
Treat Kosher
is a kosher catering service, offering take away and deliveries in Dubai. Treat Kosher is supervised by Rabbi Levi Duchman, Glatt Kosher, Pat & Cholov Yisroel.
Kosher Cuisine: WIth Rabbi Duchman & Chef Fabien Fayolle of the Armani Hotel

The Kosher Place
Restaurant, opened shortly before Pesach 2021, is located in the beautiful Jumeirah Creekside Hotel in one of the most attractive neighborhoods of the city. The restaurant opens for lunch and dinner and will also offer full or half board options for guests of the hotel. The Kosher Place is under strict Kosher supervision of Rabbi Levi Duchman, Rabbi of the UAE.
Mul Hayam
proudly introduced itself as "The first Kosher Israeli style restaurant in Dubai". It is a vegeterian fish restaurant, featuring beach front seating with a great view of the marina and the city. The kosher restaurant is supervised by Rabbi Levi Duchman - certified
Lemehadrin
.
As of today there are
nine
official kosher eateries in Dubai. All of the kosher locations - except Mul Hayam - are not fitting for grabbing a spontaneous bite due to the increased demand and also thanks to the unstable "Corona restrictions" so it is highly recomended to make arrangements
in advance
, preferably before arriving in Dubai.
Here is the up-to-date list of Kosher Restaurants in Dubai:



More information to come soon!

Important note! Kosher and availability are constantly changing, please contact the place you wish to visit before arrival. Also it is very important to check the kosher certificate on the premises or contact EAKC or the OU Mashgiach to be sure. Thanks!