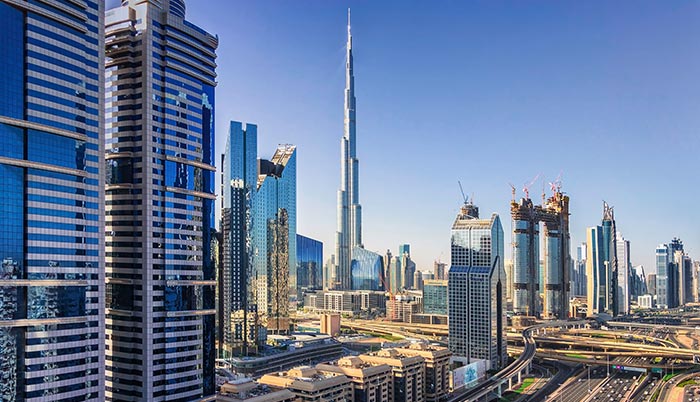 Dubai, a city in constant development / Photo: Kent Tupas
Well before the historic Abraham Accords, signed in October 2020, there were kosher eateries already established in Dubai, serving religious Jewish travelers to the area.
Launched in 2019, Ellie's Kosher Kitchen, run by Ellie Kriel, was the pioneer operation operating a kosher catering service, mainly serving Jewish observant business travelers and diplomatic staff who were visiting Dubai and the UAE.
Elli's Kosher Kitchen received its new OU Certificate in November 2020, and is also regulary supervised by Rabbi Yehuda Sarna, Chief Rabbi of the Emirates.The kitchen is now located at the Hilton Habtoor City in Dubai.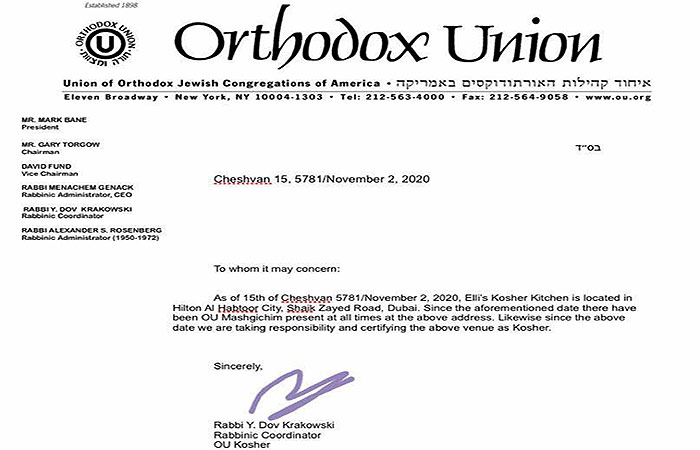 OU Kosher Certificate / Ellie's Kosher Kitchen


Located in Burj Khalifa's Armani Hotel Dubai, the Armani/Kaf Restaurant is United Arab Emirate's first kosher certified dining venue.
The 40-seat pop-up dinner venue is located on the ground floor of the award-winning luxury hotel, adjacent to Armani/Hashi, and will deliver a standalone culinary experience. The Armani/Kaf is certified by Rabbi Levi Duchman.
Since it launched, the restaurant has been a huge success, fully booked every day. Management is considering moving the restaurant to a different, much larger venue with more covers in the Armani Hotel

Rabbi Levi Duchman established the Chabad house in the United Arab Emirates and provided kosher products as well as operating a small kosher catering service. Rabbi Duchman was officially appointed as the Chabad emissary to the UAE in October 2020.


Kosher Cuisine: WIth Rabbi Duchman & Chef Fabien Fayolle of the Armani Hotel

As of today there are 4 official kosher eateries in Dubai:
Ellie's Kosher Kitchen, located at the Hilton Habtoor City hotel
The Armani/Kaf Kosher restaurant, certified by the EAKC
Treat Kosher – Kosher Gourmet catering, located in downtown Dubai, EAKC
and the Chabad House

Chabad is also operating Shabbat hospitality programs at the Address Dubai Marina (was before at the Palace Downtown Hotel) including Shabbat services and Kiddushim etc.
Please check the TJT
up to date listings
for Shabbat times and further details.
Some of the Kosher food operators also serve other parts of the UAE, like Abu Dhabi but we advise you to check in advance. Due to Coronavirus restrictions you will find it hard to get kosher food delivered to you if prepared in another emirate (while writing this words, Abu Dhabi is officially a red zone and you cannot cross to Dubai and vice versa)