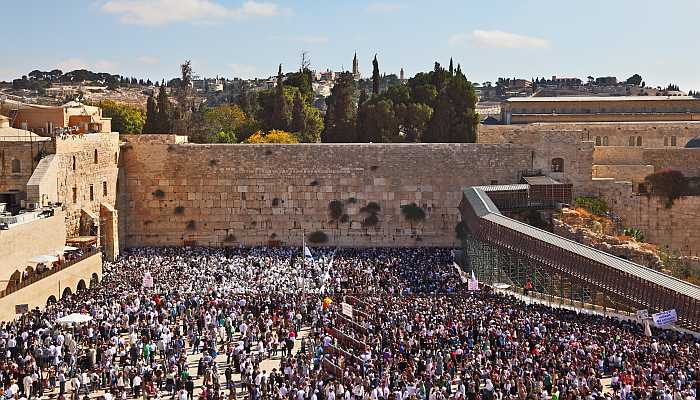 The Kotel in Jerusalem on Chol Hamoed (Photo: Shutterstock)
Israel has long been a popular vacation destination for Passover. Pesach 2023, which begins on Wednesday night, April 5th and ends on Wednesday, April 12th in Israel (Thursday, April 13th outside of Israel), will be the first year since COVID that tourists will be coming to Israel. While the country was open to tourists for Pesach 2022, that was only announced around two months before Pesach when most people had already made their plans for Pesach. At this point last year, nobody knew when Israel would be opening its borders so it wasn't really an option.
If Sukkot is any indication, there will be many tourists flooding the country for the next holiday known as one of the Three Pilgrimage festivals. The Torah (Hebrew Bible) commands Jews to go up to Jerusalem for Three Pilgrimage Festivals of Passover, Shavuot and Sukkot. Jews from around the world continue to come to Israel and visit the Kotel (Western Wall) during the three pilgrimage holidays. Thousands of people flock to the Kotel on Chol Hamoed Sukkot and Pesach to be there for Birkat Kohanim (Priestly Blessing) ceremony with hundreds of Kohanim.
Passover Programs 2023 in Israel
There is something truly special about being in Israel for the Passover holiday. The weather is idyllic, not too hot and not too cold. It very rarely rains at all on Pesach in Israel. There is so much to see and do over the holiday. Since Israel is a Jewish state and goes according to the Jewish calendar, there are many festivals, performances and special activities throughout the week of Chol Hamoed. The country is small so nothing is really very far from wherever you are but leave early because there can be a lot of traffic as the entire country is on vacation. There are museums and national parks in all parts of the country and they have shows and activities for kids and families for the holiday.
Be sure to check back with us frequently as we are adding Pesach programs on a daily basis. Check out TJT's complete guide to
Passover programs around the world
. Many programs sold out early last year so the earlier you book the better. There are
Passover program prices
to suit a range of budgets in various locations. You are sure to find the best Pesach program for your family.