Costa Rica coast (Photo: Shutterstock)
Costa Rica has become very popular with kosher travelers over the past few years and it is no wonder. This small country at just over 51,000 square kilometers, is a testament to the fact that sometimes, the best things come in little packages. Often dubbed the "Switzerland of Central America," it has tons of attractions thanks to its diverse ecosystems, rich culture and emphasis on eco-tourism. It boasts some of the world's most stunning rainforests, beaches, and mountain landscapes.
The country is known for its tropical climate, which has two distinct seasons: the dry season and the green season. The dry season runs from December to April when the weather is sunny and clear, making it perfect for beach trips and animal watching. The green season runs from May to November when the weather is cooler and wetter, but it is also very green and beautiful.

The average temperature in Costa Rica is around 80°-90° F (approximately 26°-32°C) on the coasts and 75°-80° (approximately 23°-26°) in the central valley. The mountains can be much cooler and see some rain and mist throughout the year. The weather can be a bit unpredictable so best to check the weather in the areas you will be visiting so you can plan accordingly.
Costa Rica promises a unique blend of nature, adventure, and culture. Read on to find out where to get kosher food, find a minyan and the best activities for your kosher getaway to Costa Rica.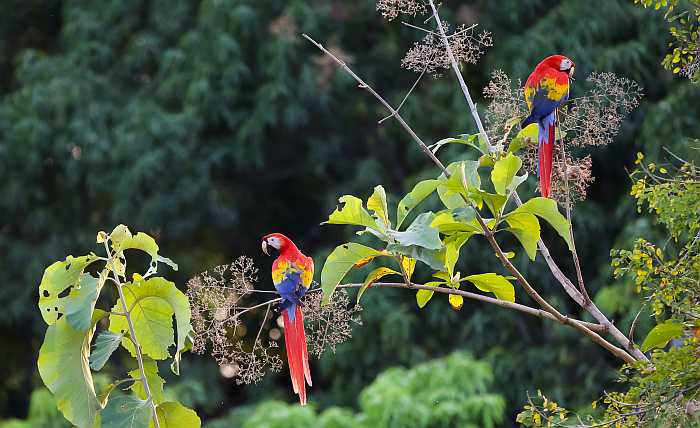 Scarlet macaw in national park in Costa Rica (Photo: Shutterstock)
Finding Kosher Food & Minyan in Costa Rica
Costa Rica is a kosher vacationer's paradise. It's a beautiful country full of adventure and you can get fresh
kosher food and find a minyan
. There are Chabad Houses located throughout the country as well as the Jewish Zionist Center of Costa Rica (CIS) which is located in San Jose. You can find kosher food and minyan in San Jose, Jaco and Santa Teresa. There are products with kosher symbols from the US in big supermarkets across the country. You can order catering to take with you to more remote destinations that do not have Chabad or kosher food available.
San Jose
is probably the easiest place to find kosher food and a minyan in Costa Rica. There is a Chabad House that provides kosher catering as well as a few kosher food options. Super Kosher sells groceries as well as prepared foods. They offer delivery outside of San Jose for a fee. The Kosher Center has a restaurant, take out, butcher, deli and bakery. There is a dairy cafe located inside the CIS. The CIS also has an Orthodox shul and a mikveh. It is best to order in advance. Check the store websites, they ask for 48 hours and up to 10 days advance orders. Many people stock up on food in San Jose before moving on to other areas of the country where kosher food options are more limited.
Jaco Beach
is a great option for kosher travelers. The Jewish Center of Jaco Beach has a shul, kosher restaurant, kosher catering and a kosher hotel. Izu's place is a kosher complex in Costa Rica that includes the Hahari Hakadosh Synagogue and the restaurant Sabress. Jaco also has a Chabad House that hosts Shabbat and holiday meals.
Chabad of Santa Teresa
provides services for tourists. They have minyan and meals on Shabbat and holidays. The Chabad sells meat, chicken and wine, depending on availability. They run a meat take out restaurant in the Chabad House.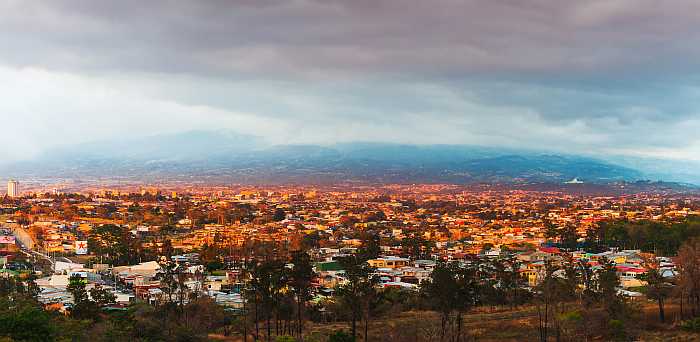 San Jose at sunset (Photo: Shutterstock)
San Jose Highlights: Culture and Nature in the Capital
San Jose is often a starting point for travelers. While there are attractions in San Jose, most vacationers find it better to stock up on food and supplies and move on to other areas of the country. For those who want to spend some time in San Jose, here is a list of top attractions:
Gold Museum (Museo del Oro): Dive into the world of pre-Columbian gold artifacts and learn about the indigenous cultures of Costa Rica.
Jade Museum (Museo del Jade): A place to see the largest collection of jade artifacts in the Americas.
Poás and Irazú Volcanoes: These volcanoes offer a glimpse into Costa Rica's geothermal activity. Popular day trip about 1 to 1.5 hours from San Jose
La Paz Waterfall Gardens Nature Park: An eco-park featuring trails to cascades, a wildlife sanctuary, lush tropical rainforest and spectacular waterfalls. About 1.5 hours from San Jose.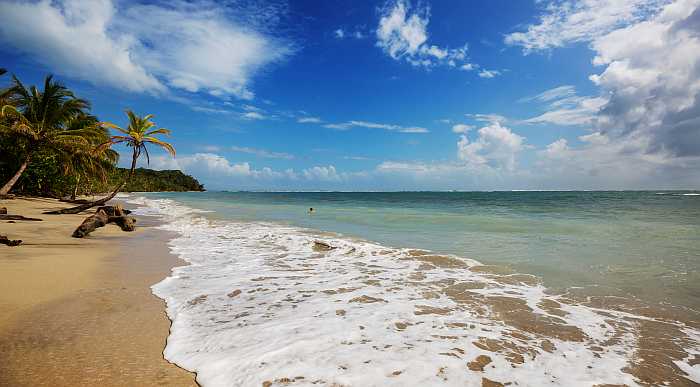 Beach in Costa Rica (Photo: Envato)


Jaco Beach: Costa Rica's Vibrant Coastal Playground
Nestled along the Pacific coast, Jaco Beach is renowned for its lively atmosphere, golden sands, and proximity to adventure. You can fly into San Jose and it's about 1.5 to 2 hours to drive to Jaco. Here's a list of top activities in Jaco Beach:
Surfing: With consistent waves, Jaco is an ideal spot for both beginners and experienced surfers. Many local schools offer lessons.
Hermosa Wildlife Refuge: A short drive from Jaco, this refuge is a nesting spot for sea turtles and a great location for beach walks.
Carara National Park: Renowned for its biodiversity, this park is a birdwatcher's paradise, especially for spotting scarlet macaws.
Rainmaker Park: Conservation project dedicated to preserving the region's biodiversity. The park boasts a series of suspension bridges, allowing visitors to experience the rainforest canopy firsthand, along with pristine waterfalls and a variety of flora and fauna.It's about half an hour from Jaco.
Manuel Antonio National Park: The park is a blend of tropical rainforest, pristine beaches, and diverse wildlife, from playful capuchin monkeys to slow-moving sloths. It's about 1.5 hours from Jaco.
ATV Tours: Navigate the surrounding rainforest and hills for stunning vistas of the coastline and lush hinterlands.
Jaco Ropes: An adventurous canopy tour that offers zip lining, rope courses, and a chance to soar above the rainforest.
El Miro: An abandoned lookout point that offers panoramic views of Jaco. Perfect for sunsets and photography.
Playa Blanca: A lesser-known white sand beach near Jaco, offering a quieter and more serene beach experience.
Graffiti Tour: Discover the local street art scene that showcases the work of talented artists and tells stories of the community.
Hike Bijagual Waterfall: Located in the mountains near Jaco, this hidden gem provides a tranquil setting, ideal for picnics and cooling off.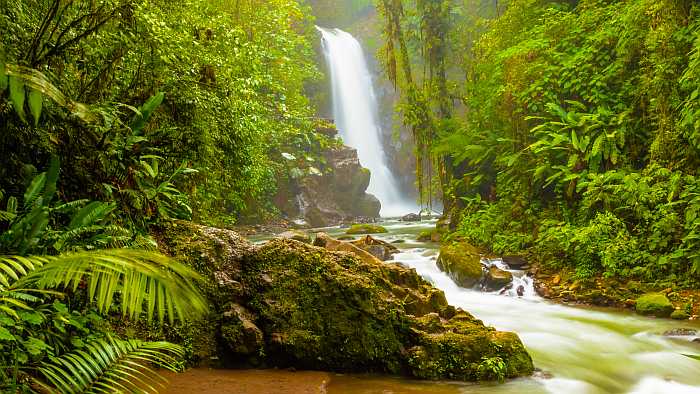 Waterfall in the jungle in Costa Rica (Photo: Shutterstock)
Santa Teresa: Surf, Serenity, and Scenic Splendors
Santa Teresa, located on the Nicoya Peninsula, has blossomed from a remote fishing village into a booming surf and yoga haven. Its laid-back vibe, scenic beauty, and pristine beaches make it a sought-after destination. You can fly into one of the international airports (San Jose or Liberia), then take a domestic flight to Tambor and rent a car, take a shuttle or taxi to Santa Teresa. Here is a list of top attractions in Santa Teresa:
Surfing: Renowned for its consistent waves, both beginners and pros flock to Santa Teresa's shores. Surf schools dot the coastline for those looking to learn.
Yoga Retreats: Numerous centers and resorts in the area offer yoga classes with the backdrop of the ocean or jungle, providing a serene experience.
Santa Teresa Beach: Stretching miles, this sandy haven is perfect for sunbathing, beach volleyball, or simply watching the sunset.
Cabo Blanco Nature Reserve: Situated south of Santa Teresa, this was the first national reserve in Costa Rica and is home to diverse wildlife.
Montezuma Waterfalls: Just a short drive away, these cascading falls offer a refreshing dip and a fantastic photo opportunity.
Horseback Riding on the Beach: Experience the coastline in a unique way during sunset or sunrise, feeling the rhythm of nature.
Tortuga Island Snorkeling Trips: While a popular spot, it's a unique experience to snorkel or dive around Tortuga Island's vibrant coral reefs.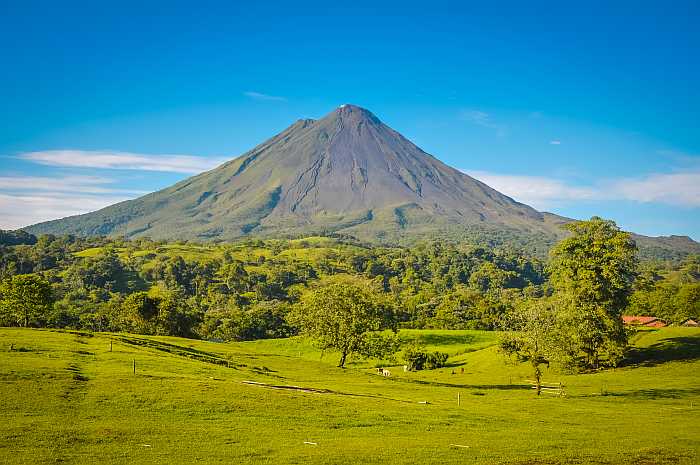 Arenal volcano (Photo: Shutterstock)


La Fortuna: Gateway to Arenal's Natural Wonders
La Fortuna, situated in the shadow of the Arenal Volcano, is one of Costa Rica's top destinations, known for its natural beauty and adventure activities. After flying into San Jose and picking up kosher food, visitors can then either take a domestic flight or drive to La Fortuna. Here's a list of top attractions in La Fortuna:
Arenal Volcano: A nearly symmetrical cone-shaped volcano that is one of Costa Rica's most iconic landmarks. While it's been mostly dormant since 2010, it's still an impressive sight.
Arenal Volcano National Park: A vast park surrounding the volcano, offering hiking trails through lava fields and tropical forest.
La Fortuna Waterfall: A stunning 70-meter high waterfall that cascades into a natural pool, perfect for swimming.
Tabacón Hot Springs: Natural thermal waters heated by the volcano, set amidst a lush tropical garden. There are also other hot spring resorts in the area like Baldi and The Springs Resort.
Arenal Hanging Bridges: A series of suspension bridges and trails through the rainforest, offering spectacular views and opportunities to spot wildlife.
Lake Arenal: A massive lake great for windsurfing, fishing, kayaking, and enjoying beautiful views of the volcano.
Cerro Chato: An extinct volcanic crater filled with water, offering challenging hikes and picturesque views.
Venado Caves: Limestone caves that allow visitors to explore underground chambers, see unique rock formations, and maybe spot some bats!
Proyecto Asis: A wildlife rescue center where visitors can learn about and even volunteer to help rehabilitate local wildlife.
Adventure Activities: Due to its location, La Fortuna offers a plethora of adventure activities like white-water rafting, zip-lining, horseback riding, and canyoning.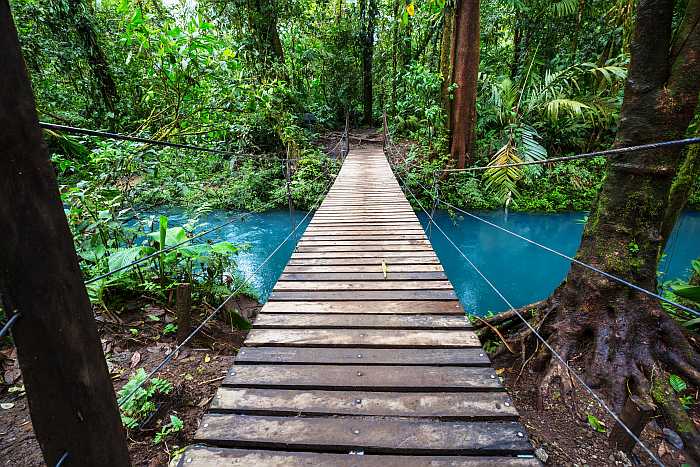 Suspension bridge in the jungle in Costa Rica (Photo: Envato)


Conclusion
Costa Rica is an amazing exotic kosher vacation destination. It is known for its natural beauty, biodiversity, and adventure activities, which make it a unique and exciting place to visit. Costa Rica offers a wide range of experiences, from exploring national parks and wildlife sanctuaries to relaxing on beautiful beaches and soaking in hot springs. In this blog post, I concentrated on the tourist attractions near kosher food and minyan.
You can do all of these things and enjoy fresh kosher food and find a minyan. You can pick up kosher food in San Jose, stay in the kosher complex in Jaco or get fresh kosher food in Santa Teresa. There are many more attractions and activities that I couldn't include here. You can bring kosher food with you to the more remote tourist destinations. Check out
TJT's guide to kosher and Jewish life in Costa Rica
to help you plan your trip.
Not just a haven for sun-seekers, Costa Rica is a biodiversity hotspot, dedicating a remarkable 25% of its land to protected areas. As you explore, you'll quickly realize why the locals live by "Pura Vida" – a celebration of life and a testament to the country's vibrant spirit.