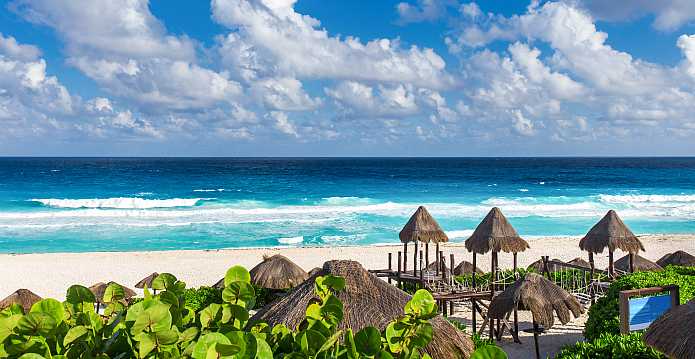 Passover programs at beach resorts in Mexico (Shutterstock)
Passover programs south of the border have become very popular in recent years. After the harsh winter weather, many people want to join a Passover program in a warm weather destination. Heading to the tropics in March-April, before the rainy season, almost guarantees nice weather, with average temperatures in the 80's.
Passover 2024 begins at sundown on Monday, April 22nd and ends on Tuesday night, April 30th.
It's a nice long vacation on the beach, enjoying the resort amenities, hiking, touring or water sports. There are great
Pesach programs
in the Bahamas, Mexico, Costa Rica and Panama.
Check out our comprehensive guide to Passover programs. We provide a brief description of each hotel and program. Please click on the program for more information. We are adding new programs on a regular basis so check back with us frequently.
Atlantis Resort & Spa with Kosherica: This resort is packed with amazing activities, from swimming with dolphins to a large waterpark. The program offers high-end cuisine, day camp, minyan, lectures and shiurim
Grand Hyatt Playa Del Carmen with Diamond Club Vacations: Entire resort reserved for the program, featuring multiple dining options, spa and pools. Enjoy delicious food, entertainment and children's programming.
Fairmont Mayakoba on the Mayan Riviera with Passover Oasis Vacations: Newly renovated hotel boasting villas, pools, golf, coral reefs and pristine beaches. The program offers meals, tea room, religious services, lectures, kids' programming and entertainment.
Marriott Puerto Vallarta Resort & Spa with Organizacion Hafikoman: The resort has a spa, kids' club, beautiful beaches and easy access to local golf courses. The program provides meals, coffee bars, boxed lunches, minyanim and shiurim.
The Paradisus Resort in Playa Del Carmen with VIP Kosher Tours: The resort boasts 8 pools, private beach and water park. Program offers gourmet food, entertainment, speakers and activities for kids and teens.
Paradisus Los Cabos in Cabo San Lucas with Royal Passover: Resort on the beach with stunning views, pools, spa and concierge service. Enjoy an amazing culinary experience, complimentary airport transfers, shiurim, kids programming, sports clubs, excursions and entertainment.
Hotel Casa Conde with Costa Rica Kosher Adventures: Beach resort is ideal starting point for visiting rainforests, national parks and dive sites.Program provides delicious meals, synagogue, scholar-in-residence, guided Chol Hamoed tours and kids' camp.
Dreams Playa Bonita Panama with LeVoyage: All-inclusive family resort only a short drive from Panama City, where the jungles meet the mountains and the beach. The program provides minyanim, kids' club, entertainment and activities.
Boutique Pesach Program with Chabad of Bocas Del Toro: Luxury hotel options available, gourmet meals by Yoss Burger and fun activities.
The Sofitel Guarujá Jequitimar with The Best Kosher: Luxury hotel on the Sao Paulo coastline including pools, golf course, spa and fitness center. Glatt kosher food, Ashkenazi and Sephardi minyan, daily lectures and shiruim and kids club.
Passover programs at resorts on the beach in warm weather destinations tend to sell out quickly. Most Pesach programs sold out early last year, with many programs having long waiting lists. Now is the time to start researching for your Pesach vacation. Some programs offer early bird discounts so best to book early. There is a range of
Passover program pricing
based on location and amenities. Flights fill up and airfare rises the closer we get to Pesach so best to book your tickets as soon as you choose a Passover program for 2024.