Lamai Beach on Koh Samui (Photo: Shutterstock)


Thailand, often dubbed the "Land of Smiles," owes its moniker to the warmth and hospitality that its people radiate. This endearing nickname, originally coined as a tourism marketing strategy, genuinely reflects the nation's welcoming spirit. The marketing strategy worked and Thailand is listed as the 8th most visited country in the world by
World Population Review
.
Nestled in the heart of Southeast Asia, Thailand beckons travelers with its kaleidoscope of experiences. From the urban energy of Bangkok to the cultural enclave of Chiang Mai and the sun-kissed shores of Phuket, there's something in this land for everyone.
Thailand has a tropical climate with high temperatures and humidity year-round. The best time to visit Thailand is from November to February when the weather is cooler and drier. March to May is the hottest season, while June to October is the rainy season.
Kosher travelers need not worry about finding
kosher food in Thailand
. Thanks to Chabad, you will not go hungry. There are Chabad houses in Bangkok, Koh Samui, Chiang Mai and Phuket. You can find minyan, Shabbat services and kosher food in these locations. This blog will focus on the areas that have easy access to kosher food, minyan and mikvahs. We'll go through the top attractions and hidden gems of each place as well as some general travel tips and transportation information.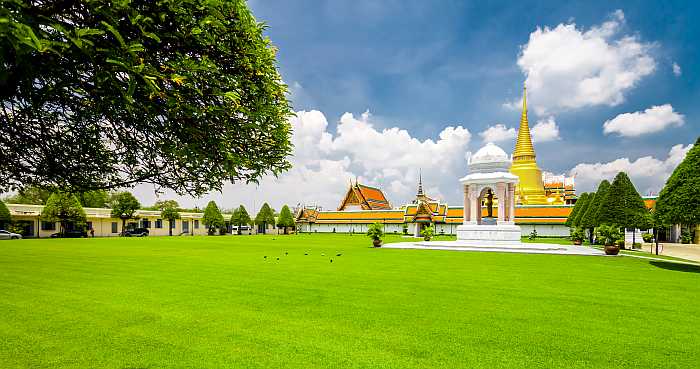 Grand Palace in Bangkok (Photo: Envato)


Bangkok: Attractions; Kosher & Jewish life
The capital of Thailand, Bangkok is a vibrant juxtaposition of old and new. Towering skyscrapers stand sentinel beside historic temples, while bustling markets coexist with sleek shopping malls. As a city that never sleeps, Bangkok offers a kaleidoscope of experiences.
Chabad has a strong presence in Bangkok
, with three Chabad houses, minyanim, kosher food and mikveh. Thailand is especially popular with Israeli backpackers and hundreds of them can pass through Chabad in one day. Chabad of Bangkok runs a dairy cafe, meat restaurant, bakery and kosher shop. You will probably find the most kosher food and religious services in Bangkok.
Top Attractions:
The Grand Palace: A historic complex that was the royal residence and now serves as a museum showcasing Thai architecture. Insider Tip: Ensure your shoulders are covered (avoid sleeveless tops) and legs are fully covered (no shorts allowed). If unprepared, you can purchase appropriate attire or coverings on-site. Don't worry, it's reasonably priced and could also serve as a memento from your trip.
Khao San Road: A backpacker's paradise, Khao San Road buzzes with life, offering a vibrant blend of nightlife, and eclectic stalls.
Chatuchak Market: A sprawling maze of over 8,000 stalls, Chatuchak Market is a shopper's dream, boasting everything from vintage finds to tantalizing Thai treats.
Hidden Gems:
Eiah Sae: A traditional coffee shop that's over 70 years old, giving a glimpse into old Bangkok.
Jim Thompson House: An oasis of art and history, the Jim Thompson House showcases traditional Thai architecture and the intriguing legacy of the Silk King.
Chinatown: A sensory explosion, Chinatown teems with aromatic street food, bustling markets, and a rich tapestry of history and culture.
Unique Cultural Experiences
Visit a floating market and experience the hustle and bustle of local vendors selling their wares from boats.
Attend a Muay Thai boxing match and witness the national sport of Thailand.
Take a tuk-tuk tour of the city and explore the streets and alleys of Bangkok.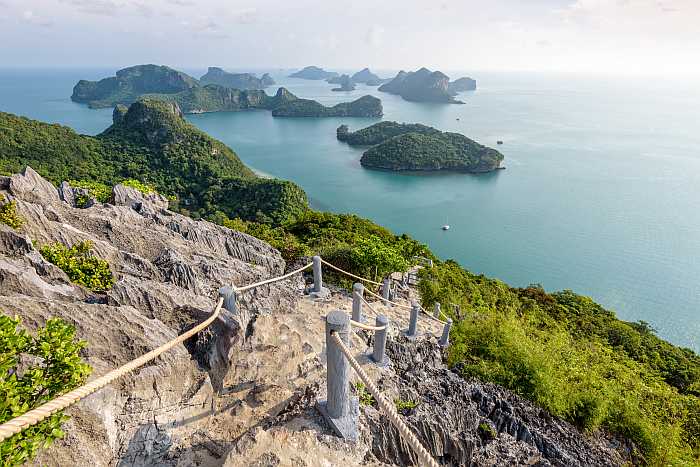 Mu Ko Ang Thong National Marine Park in Koh Samui (Photo: Envato)
Koh Samui: Attractions; Kosher & Jewish life
Koh Samui is a tropical paradise located in the Gulf of Thailand. Renowned for its palm-fringed beaches and luxury resorts, it offers a laid-back atmosphere perfect for relaxation.
If you head to Koh Samui to relax, don't worry, Chabad has got you covered. There is minyan, Shabbat services and a mikveh. The
Chabad of Koh Samui
operates a meat and dairy restaurant.
Top Attractions:
Chaweng Beach: The island's most famous beach, known for its nightlife and water activities.
Hin Ta and Hin Yai Rocks: Nature's quirkiest masterpiece, these rocks, also known as "Grandfather and Grandmother" rocks, offer unique formations that have fascinated travelers for generations.
Na Muang Waterfall: A serene escape, Na Muang Waterfall cascades through lush jungle landscapes, offering cooling pools and picturesque views.
Hidden Gems:
Secret Buddha Garden: A beautiful garden filled with statues depicting various Buddhist folklore.
Laem Sor Pagoda: A golden pagoda offering serene sea views and tranquility.
Fisherman's Village: Steeped in history and charm, Fisherman's Village beckons with its rustic lanes and boutique shops.
Mu Ko Ang Thong Marine Park: An archipelago of untouched splendor, Ang Thong Marine Park boasts turquoise waters, hidden lagoons, and diverse marine life.
Lamai Viewpoint: A breathtaking vista, Lamai Viewpoint offers panoramic sights of the shimmering coastlines and undulating greenery of Koh Samui.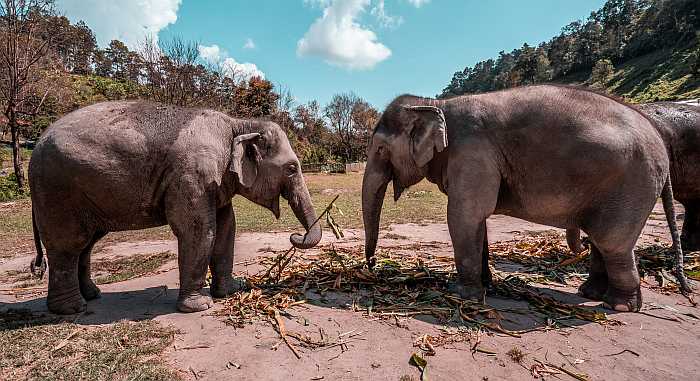 Elephant sanctuary in Chiange Mai (Photo: Shutterstock)


Chiang Mai: Attractions; Kosher & Jewish life
Nestled in the mountainous region of Northern Thailand, Chiang Mai is a haven for culture enthusiasts and the temperature is much cooler when compared to the rest of Thailand, especially from November to February.
Chabad of Chiang Mai
is there to take care of you for Shabbat and kosher food. There are Shabbat services and meals (with advanced reservations). The Chabad House has an Israeli/Thai restaurant so you won't go hungry.
Top Attractions:
Doi Inthanon National Park: Often referred to as the "Roof of Thailand", this park encompasses the highest mountain in the country and offers beautiful waterfalls, hiking trails, and hill tribe villages.
Night Bazaar: A haven for shoppers, the Night Bazaar in Chiang Mai bursts with stalls selling handicrafts, clothing, and delicious local food.
Chiang Mai Zoo: Spanning a vast area on the foothills of Doi Suthep, the zoo houses a myriad of animals, including pandas, making it a great spot for families.
Mae Sa Elephant Camp: This camp offers visitors a chance to interact with elephants, watch them bathe, paint, and even perform tricks.
Hidden Attractions
Bo Sang Umbrella Village: Venture a little out of the city to witness the intricate artistry of handcrafted paper umbrellas and parasols.
Doi Pui Hmong Village: Dive deep into the traditional world of the Hmong hill tribe, from their rustic abodes to handwoven crafts.
Chiang Mai Canopy Walk: Tread the lesser-known treetop walkway that provides a bird's-eye view of the rich forest canopy below.
Chiang Mai Night Safari: Often overlooked for its daytime counterpart, this nocturnal adventure offers a unique perspective on wildlife.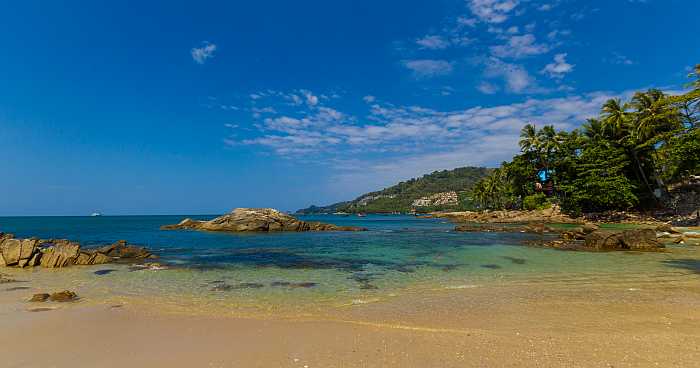 Patong beach in Phuket (Photo: Envato)
Phuket: Attractions; Kosher & Jewish life
Thailand's largest island, Phuket, is synonymous with beaches, water sports, and vibrant nightlife. The island experiences a tropical monsoon climate, with November to February being the most popular and dry months for tourists. Always be cautious about rip currents when swimming at the beaches.
The island of
Phuket has an active Chabad
, kosher restaurant and a mikvah. The Chabad house has Shabbat services and meals, with advanced registration. They also have a meat restaurant and pizza.
Top Attractions:
Patong Beach: The most popular beach in Phuket, known for its nightlife and water sports.
Old Phuket Town: A historical area with Sino-Portuguese architecture, colorful buildings, and local markets.
Phang Nga Bay: Famous for its limestone karsts and emerald-green waters, this bay is a picturesque haven for kayaking and island hopping.
Big Buddha: Towering over Phuket, this impressive 45-meter-tall statue offers panoramic views and a serene atmosphere.
Hidden Gems:
Ao Sane Beach: A secluded slice of paradise, offering tranquil waters and a serene atmosphere away from the crowds.
Karon View Point: A must-visit spot for a sweeping view of Phuket's triad of stunning bays.
Freedom Beach: An idyllic escape with powdery white sands, crystal-clear waters, and a backdrop of lush greenery.
Kata Noi Beach: A peaceful haven with azure waters and soft sands, perfect for relaxation and sunbathing.
Promthep Cape: Phuket's southernmost point, famed for its breathtaking sunset views over the Andaman Sea.
Sirinat National Park: A coastal treasure encompassing pristine beaches, mangrove forests, and a rich variety of marine life.
Unique Cultural Experiences
Visit a local fishing village and learn about the traditional way of life of the local people.
Take a cooking class and learn how to make southern Thai dishes.
Attend a Phuket Fantasea show and experience the culture and traditions of Thailand through music, dance, and theater.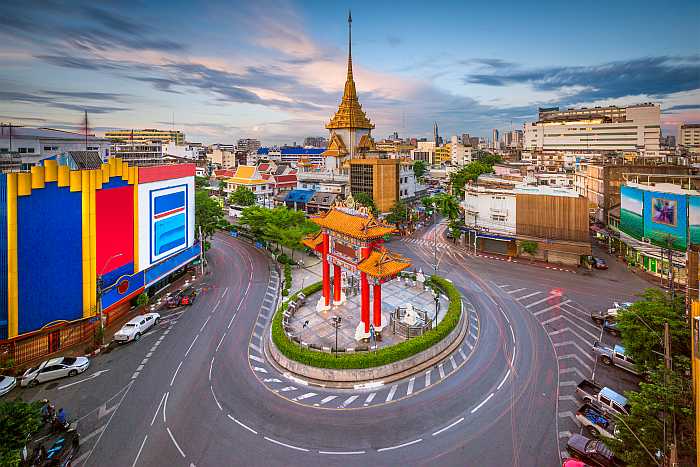 Chinatown in Bangkok (Photo: Envato)
Traveler's Notebook: Handy Tips for Your Thai Adventure
Small Bills & Change: Always keep these at the ready. Whether you're paying for a tuk-tuk ride or making purchases from street vendors, having the exact amount is a boon.
Sun Protection: Given Thailand's tropical climate, always have sunscreen on hand and apply generously. A hat or cap might also come in handy.
Stay Hydrated: The heat can sometimes be unforgiving. Carry a reusable water bottle and drink plenty of water throughout the day.
Stay Alert: The Thai people are known for their warmth and hospitality. However, like any major tourist spot, it's prudent to be cautious in crowded areas to safeguard against scams or pickpocketing.
Learn Basic Thai Phrases: A little effort goes a long way! Here are some basics:
Hello: สวัสดี (Sawasdee)
Thank you: ขอบคุณ (Khob khun)
Yes: ใช่ (Chai)
No: ไม่ใช่ (Mai chai)
How much?: เท่าไหร่ (Tao rai?)
Delicious: อร่อย (Aroi)
Using these phrases will not only be appreciated but can also open doors to more authentic interactions with the locals. Safe travels!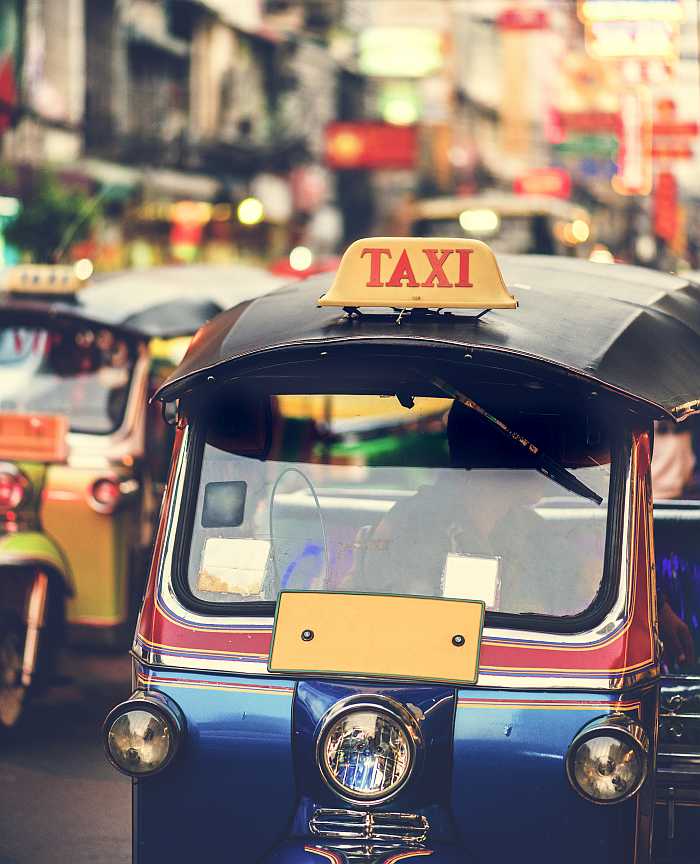 Tuk tuk in Bangkok (Photo: Envato)
Thailand Transportation Guide: Navigating Cities and Beyond
Thailand, with its vast landscapes and bustling cities, offers various modes of transportation to suit the needs of every traveler. Whether you're navigating the animated streets of Bangkok or hopping between iconic destinations like Koh Samui, Chiang Mai, and Phuket, understanding your options can make your journey seamless and enjoyable.
Within Major Cities:
Bangkok: The city's streets pulsate with energy, brimming with taxis and the unforgettable tuk-tuks. If you opt for these, remember to negotiate your fare before setting off to prevent any confusion at your destination. For those desiring a faster, air-conditioned mode of transport, the BTS Skytrain and MRT subway are top choices. They offer extensive coverage of the city, allowing travelers to bypass the notorious Bangkok traffic.
Chiang Mai & Phuket: In these locales, public transportation isn't as widespread as in Bangkok. Instead, taxis and rental cars are the primary modes of travel. Especially in Phuket, you'll find a variety of car and motorbike rental options catering to tourists wishing to explore at their own pace.
Traveling Between Cities:
Flights: The quickest way to move between major destinations is undoubtedly by air. Numerous airlines, including Thai Airways, Bangkok Airways, and budget-friendly options like AirAsia, offer regular flights between Bangkok, Koh Samui, Chiang Mai, and Phuket. While travel times vary, expect to be airborne for approximately 1-2 hours.
Buses: For the budget-conscious, buses are an economical choice. Though they take considerably longer — about 12 hours from Bangkok to Phuket and 8-10 hours from Bangkok to Chiang Mai — the journey lets you take in the evolving Thai landscape. These are best suited for those not crunched for time.
Combining Bus and Flight: A strategic mix of bus and flight can optimize both cost and experience. One could bus from Bangkok to Chiang Mai, absorbing the sights along the route, and then conveniently fly from Chiang Mai to Phuket.
A crucial tidbit for prospective fliers: prices fluctuate based on seasons and booking windows. A unique quirk to be mindful of is that flights to Koh Samui might lean towards the pricier side, given the airport monopoly by Bangkok Airways.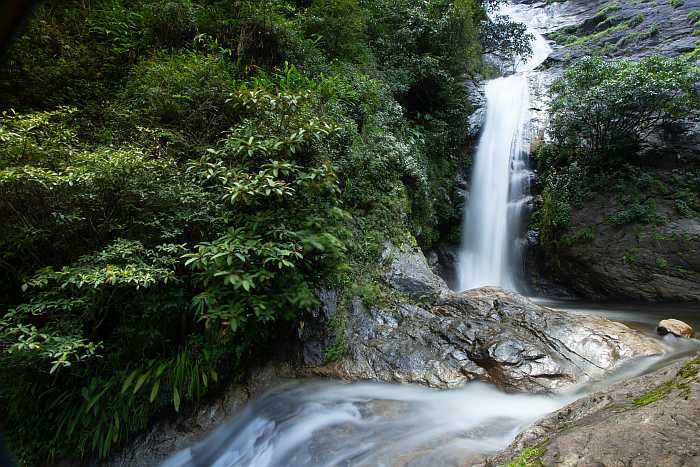 Waterfall in Doi Inthanon National Park in Chiang Mai (Photo: Envato)
Conclusion
Thailand is rapidly becoming a favorite among global tourists. In fact, a whopping 25 million visitors are anticipated by the Tourism Authority of Thailand for 2023 alone. This attraction isn't surprising given the mix of budget-friendly options, the unparalleled hospitality of the Thai people, and a robust array of attractions ranging from serene beaches to captivating cultural experiences.
For those who keep kosher, Thailand doesn't disappoint.
Key destinations like Bangkok, Chiang Mai, Koh Samui, and Phuket have a Chabad center, ensuring travelers have access to minyan, mikvah, and of course, delicious kosher meals.
Thanks to Chabad's active presence in these spots, anyone keen on a kosher-friendly trip can have a great time without a hitch. Thailand truly offers an experience that caters to the heart, soul and palate.
Take your Thailand vacation during Passover. Join a
Pesach program in Thailand
for Passover 2024.
Keshet Travel
is organizing a luxury program at the Avani+ Resort in Phuket.