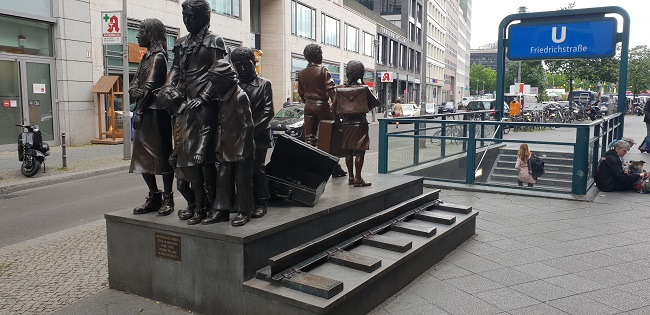 When I booked and planned our trip to Berlin (with my wife and friends) I must admit to a certain degree of hesitancy and trepidation. My grandparents were from Frankfurt but escaped before the war and my wife's grandfather was murdered by the Gestapo in Poland. I have only been to Germany fleetingly before. And yet my business partner with whom I own TotallyJewishTravel.com lives in Cologne. I realise that some reading this blog will disagree with my decision to visit Germany and that is their choice. I respect that but what follows is my account of 3 days in Berlin that surprised me. I hope it can guide anyone planning on visiting Berlin on what to do and see with a particular angle on the Jewish aspects of the city.

First Impressions

The first two things that struck me almost immediately on arrival was firstly how large and expansive Berlin is for a city with a population of just under 3.5 million people. It really is vast. The second thing was the huge amount of advertising everywhere - on trams, buses and billboards - for travel to Israel. Clearly the Israeli government sees a huge market for tourism to Israel in Germany. It was almost karma to be in Berlin, visiting and seeing sites everywhere that commemorate & honour those murdered by the Nazis in the Holocaust and to simultaneously see huge images of Jerusalem and Tel Aviv - the modern day state of Israel - being promoted as a vibrant tourist destination. Berlin also makes sure the thousands of Israeli tourists that visit each year are welcome, with many free tourist office maps available in Hebrew. There is also a Jewish Film Festival in Berlin that was held at the end of June.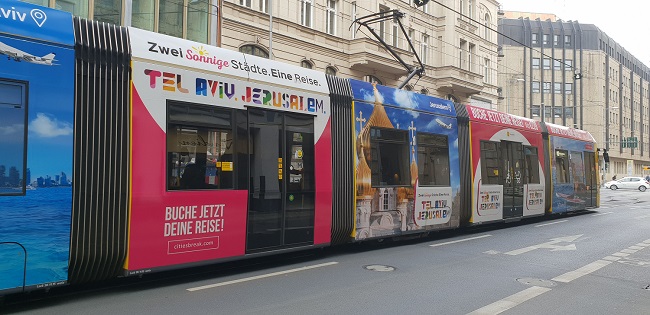 Now for what we saw and did. Let me start by saying that from what I saw Berlin is a city that does NOT seek to escape from its past or from what the Germans did to the Jews. It accepts its responsibility and seeks to atone for it.

Our hotel - the i31 - was located in the neighbourhood of Berlin Mitte, very centrally located in East Berlin. It even sold Kosher Israeli wine! What I found is often forgotten was that not only did Berlin as a city suffer under the Nazis but also under the Soviets and East German Democratic Republic. The city shows you as much that happened after World War II as that occurred during it.

Getting about is easy. The public transport system in Berlin is fantastic. One ticket gets you on the tram, underground and bus systems and can take you everywhere.

Hop-on-hop-off Bus Tour of Berlin

We started off our visit jumping on the standard open top hop-on hop-off bus tour. It was where I first spotted Ben Gurion Strasse, named in memory of Israel's first Prime Minister. A welcome sight. We stopped at Checkpoint Charlie, which in and of itself is not much to see and just a tacky tourist attraction. However what is worth seeing IS the open air memorial to those Germans who died trying to escape the East and were shot by East German border guards. A very poignant reminder of the tyranny suffered by millions during the Cold War.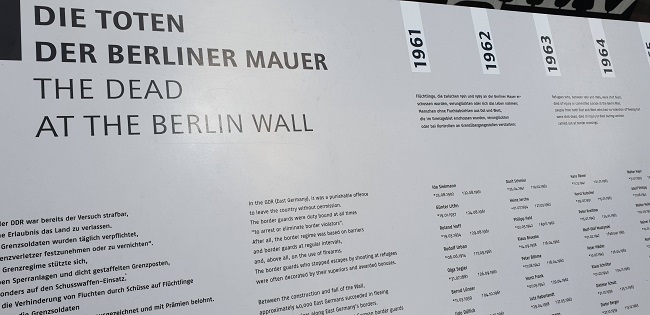 From there we walked a very short distance to a very interesting exhibition built around old SS and Reich Security prison cells and parts of the Berlin Wall called "Topography of Terror" located at Niederkirchnerstrasse 8. "The Path to Dictatorship" is an exhibition that chronicles how Germany from 1933 descended into lawlessness. It remembers not just Jews but those members of the trade unions and law professions who were arrested, imprisoned and murdered by the Nazis for opposing them. It is a part of events during the early rise of National Socialism that many of us don't know. It was there as well that we got our first glimpse of remains of the Berlin Wall. It struck me as rather thin and low... but of course we did not see the "kill zones" that were around it decades ago.




From there we took the tram system to the East Side Gallery, where murals have been painted on sections of the old Berlin Wall - the most prominent one being a huge Magen David - Star of David - on a German flag. It's a cool picture opportunity.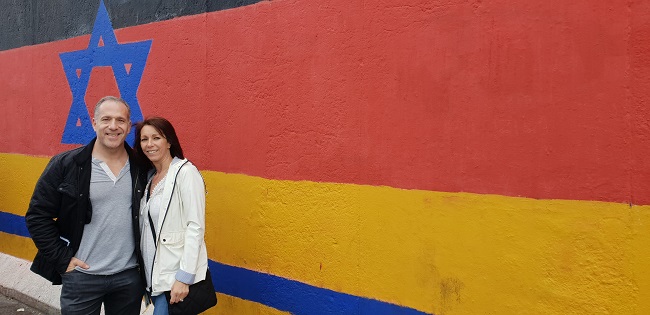 The Berlin Bunker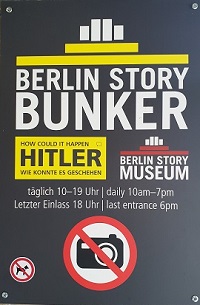 Our second day saw us start by visiting the Berlin Bunker. This is the one remaining air raid shelter still standing in Berlin and houses a fascinating and informative exhibition about Hitler, his childhood, early adult years and rise to power. It then chronicles how the Nazis slowly but surely enhanced their grip on power, used the emerging media as it was at the time to galvanize the people, and started to plan for the "final solution". It then greatly details the Second World War, the Nazi's victories and losses and the Holocaust. This was one of the best exhibitions I have ever been too and taught me much I did not know about Hitler's family, childhood, failing early adult life and the Nazi Party. The exhibition has received international acclaim from all quarters and was designed by Wieland Giebal & Enno Lenze. We spent 3 hours in the Berlin Bunker and this is a MUST SEE for anyone going to Berlin.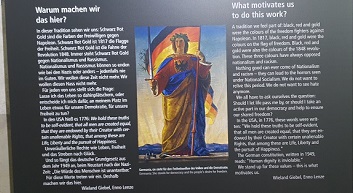 Mainstream Tourist Sites

From the Berlin Bunker we emerged into the daylight to head to some of the more mainstream sites, including the Brandenburg Gate and from there to the rooftop cafe in the Reichstag, the German Parliament. If you want to bypass the queues to get into the Reichstag make a reservation at the rooftop restaurant / cafe and you have priority entry. The views are spectacular and the coffee is good too! Walking back to our hotel we stumbled on another memorial to Jews at Friederischstrasse Station to both the Kindertransport - (this was the station that young German Jews took trains from when they were evacuated to the United Kingdom and which saved their lives) and to death transports to the camps. It is a very moving sculpture created by Frank Meisler and Arie Ovadia.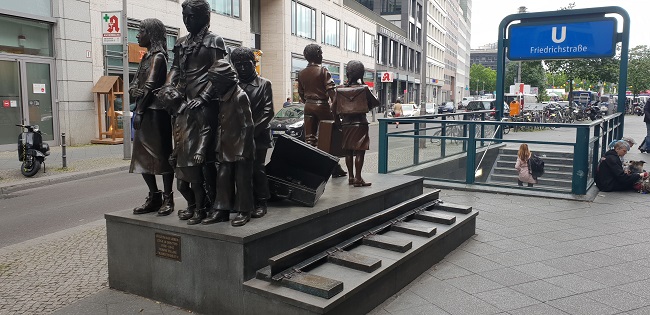 In the evening we went for a drink at the Monkey Bar which has great rooftop views of Berlin at night. Next door in the other side of the roof is an Israeli restaurant called "Balagan" - NOT Kosher, but another sign of the strong Israeli presence in Berlin.

Guided Jewish Tour of Berlin

The following day - our last in Berlin - was the best though by far. We booked a tour with Milk and Honey Tours (www.MilkandHoneyTours.com) for a four hour walking and driving tour of Jewish Berlin with some general sites also included. Our fantastic guide Ioana met us at our hotel and we set off, first stopping at Bebelplatz, the site of the infamous Nazi book burning on May 10th 1933 and to see the memorial there - an eerie empty library set in the ground. After a brief stop at Museum Island and some other city centre landmarks we set off for a 15 minute drive to East Berlin which gave us a real flavour of how the Soviets influenced their side of the city. We stopped at the huge Soviet War Memorial where thousands of Russian soldiers who were killed during the war are buried. You really got a sense of the hatred Russia had towards the Nazis in the huge edifices that they constructed.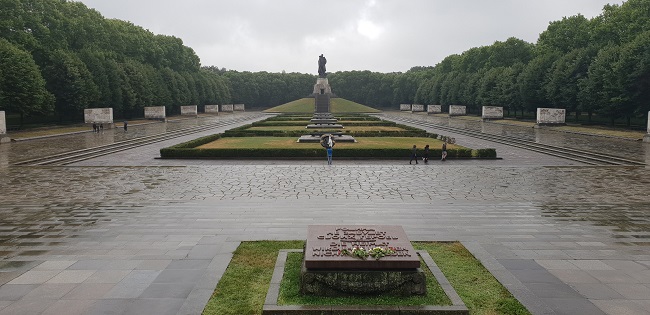 Getting back into the car we stopped off at Templehoff Air Base, now closed, which was used by the Americans and British to break Stalin's blockade of Berlin in 1949. We stopped at the memorial to British and US pilots who died when their planes crashed as thousands of flights attempted to break the blockade by landing every 9 seconds.

From there we went to one of the most moving parts of our visit - Grunewald Train Station. This was the train station where the first deportation of Jews from Berlin went from. In time the deportations outgrew Grunewald and went from other stations but they started here. It is now a memorial and EVERY transport is listed with its date, number of Jews on it and destination death camp. It is a humbling and emotional place. What struck me was how late into the war these deportations were still being made. Standing on those same platforms 75 to 80 years later with Israeli flags draped over them again made me realise what was then and what is now.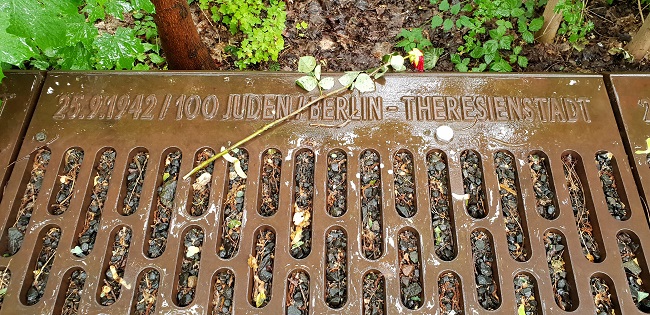 We then visited the Bavarian Quarter where Ioana our guide wanted to show us something most visitors to Berlin do not see. In 1993 Berlins wanted to erect a memorial to remember Nazi atrocities and their treatment of Jews and 2 Berlin artists were commission to build their "Places of Remembrance" memorial and so began to erect signs on lampposts around neighbourhoods highlighting specific Nazi laws targeting the Jews and the dates they were enacted. One such signed states that "Jews are forbidden to own telephone landlines" - another states that from a certain date "the Government will not pay from the medical bills of Jews visiting a doctor or hospital" and another "that Jews are not allowed to buy sweets". A permanent reminder of the way the Nazis de-humanised the Jews. And it was here that the Ioana pointed out the Stolpersteine (stumbling stones) to us. These are small concrete blocks measuring 10x10cm which are laid into the pavement in front of the last voluntarily chosen places of residence of the victims of the Nazis. Their names and fate are engraved into a brass plate on the top of each Stolpersteine. Most tourists walk around a city with their heads up, not down, so we had missed these. But now that we knew about them we spotted them everywhere. We tried particularly hard to stop and read the names of the people on the stones - often we just think of "the dead" but by reading their names and ages we give these victims a human face. It was particularly tragic so see babies names and ages on some of these stones.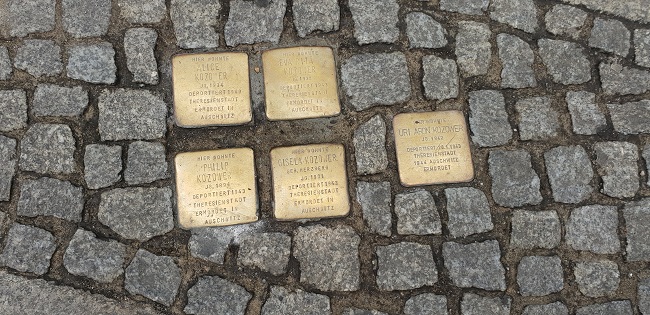 Everyone has heard of Schindler and Wallenberg. Less have heard of Otto Weidt. But he is a German non-Jew who saved hundreds, if not thousands, of German Jews by employing them in his factory. Many were blind and deaf. The museum, located in the old Jewish quarter of Berlin, tells the story of how Otto Weidt saved his Jewish employees and also remembers the ones who were caught and killed. Close by is a memorial to the destroyed Jewish Old Age home and behind it is one of the largest Jewish cemeteries in Berlin which was destroyed by the Nazis and used as a soccer pitch. This is where Moses Mendelsohn is buried. We took a brief walk around the corner to see the New Synagogue - which is closed to the public - and then ended our time with Iaona and Milk and Honey Tours by going next door for a bite to eat at Hummus and Friends, a kosher vegan restaurant selling the most delicious - yes you guessed it - hummus! Ioana was a fantastic guide. Her knowledge of Berlin generally, its Jewish history and sites was fantastic and both she and her company are highly recommended.

With our stomachs full of hummus we took the underground to the Holocaust Memorial, a huge display of stones. It is at this point I must admit that none of us really understood what the memorial was trying to say. I am sure others do, but we did not. We moved on to visit the Holocaust Museum underneath the Memorial which is very well put together.

That ended an emotional day that really taught us a lot about Berlin, its history, the fate of our Jewish brothers and sisters who lived there and how the city of Berlin continues to confront its horrific past and remember its murdered Jewish citizens. We left Berlin glad we came and recommending it as a place to visit for anyone.

Check out TJT's guide to kosher restaurants and Jewish life in Berlin.