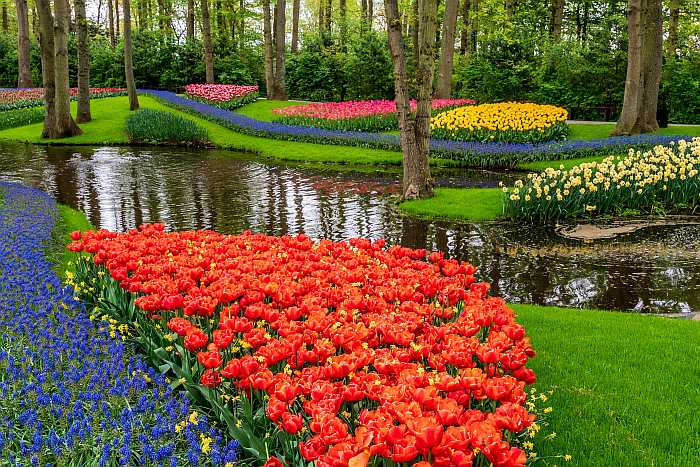 Tulips by the water (Photo: Envato)
Nestled in the heart of Europe is Amsterdam, often dubbed the "Venice of the North'' for its intricate web of enchanting canals. This vibrant city effortlessly marries the charm of its storied past with the pulsating rhythm of the modern age. While Amsterdam is globally recognized for its iconic coffeeshops - and no, we're not talking about your regular lattes and cappuccinos - it's also the undisputed capital of bicycles. With more bikes than residents, it's no wonder that the city seems to move on two wheels rather than four.
As you glide down its serene waterways or meander through its cobbled streets, you'll quickly notice the striking remnants of Amsterdam's rich Jewish heritage. From the awe-inspiring Portuguese Synagogue to the poignant Anne Frank House, the echoes of history resonate deeply here. And for those seeking a taste of tradition, Amsterdam boasts a range of kosher restaurants..
But before you pack your bags, let's talk weather. Characterized by a temperate maritime climate, the city witnesses mild summers and cool winters. Though its weather is notoriously unpredictable, many would argue that the best times to visit are spring and summer when tulips bloom in riotous colors and the days are longer and sunnier. However, a winter trip has its own charm, with the canals occasionally freezing over and transforming into natural ice-skating rinks.
So, whether you're drawn to Amsterdam for its historic landmarks, its bustling coffeeshops, or the simple pleasure of biking alongside a canal, this city promises a unique blend of experiences that linger long after the journey ends. Join me as we delve deeper into the wonders of Amsterdam, a city where history, culture, and contemporary life seamlessly intertwine.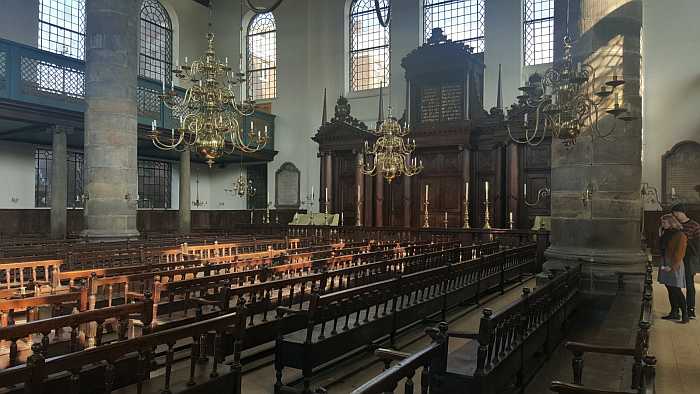 The Portuguese Synagogue in Amsterdam (Photo: Raphi Bloom)


The Echoes of Jewish Heritage in Amsterdam
Amsterdam's Jewish roots run deep, painting a tapestry of resilience, faith, and cultural influence that stretches back centuries. Once referred to as the "Jerusalem of the West," the city was a sanctuary for Jewish families, particularly Sephardic Jews fleeing the Inquisition from Spain and Portugal in the 16th and 17th centuries. Later, Ashkenazi Jews sought refuge here from persecution in Eastern Europe. The Golden Age saw the Jewish community playing pivotal roles in Amsterdam's economic, intellectual, and cultural life. While the shadows of World War II darkened this history, with many Jewish residents falling victim to Nazi atrocities, the city's Jewish heritage remains proudly etched in its streets, buildings, and stories.
Jewish Sights in Amsterdam:
Portuguese Synagogue: An architectural marvel from the 17th century, its interiors remain devoid of electricity, relying on hundreds of candles for illumination during evening services.
Jewish Historical Museum (Joods Historisch Museum): A comprehensive overview of Jewish life, culture, and history in the Netherlands over the centuries.
Anne Frank House: The hiding place of Anne Frank and her family during WWII, this museum is dedicated to the life of Anne Frank, a young Jewish girl who hid from the Nazis during World War II. You can see the secret annex where Anne and her family lived and learn about her life and legacy. Tickets become available six weeks in advance and they sell out quickly so plan accordingly.
National Holocaust Names Memorial: A solemn and poignant memorial that commemorates the victims of the Holocaust, allowing visitors to pay their respects and reflect on this tragic chapter in history.
National Holocaust Museum: Provides a detailed account of the Holocaust in the Netherlands through exhibits, photographs, and personal testimonies. The museum is temporarily closed and is expected to open in early 2024.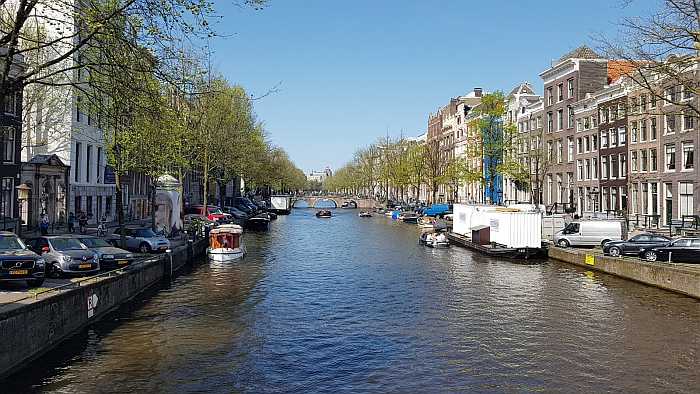 Amsterdam canals (Photo: Raphi Bloom)
Jewish Life & Kosher Food in Amsterdam
There are around 15,000-20,000 Jews living in Amsterdam today. The Jewish community is concentrated in the South of Amsterdam. The shuls and most of the kosher restaurants are located in this area. The museums and tourist attractions are located in the center of Amsterdam. It is around 30 minutes by public transportation to the south of Amsterdam. For more details, see our guide to
kosher and Jewish life in Amsterdam
. Map out your vacation in advance with our
Kosher & Jewish nearby map
or use our
"Kosher Nearby"
tool - put in your location and get all the relevant data from TJT's comprehensive directory.
The Chabad House
is located in the center of the city and caters to the needs of tourists. There are hotels located near the Chabad House if you want to be nearby for Shabbat. The Chabad House has Shabbat meals with advance registration. They also offer Shabbat To Go meals to be picked up or delivered to where you are staying. The Chabad House has a shul, coffee corner and a restaurant, in addition to the Shabbat meals. Chabad in conjunction with the Bet Din of Amsterdam put out a
list of kosher products in Amsterdam
to consult when shopping in the supermarket.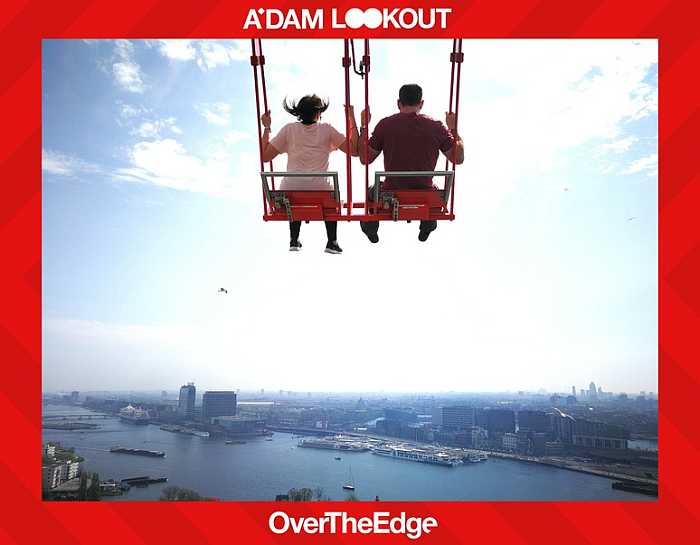 A'Dam Lookout (Photo: Raphi Bloom)
Top Attractions
Amsterdam is a city with a wide range of tourist attractions that cater to different interests. From its iconic canals to its world-class museums, there is something for everyone. Here are some of the top tourist attractions in Amsterdam:
Canals of Amsterdam: The canals of Amsterdam are one of the city's most iconic features and a UNESCO World Heritage Site. Take a canal cruise to see the city from a different perspective or explore the canals on foot or by bike.
Van Gogh Museum: The Van Gogh Museum is one of Amsterdam's most popular attractions, with the largest collection of paintings by Vincent van Gogh in the world, including famous works such as "Sunflowers" and "The Bedroom"
Rijksmuseum: The Rijksmuseum is the most visited museum in the Netherlands and home to a vast collection of Dutch art and history. Check out works by Rembrandt, Vermeer, and other Dutch masters.
Vondelpark: Vondelpark is Amsterdam's largest park and a popular spot for locals and tourists alike. Visitors can enjoy a picnic, rent a bike, or attend a concert or festival in the park.
Heineken Experience: The Heineken Experience is a museum and brewery tour that offers visitors a behind-the-scenes look at the brewing process and the history of Heineken beer.
Albert Cuyp Market: The Albert Cuyp Market is a bustling street market in the De Pijp neighborhood, offering clothing and souvenirs.
NEMO Science Museum: The NEMO Science Museum is a hands-on science museum that is great for kids and adults alike. Visitors can explore interactive exhibits and learn about science and technology in a fun and engaging way.
Begijnhof: The Begijnhof is a hidden courtyard in the city center that offers a peaceful escape from the hustle and bustle of the city. Visitors can see historic buildings and a beautiful garden in this tranquil oasis.
Dam Square: Dam Square is the heart of Amsterdam and home to several important landmarks, including the Royal Palace and the National Monument.
A'Dam Lookout: Enjoy breathtaking panoramic views of Amsterdam from the A'Dam Lookout's observation deck. For thrill-seekers, the "Over The Edge" swing offers an exhilarating experience as you soar over the cityscape.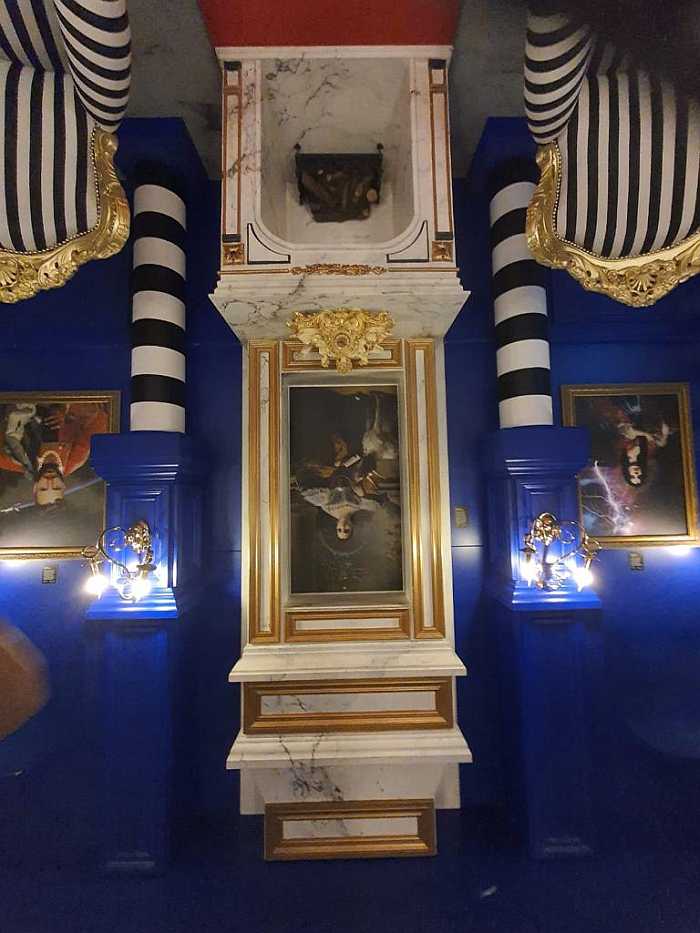 The Upside Down Museum (Photo: Jason Kops)

Off-the-beaten path attractions
Amsterdam is a city with many off-the-beaten-path attractions that are worth exploring. Here are some of the lesser-known attractions in Amsterdam:
WONDR Experience: This immersive pop-up museum blends visual magic with boundless creativity. It is a confetti-sprinkled world of color and sensation that invites visitors to play, feel, smell, taste and take the best social media pics.
The Upside Down Amsterdam: The Upside Down Amsterdam is another immersive museum in Amsterdam that offers a unique experience. It is described as an "Instagram museum" and is known for its upside-down installations.
Electric Ladyland: Electric Ladyland is a museum dedicated to fluorescent art and is the world's first museum of its kind. It features fluorescent minerals, paintings and sculptures that glow in the dark
Micropia: Micropia is a museum dedicated to microorganisms and the role they play in our lives. You can see live microorganisms and learn about their importance in medicine, food, and the environment
Hash Marihuana and Hemp Museum: The Hash Marihuana and Hemp Museum is a museum dedicated to the history and culture of cannabis. Learn about the plant's medicinal properties, its role in different cultures and its legal status around the world.
Tulip Museum: The Tulip Museum is a museum dedicated to the history and cultivation of tulips in the Netherlands. Learn about the flower's importance in Dutch culture and see different varieties of tulips.
The Torture Museum: The Torture Museum is a museum dedicated to the history of torture and punishment. Visitors can see instruments of torture and learn about their use throughout history.
De Pijp: De Pijp is a neighborhood in Amsterdam that is known for its vibrant street art, trendy cafes, and local markets. Explore the area on foot and discover hidden gems such as the Albert Cuyp Market and the Sarphatipark.
NDSM Wharf: The NDSM Wharf is a former shipyard that has been transformed into a cultural hotspot. Check out the street art, attend festivals and events and explore the area's unique architecture.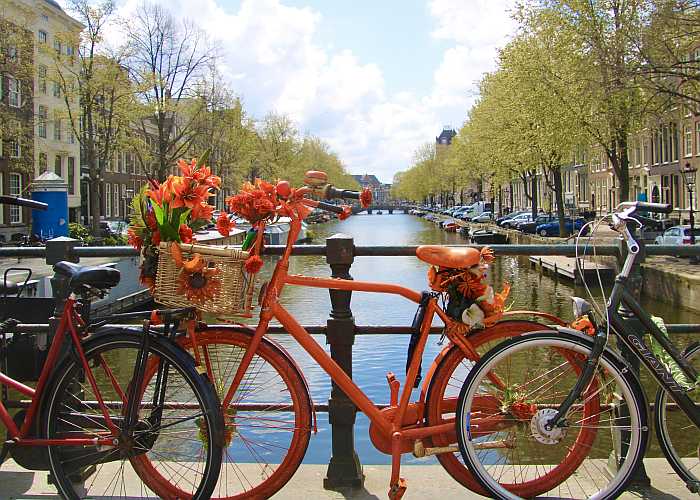 Amsterdam has more bikes than residents (Photo: Envato)
Conclusion
If you're still not convinced that Amsterdam belongs on your must-visit list then listen to our resident expert, Raphi Bloom, avid traveler and owner at TotallyJewishTravel.com:
Amsterdam is that most special of cities - packed with fun, fun, fun and loaded with history. From a Kosher and Jewish travel perspective it's a perfect destination. There are enough Kosher restaurants to keep you fed and watered and Jewish history - well, where to begin. Anne Frank's house, the Jewish Museum, the incredible Spanish and Portuguese synagogue and more. And to cap it off - if you are an English speaker the Dutch speak English better than the Brits and Yanks!
In the midst of the attractions, Chabad's central location provides minyan and nourishment for tourists. If you are spending Shabbat in the city's center then Chabad is there for meals, either at the Chabad House or Shabbat catering. If you want more kosher restaurant options then head over to the Jewish community in the South of Amsterdam. Check TJT's
guide to kosher resaurants and shuls in Amsterdam
when planning your trip.
Dive into this mesmerizing city with an open heart, and let Amsterdam's unique blend of past and present leave an indelible mark on your soul. Safe travels!