Hotel Relais des Alpes
July 26 - August 13


Discover the Italian alps with a warm, family-friendly, Jewish environment!
Beit Reuven invites you to enjoy a vacation in the Beautiful and Fresh Italian Alps.
A unique, spacious Hotel located in the heart of the town of Sauze d'Oulx - " Hotel Relais des Alpes"
Close to a big park for kids, supermarkets , Adventure village, fishing lake and more.
Enjoy the fresh air and breathtaking panoramic landscape of the Italian mountains.
The Hotel:
Spacious rooms
Italian cuisine Kosher lemehadrin
Coffee and hot drinks 24/7
Synagogue
The meals:
Full and rich breakfasts,lunches and dinners
Trips days - lunch boxes and sandwiches to-go
Shabbat and holidays - full board
Kosher Lemehadrin under the supervision of Rabbi Yitzchak Belinow Shlit'a Milan & IKU - ITALY KOSHER UNION.
Meats and poultry are Glatt, dairy is Chalav Yisrael, breads are Pat Yisrael and all cooking is Bishul Yisrael
Flights and airports:
From Torino airport (TRN): about 50 minutes
From Bergamo Airport (BGY): about 3 hours
From Milano Airport (MXP): about 3 hours
An amazing area for hikes, nature trips, attractions and fun for the whole family
The area offers a huge variety of day excursions and attractions for couples and the whole family
Nearby Attractions & Day Trips: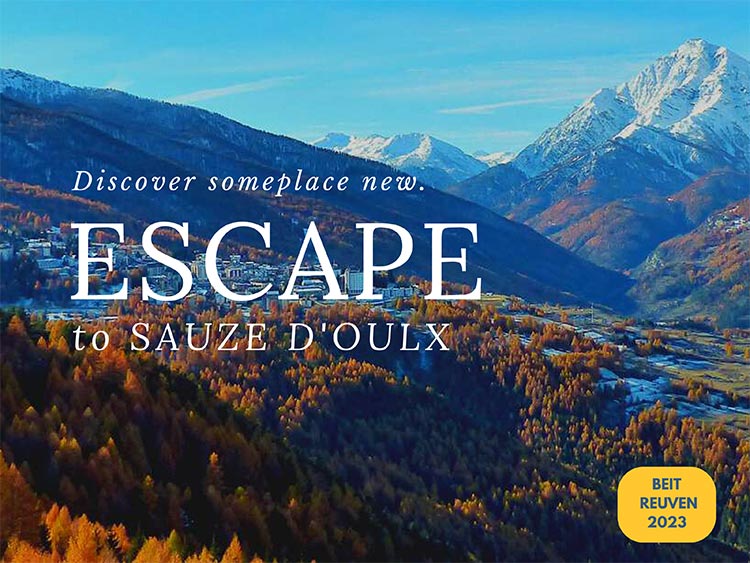 click here to see the full program of optional trips and excursions
The Adventure Village of Sauze d'Oulx (for families and adults- 15 minutes walk from the hotel)
The Adventure Village is an open-air park characterized by adrenaline-pumping paths among the trees of a beautiful park.
In the park there are also three Tyrolean, four trampolines, a barbecue area and lots of greenery where you can relax and sunbathe.
Swimming pool and spa in the area
Fishing lake, a beautiful lake where families can relax, have a refreshment and fish
The town of Torino (1h train): tour + Shopping + Jewish old Synagogue
"La louge" - at the France border : Fun activity, go up the mountain with the cable car and descend with a fun ride adjusting the speed yourself
Daily trips in the Italian alps: Lakes, waterfalls, scenery and wildlife with amazing air and much more.

Beit Reuven dans les Alpes italiennes : 26 Juillet - 13 Août
Découvrez les Alpes italiennes dans une ambiance chaleureuse, familiale et juive !
Beit Reuven vous invite à passer des vacances dans les belles et fraîches Alpes italiennes.
Un Hôtel unique et spacieux situé au coeur de la ville de Sauze d'Oulx - " Hotel Relais des Alpes"
Près d'un grand parc pour enfants, supermarchés, village d'aventure, lac de pêche et plus.
Profitez de l'air frais et du paysage panoramique des montagnes italiennes.
L'hôtel offre des Chambres spacieuses avec de superbes vues
- Cuisine italienne Casher Lemehadrin
- Café et boissons chaudes 24h/24
- Synagogue , 3 Minyanim et Chiurim
Les repas:
-Petits déjeuners et dîners complets
-déjeuners: boîtes à lunch et sandwichs à emporter
-Chabbat et jours fériés - pension complète -Casher Lemehadrin sous la supervision du Rabbin Yitzchak Belinow Shlit'a Milan & IKU, ITALY KOSHER UNION.
- La viande est Glatt, les produits laitiers sont Chalav Yisrael, Pat Yisrael et toute la cuisine est Bishul Yisrael
Vols et aéroports :
De l'aéroport de Turin (TRN): environ 50 minutes
De l'aéroport de Bergame (BGY): environ 3 heures
De l'aéroport de Milan (MXP): environ 3 à 4h en voiture de Nice (Fr)
Une région incroyable pour des randonnées, des excursions dans la nature, des attractions et des divertissements pour toute la famille
La région offre une grande variété d'excursions et d'attractions pour les couples et toute la famille
Attractions à proximité de l'hotel :
-Le Village Aventure de Sauze d'Oulx (pour les familles et les adultes - à 15 minutes à pied de l'hôtel)
Le Village Aventure est un parc en plein air caractérisé par des sentiers qui font monter l'adrénaline parmi les arbres d'un magnifique parc.
Dans le parc, il y a aussi trois tyroliennes, quatre trampolines, un espace barbecue et beaucoup de verdure où vous pourrez vous détendre et bronzer
-piscine et spa à proximité
- Lac de pêche, un beau lac où les familles peuvent se détendre, se rafraîchir et pêcher
-La ville de Turin (1h de train) : tour + Shopping + Vieille synagogue juive
- "La louge" - à la frontière française : Activité ludique, montez la montagne avec le téléphérique et descendez en balade
-Excursions quotidiennes dans les Alpes italiennes : lacs, cascades, paysages et faune avec un air incroyable... et bien plus encore.