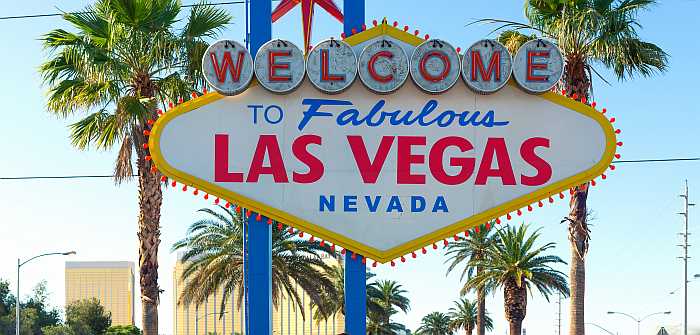 Vegas sign (Photo: Envato)


Think Vegas is all about dice, cards, and roulette wheels? This is probably the impression that you got from watching movies and TV shows that feature Las Vegas and there are a lot of them. Think Oceans 11 and The Hangover, just to name a couple of very popular movies that were filmed in Las Vegas. If you are a fan of Oceans 11 then you will probably want to visit the Bellagio where much of the movie was filmed. Be on the lookout for Elvis impersonators, check out a concert or show. Just walking along the strip and looking at those massive casinos with their crazy designs is a treat!
Now, if you're wondering about the best time to visit, here's the scoop: Vegas is sunny most of the year. Summer (June to August) gets pretty hot, often soaring above 100°F, so pack your sunscreen! Most of the hotels on the strip have swimming pools for when you want to cool off. Fall and spring are milder and super comfy, with temperatures ranging from 60°F to 80°F. Winters are cooler, sometimes even dropping to the high 30s at night.
Las Vegas is full of activities for families. Whether it's exploring marine life, enjoying a theatrical performance, or simply taking in the dazzling lights, there's something in the city for everyone. Read on for ideas for family-friendly day trips in Vegas or nearby national parks.
Kosher Dining in Vegas
Don't worry about finding kosher food while vacationing in Vegas. There are
kosher restaurants, caterers and shops in Las Vegas
. There are a couple of options near the Strip and most of the other restaurants will deliver to the Strip. There are a number of Chabad Houses but none are walking distance from the strip. There are options to stay near the Chabad House and the Chabad of Las Vegas have suites on their property where you can stay for Shabbat or during the week.
You can find daily minyan at the nearby Chabad House, which is about 20 minutes by car. Las Vegas has all the amenities that you need for your kosher vacation. Map out your vacation in advance with our
Kosher & Jewish nearby map
or use our
"Kosher Near Me"
tool - put in your location and get all the relevant data from TJT's comprehensive directory.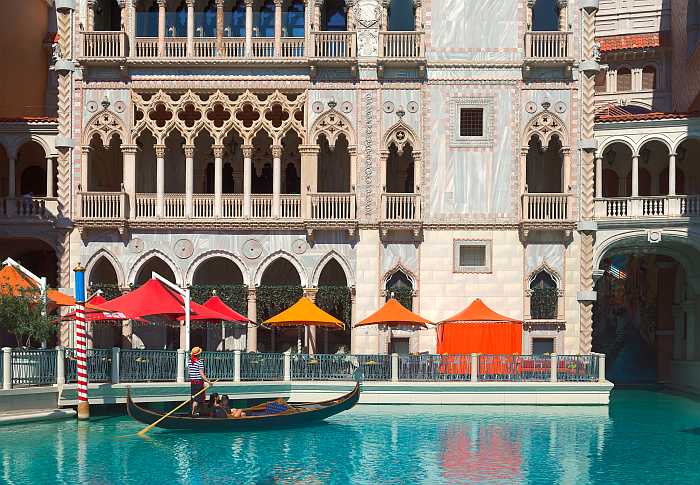 Gondola ride at The Venetian Hotel (Photo: Envato)
Top Attractions in Las Vegas:
The Strip: The iconic 4-mile stretch of Las Vegas Boulevard is lined with entertainment palaces, many of which were built with defining features and set aglow at night.
Fremont Street Experience: Located in the old downtown Las Vegas, it's a pedestrian-only area with all kinds of unique sites, from the world's largest video screen to zipline rides.
Bellagio Fountains: An enchanting water, music, and light show that happens every half-hour in the evenings, as seen at the end of Oceans 11.
High Roller Observation Wheel: At 550 feet tall, it is the second tallest ferris wheel in the world (behind Ain Dubai) and offers one of the best views of the city.
The Venetian Hotel and Gondola Rides: Experience Venice in Las Vegas with indoor gondola rides.
Madame Tussauds: The famous wax museum with lifelike statues of celebrities is located in The Venetian.
Helicopter Rides: There are numerous companies that offer helicopter tours of Las Vegas and the nearby Grand Canyon.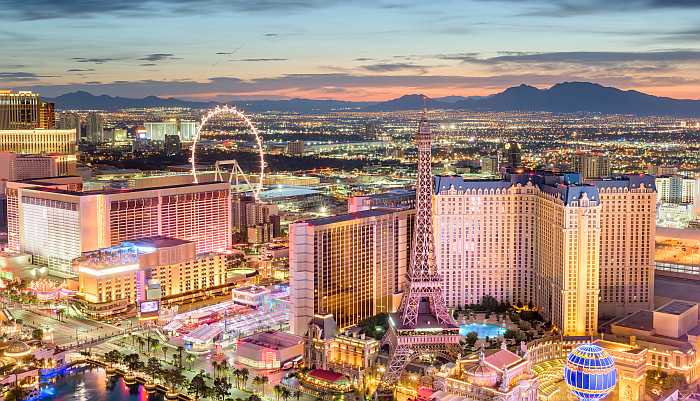 Vegas skyline over the Strip at night (Photo: Envato)

Kid-Friendly Activities in Las Vegas:
Shark Reef at Mandalay Bay: An impressive aquarium that offers kids the opportunity to see a variety of marine life, including sharks and rays.
Adventuredome at Circus Circus: A 5-acre indoor amusement park with rides suitable for all ages.
Discovery Children's Museum: A hands-on museum with interactive exhibits that stimulate curiosity and creativity in children.
Wet'n'Wild Las Vegas: A fun-filled water park, perfect to cool off in the desert heat.
Springs Preserve: A great place to learn about the desert environment with botanical gardens, trails, and interactive exhibits.
Siegfried & Roy's Secret Garden and Dolphin Habitat: Located at The Mirage, it houses a variety of exotic animals including white tigers, lions, and of course, dolphins.
Downtown Container Park: An open-air shopping center made up of repurposed shipping containers. It includes a play area for kids with an interactive playground.
Neon Boneyard: While the Neon Museum itself is becoming more well-known, the Boneyard is where many old Vegas signs go to retire. Guided tours are available, allowing you to immerse yourself in vintage Vegas.
Cowabunga Bay Water Park: Another water park option, with thrilling slides and a lazy river.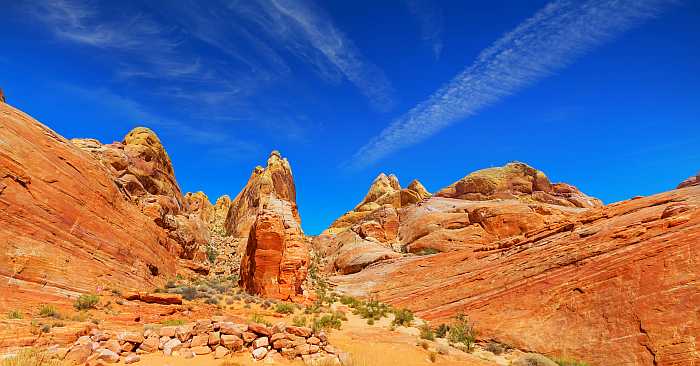 Valley of Fire State Park (Photo: Envato)

Off-the-beaten Path Attractions


Exploring these off-the-beaten-path attractions provides a richer, more diverse perspective of Las Vegas and its surroundings, showcasing the region's history, natural beauty, and quirky charm.
Valley of Fire State Park: Located about 50 miles northeast of Las Vegas, this park features stunning red rock formations, ancient petroglyphs, and varied desert landscapes.
Springs Preserve: A hidden gem with botanical gardens, hiking trails, and interactive exhibits that explore the desert environment and Las Vegas's history.
Nelson Ghost Town (Techatticup Mine): A short drive from the city, this old mining town offers a glimpse into Nevada's gold mining past with rustic old cars, dilapidated buildings, and remnants of the old mine.
The Pinball Hall of Fame: Located not too far from the Strip, this is a working museum where you can play on a vast collection of pinball machines spanning decades.
Mount Charleston: Great for a respite from the desert heat, Mount Charleston offers hiking, skiing, and a cooler climate. It's especially beautiful in the fall and winter.
The Underground at The Mob Museum: This Prohibition-era exhibit lets you explore a speakeasy and distillery, offering a taste of the 1920s underworld.
Las Vegas Natural History Museum: Located near downtown Las Vegas, this museum offers a look at various exhibits from dinosaurs to Egyptian mummies.
Ethel M Chocolate Factory and Botanical Cactus Garden: Located in Henderson, a short drive from the Strip, you can take a self-guided tour of the chocolate factory and stroll through the cactus garden, especially beautiful when illuminated during the holidays. The chocolate factory is not kosher but some of their packaged chocolates are certified kosher dairy so look for the OU-D symbol at the bottom of the nutritional information.
Lost City Museum: Located in Overton, this museum offers artifacts and exhibits related to the ancient Puebloan structures found in the area.
Tule Springs Fossil Beds National Monument: A lesser-known spot where fossils from mammoths, lions, and camels have been discovered, showcasing a time when this desert landscape was a lush, marshy environment.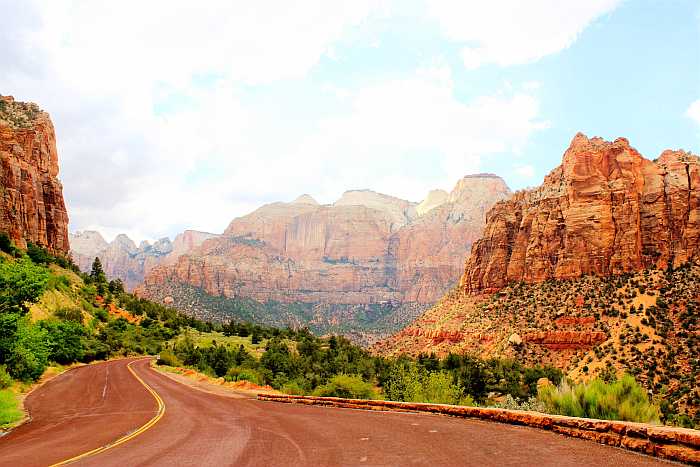 Zion National Park (Photo: Envato)
National Parks Near Las Vegas
Las Vegas is uniquely positioned near several renowned national parks, making it a popular starting or stopping point for travelers wanting to explore the natural beauty of the American Southwest. Be sure to pick up some kosher food on your way out of Vegas since it's not so easy to find kosher food near the national parks.
Here are some of the most famous national parks near Las Vegas and their approximate driving distances:
Red Rock Canyon National Conservation Area: About 30-minute drive from Las Vegas. While not a national park, it's a popular natural area near Las Vegas known for its red rock formations and scenic vistas.
Death Valley National Park (California): About a 2-hour drive from Las Vegas. The lowest, hottest, and driest national park, this vast desert landscape features unique sand dunes, salt flats, and colorful rocks.
Zion National Park (Utah): About 2.5 - 3 hours drive from Las Vegas. Towering sandstone cliffs, deep canyons, and the picturesque Virgin River make up this Utah gem.
Lake Mead National Recreation Area: About 30-40 minutes drive from Las Vegas.While not a national park, it's America's largest reservoir, where water meets desert cliffs, offering boating, fishing, and breathtaking vistas.
Grand Canyon- West Rim (Skywalk): About 2.5 hours from Las Vegas. A glass walkway suspended over the Grand Canyon, offering visitors a thrilling and unobstructed view of its depths. Note: This isn't the main part of Grand Canyon National Park but a popular day-trip destination from Las Vegas.
Grand Canyon National Park (South Rim): About 4-4.5 hours from Las Vegas. Iconic and awe-inspiring, it showcases layered bands of red rock revealing millions of years of geological history.
Joshua Tree National Park (California): About 3 - 3.5 hours from Las Vegas. Where the Mojave and Colorado deserts meet, characterized by its namesake Joshua trees and starry night skies.
Bryce Canyon National Park (Utah): About 4 hours from Las Vegas. Home to the world's largest collection of hoodoos (spire-shaped rock formations) set in a natural amphitheater.
Capitol Reef National Park (Utah): About 5.5 to 6 hours from Las Vegas. A hidden treasure filled with cliffs, canyons, domes, and bridges in the older, water-eroded rock of Utah's desert.
Great Basin National Park (Nevada): About 4.5 to 5 hours from Las Vegas. From ancient bristlecone pines to marble caves, this park showcases the diversity of the desert, mountains, and night skies.
Arches National Park (Utah): About 7 hours from Las Vegas. Over 2,000 natural stone arches, along with hundreds of soaring pinnacles, giant fins, and balanced rocks in a red rock wonderland.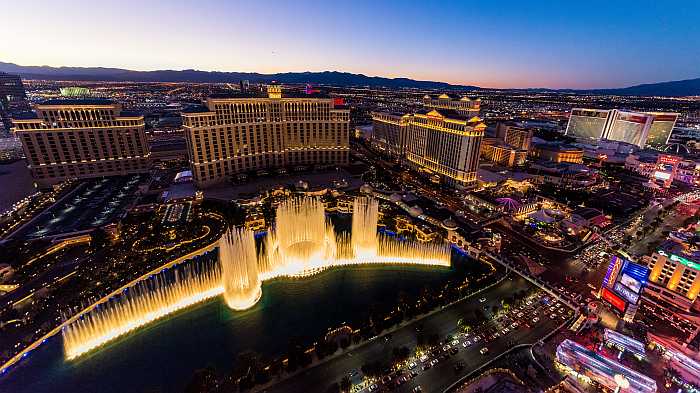 The Bellagio fountains (Photo:

VOO QQQ

on

Unsplash

)

Conclusion
As you can see, Vegas is more than the casinos that you have seen in the movies. The hotels are something to see, there are amazing shows, museums and fun family activities for kids of all ages. Take a day or two to visit one of the national parks that are within driving distance.
Not only is there so much to do, there is also kosher food. You have a choice of kosher restaurants, from pizza to falafel, burgers and steaks. You can eat at the restaurants or get delivery to your hotel room. Get more details in our
guide to kosher and Jewish life in Las Vegas.
Las Vegas promises an unforgettable kosher adventure for the entire family. See you on the Strip and beyond!