The Alps at sunset (Photo: Shutterstock)
It's not quite winter yet but it might be getting cold and rainy, depending on where you live. Time to start researching your winter vacation so you have something to look forward to. You have a choice of warm weather winter vacations where you can lounge on the beach and work on your tan or a ski vacation where you hit the slopes. We have great options for ski vacations in France, Switzerland and Italy. If you're craving some sun then we have options in Dubai, Morocco, Mexico, Panama, Mauritius, Costa Rica, Brazil and Cyprus. Find the perfect kosher ski vacation for your family this winter.
Please click on the links below for exact dates and more details
Gourmet Travel at the Hotel Le Piolet in Les Menuires, France: Ski at the heart of the 3 valleys, the largest ski area in the world. There is a wide range of routes for both the novice and the expert skier. Enjoy Glatt kosher meals, synagogue and kids club.
Family Holidays at Hotel La Brunerie in France: Hotel with a swimming pool, located at the foot of the slopes. Enjoy delicious meals, boxed lunches, kids club and synagogue.
Crystal VIP at the Hotel La Brunerie in the French Alps: Hotel at the foot of the slopes, one of the best snowboard parks in France and the widest skiable glacier in Europe. Enjoy Glatt kosher mehadrin meals and musical entertainment every evening.
Crystal Club at Hotel Le Piolet in France: Ski vacation in the largest ski area in the world. Enjoy delicious gourmet food, kids club, activites and entertainment.
My Tours Glatt in Switzerland and France: The Hotel Mirabeau in the Swiss resort town of Crans Montana and Les Menuires, France, in the heart of the 3 valleys. Glatt kosher food and amazing skiing.
Kosher Cresta Hotel Davos in Switzerland: Gourmet kosher dining, swimming pool, shul and mikvah. Enjoy the stunning views, skiing and snow sports.
My One Kosher Hotel in Alba di Canazei in the Italian Dolomites: The snow covered slopes of the area are a paradise for skiing and snowboarding enthusiasts. This all-year-round kosher hotel offers a new indoor heated swimming pool, children's pool and whirlpool.
Fun Fit Family in Cervinia, Italy: Kosher Chanukah retreat combining wellness and healthy lifestyle, focusing on fun. Full board at ski resort, kids club, activities and workshops, skiing and snowboarding for all levels.
Ideal Tours in Canazei in the Italian Dolomites: Kosher hotel with a synagogue in the world's largest skiing region. Sports activities at the resort and skiing and snowboarding for all levels.
Tourman at Olympic Turismo Antico Borgo Hotel in Italy: Glatt kosher ski vacation in the Dolomites. Also options for ski vacations during Purim and Passover.
Kosher Winter Getaways at The Equinox in Vermont: Resort near Vermont's best trails and winter activities for all ages. Enjoy delicious gourmet food, evening entertainment, Shabbat programming and daycare.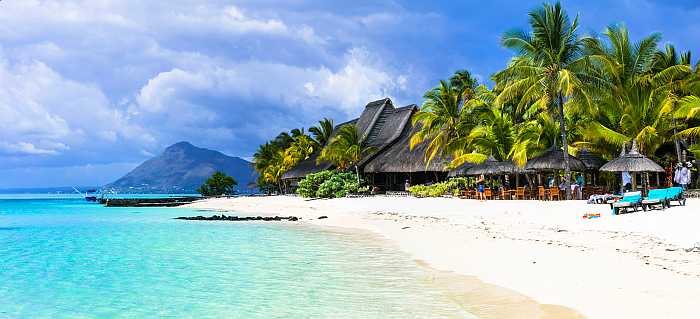 White sand beach of Mauritius (Photo: Shutterstock)


Sublim K at JA Lake View Hotel in Dubai: Five star hotel with gym, pools, private beach, golf course and more. Full board, Glatt kosher meals, synagogue and kids club.
Joey Freudmann/Ophir Tours Jewish heritage tour to Morocco: Five star hotels in Marrakech, Fes and Casablanca. Rabbi Stewart Weiss will be the scholar in residence.
Glatt Kosher Vacations at the Dreams Vista Cancun Golf & Spa Resort in Mexico: Enjoy the beautiful beaches, pools and water sports. Glatt kosher gourmet dining, kids club, daily minyanim and activities.
Club Turquoise at Long Beach Resort in Mauritius: The resort has stunning views, golf course, water sports and spa. Enjoy delicious kosher food, organized Shabbat and kids club.
Shainfeld at The Conrad (Hilton) Dubai: Luxury hotel in a prime location with pool, spa and synagogue on the premises. Glatt kosher gourmet meals, 24 hour tea room and amazing Shabbat experience.
LeVoyage at Dreams Playa Bonita in Panama: This all-inclusive family resort is ideally located for a trip to the Panama Canal, rainforests and downtown Panama City. Enjoy Glatt kosher buffets, daily minyanim, kids club, entertainment and activities.
Kosher Relax at the Marriott Hacienda Belen San Jose Costa Rica: Five-star accommodations, kosher food and trips to volcanoes, waterfalls and national parks.
Kosher Amazon Rainforest Tour in Brazil: Authentic kosher experience in the heart of the Amazon rainforest - swimming with pink river dolphins, sunrise contemplations, recreational piranha fishing, visiting indigenous communities, hiking and sightseeing.
The Blue Lagoon Kosher Resort in Paphos, Cyprus: Resort on the beach with indoor pool, spa and wellness center and gym. Full board kosher meals and evening programs. Exciting tours and activities in the area.
White & Blue at The Hilton Taghazout Bay Beach Resort & Spa in Morocco: Resort with swimming pool, spa, tennis court, kids club and more. Enjoy traditional gourmet meals, lectures and shiurim.
The Grill Oceanfront Restaurant at Grand Hyatt Resort in Playa del Carmen, Mexico: Mid-winter vacation, kosher fine dining options at this resort on the beach. Kosher options for breakfast, lunch and dinner as well as Shabbat experience.
Click on the links for exact dates and details. Some of the hotels have kosher vacation programs throughout the winter and some are during Chanukah or yeshiva week. Enjoy the convenience of a kosher winter vacation where you don't have to worry about schlepping food. These kosher winter vacation programs offer gourmet meals and many offer the option for boxed lunches to take when you go on trips or out skiing for the day. Another great option for winter vacation is a
kosher cruise
to the Caribbean, Europe or Alaska. If you decide on a DIY vacation then check out our list of
kosher hotels
,
tour guides
and our
directory of kosher restaurants
around the world.