Philadelphia skyline (Photo: Envato)
Philadelphia, called Center City by the locals, holds a special place in my heart. This city is more than a mere dot on a map to me. My mother is from Philly and so is my husband, whose family's roots in the city date back to the late 1800s. We spent a decade living in the suburbs of Philadelphia as a young family. Although we've called Israel home for the last 14 years, we remain dedicated Philadelphia Eagles fans - well my husband and kids do, anyway.

Fly Eagles Fly!
While Philadelphia might be best known as the home of Rocky Balboa, it is also an old city with a rich history, brimming with remarkable "firsts" that have left their mark on the United States. It was here that the nation's first public library, hospital, and medical school were established. The first stock exchange traded, the first daily newspaper was printed, and the first zoo opened its gates. Philadelphia also has the distinction of being home to the nation's oldest continually operating theater. But this city is not just about historical milestones – it's a lively hub for families, offering an array of engaging activities. Read on for a guide to Jewish heritage sites, historical landmarks, museums and fun family activities for your summer vacation.
Philadelphia is a city that's great to visit any time of year, with each season offering its own unique appeal. Summers here can get pretty warm, which is great for exploring the outdoors, catching a Phillies game, or taking a leisurely walk through the city's historic neighborhoods. Fall in Philadelphia is simply lovely, with changing leaves adding a vibrant splash of color to the city's parks and streets. Winter can be a bit chilly, but there's something quite special about the city covered in a blanket of snow and there are plenty of . Spring sees the city reawakening with blooming flowers and milder temperatures - it's the perfect time to visit the city's various parks and outdoor attractions. So no matter when you're planning your visit, you're in for a treat in Philadelphia.
Despite its rich Jewish history and abundant activities, Philly's kosher food scene leaves something to be desired. The city has a number of kosher vegan and vegetarian restaurants and Rita's Water Ice. At the end of the day, you can head to the northeast or to the Lower Merion/Bala Cynwyd area for a nice dinner. Find out about
kosher and Jewish life in Philadelphia
.


Training montage from Rocky (1976)

An Overview of Philadelphia's Jewish Heritage
Jewish immigrants started settling in Philadelphia as early as the 18th century, leaving an indelible mark on the city's cultural, economic, and social fabric. Over time, the Jewish community's size and influence have grown, making Philadelphia one of the most historically significant cities for American Jewry.
The
National Museum of American Jewish History
is a must-visit spot located in the heart of the city. This museum tells a compelling story of the Jewish experience in America, from the earliest immigrants to the present day. With over 30,000 artifacts, it shines a light on how Jewish individuals contributed to the nation's development while preserving their unique cultural identity. Special exhibitions and public programs make the experience all the more immersive.
Continue your exploration with a visit to
Congregation Mikveh Israel
, one of the oldest synagogues in the United States. Also known as the Synagogue of the American Revolution, this place has been a hub for the Jewish community since colonial times. Here, you can witness the stunning Sephardic architectural design and learn about the congregation's significant role in American Jewish history.
Take a moment to visit the
Philadelphia Holocaust Memorial Plaza
, known as the Monument to Six Million Jewish Martyrs. Unveiled in 1964, it was one of the first public Holocaust memorials in the United States. The monument stands as a poignant tribute to those who lost their lives during the Holocaust and serves as a reminder of the enduring strength and resilience of the Jewish community.
Philadelphia's Jewish landmarks offer a deep dive into the heart of the city's Jewish heritage. As you explore these locations, you will discover the enduring imprint of the Jewish community in shaping the city we see today.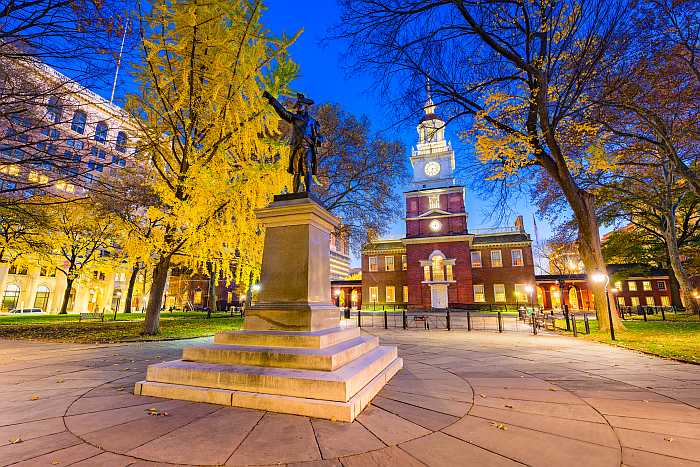 Independence Hall in Philadelphia (Photo: Envato)
A Walk Through History: Exploring Philadelphia's Local Landmarks
Welcome to the city where the past is present! Philadelphia, steeped in history and culture, is the city where the United States of America was born. It's a living history lesson filled with buildings, parks, and monuments that tell a fascinating tale of times gone by. So, let's hit the cobblestone streets and uncover the historic gems that Philly has to offer.
First on our itinerary is the legendary
Independence Hall
, the cradle of American democracy. Standing before this grand Georgian-style building, you can almost hear the whispers of the Founding Fathers who, within these walls, debated and adopted the U.S. Constitution and the Declaration of Independence.
Nearby, don't miss the opportunity to see the
Liberty Bell
, a symbol of American independence. Inscribed with the words "Proclaim Liberty Throughout All the Land Unto All the Inhabitants Thereof", this iconic bell captures the spirit of freedom that resonates in the heart of every American.
Next, venture to the charming Betsy Ross House. As the place where the first American flag was reportedly sewn, this humble abode is an integral part of the city's Revolutionary history.
Another stop on your historic tour of Philadelphia should be the
National Constitution Center
. This interactive museum is the only institution chartered by Congress to educate the public on the U.S. Constitution in a non-partisan way. The center offers engaging exhibits and performances that bring the Constitution to life.
No trip to Philadelphia is complete without honoring the legacy of one of its most distinguished residents, Benjamin Franklin. Visit the
Benjamin Franklin Museum
, located in Franklin Court, on the site of his former residence. The museum beautifully showcases Franklin's legacy as a printer, scientist, and diplomat. Right nearby is Franklin's Print Shop, a working reconstruction of his original printing business. Here, live demonstrations by the National Park Service bring to life the crafts and trades of the 18th century, offering a tangible connection to Franklin's life and his enduring impact on the city he loved so dearly.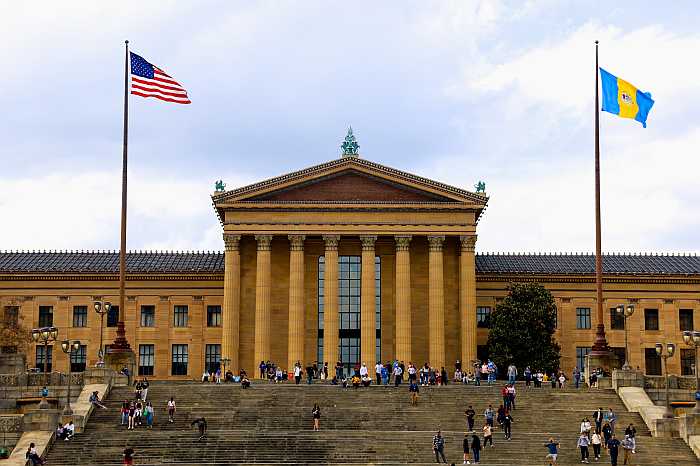 Philadelphia Museum of Art (Photo: Andrew Adams - Unsplash)
Family Fun in Philly: Activities That Kids and Adults Will Love
Start your family adventure at the
Please Touch Museum
. An interactive playground of sorts, this museum stimulates the creative muscles and curiosity of children. From a kid-sized city to a vintage carousel, it's a paradise for the little ones.
Then step into the world of science and innovation at
The Franklin Institute
. One of the oldest centers of science education in the U.S., this museum brings science to life with interactive exhibits like the Giant Heart and the SportsZone where kids can learn the science behind sports.
Just a stone's throw away is the
Academy of Natural Sciences
of Drexel University. Known for its dinosaur exhibits, butterfly pavilion, and live animal center, it offers an exciting day of discovery and learning about the natural world.
Don't forget to visit the
Philadelphia Zoo
- America's first zoo. It houses over 1,300 animals and features the innovative Zoo360, a network of see-through trails allowing animals to roam around and above visitors.
For outdoor fun, head to Franklin Square. It's one of Philadelphia's original five squares and has a carousel, a playground, and a mini-golf course featuring miniature versions of Philly landmarks.
Do not miss visiting the iconic Philadelphia Museum of Art. It's not just about the world-class art collection inside - a trip to Philly isn't complete without doing your best Rocky impression and running up the grand steps of the museum. On our last visit, a kind passerby offered to take our photo mid-dash; the pictures turned out beautifully. Just a heads up though, if someone offers to do the same for you, they'll likely be expecting a tip.
Lastly, if you are traveling during the summer with little kids,
Sesame Place
is not too far away. It's only about 30 to 45 minutes by car, from downtown Phlly. We used to go there often - lots of water rides to cool off from the heat of the summer.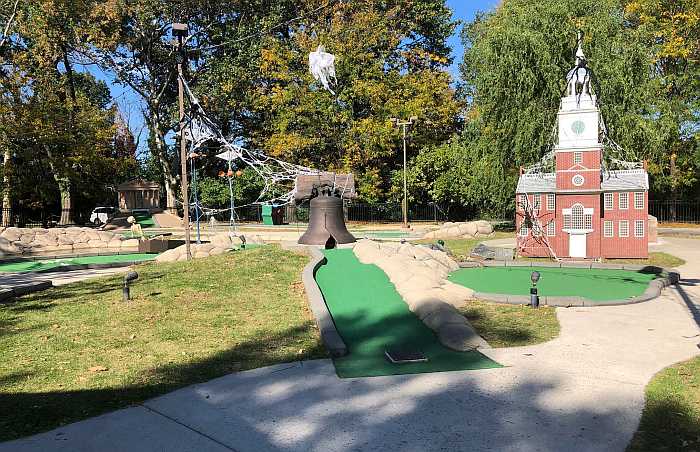 Miniature golf at Franklin Square (Photo: Rachel Kops)


Conclusion
Philadelphia is a city that perfectly blends history and fun. With its exciting family attractions and historic landmarks, there's truly something for everyone in the City of Brotherly Love. There are just so many things to do that I can't mention them all. I have picked my favorites and hope that you like them too.
With so many things to do, it's best to put together an itinerary and buy tickets in advance whenever possible. Be sure to give yourself some time to just walk around the city and explore its hidden treasures. It's good to have a plan but also be flexible with your schedule especially when traveling with young children. Check
TJT's kosher restaurant directory
so you can plan where to eat in Philly.
So come, explore, and fall in love with Philadelphia, a city that truly offers a unique blend of history and fun, education and excitement, tradition and innovation.
Enjoy your own Philly adventure!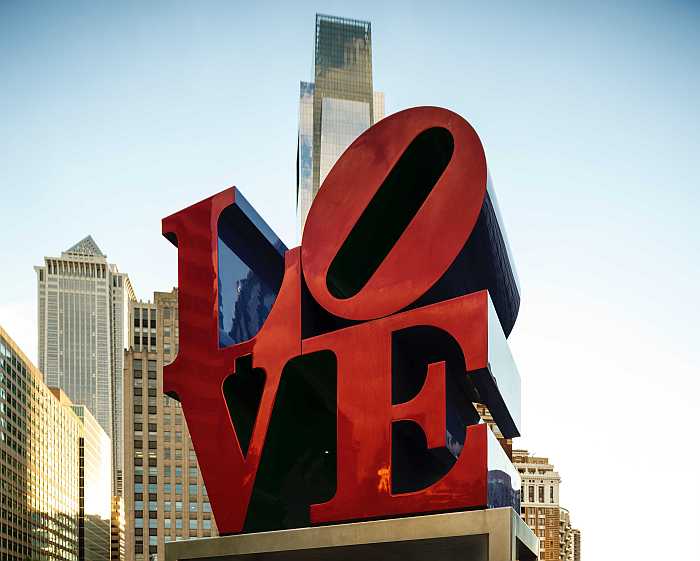 Iconic love statue in Philadelphia (Photo: Trev Adams - Pexels)