The Passover program industry began in the United States and continues to thrive with programs booking up early.
Pesach programs in the US
are selling out fast.
When is Passover 2024 in the U.S.?
Passover 2024 begins with the first Seder on Monday night, April 22nd and ends on Tuesday night, April 30th (Monday, April 29th in Israel)
. Many people want to go away for Pesach but don't have time for the longer flights. There are Passover programs in the US that accommodate a range of budgets and interests. There are programs on the beach, the ski slopes and programs surrounded by nature.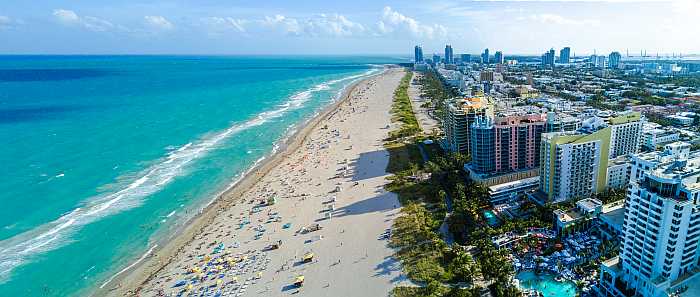 Passover programs in Miami Beach (Envato)


Check out our list of Pesach programs in the United States. We provide a brief description of each hotel and program. Please click on the program for more information. We are adding new programs on a regular basis so check back with us frequently.
PGA National Resort & Spa in Palm Beach with Leisure Time Tours & Kosherica: The resort boasts five golf courses, tennis courts, spa, health and racquetball center and lap pool. The program provides minyan, lectures, children's program, entertainment and gourmet cuisine.
Westin Beach Resort & Spa in Ft. Lauderdale with Majestic Passover: Resort on the beach with high-end spa, jet skiing and trips to the golf course and shopping malls. Program features meals, beachside BBQ, 24h tearoom, scholars-in-residence, kids' programming and entertainment.
The Waldorf Astoria Orlando with Grand Getaways: Spend Pesach in the heart of Disney World at a resort offering luxurious rooms, pools and an 18-hole golf course. Enjoy poolside BBQs, tea rooms, scholars-in-residence and day camp for the kids.
The Saddlebrook Resort in Tampa with Kosherica: Car-free walking village with golf courses, tennis courts, pools, spa and more. Program features high-end cuisine, day camp, minyanim, lectures and shiurim.
JW Marriott Turnberry Miami Resort & Spa in Aventura with Lasko Getaways: The resort boasts a water park, spa, fitness center and golf course. The program provides delicious meals, kids programming, entertainment, activities and a CME program.
Evermore Orlando Resort with Leisure Time Tours: Enjoy private home serenity with luxury amenities, right next door to Disney World. Program provides meals catered by Michael Schick, minyan, lectures, kids program and entertainment.
Trump National Doral Miami with RAM Destinations: Newly renovated luxury resort boasting golf courses, spa and pool. Gourmet menus, fabulous youth program, lectures and entertainment.
Sonesto Redondo Beach Oceanfront Resort & Marina, just 30 minutes from Los Angeles, with Passover Resorts: This oceanfront resort boasts an outdoor heated pool, fitness center, tennis and basketball court and spa. The program features lavish meals, minyan, lectures, kids' programming and entertainment. Only minutes from Magic Mountain, Universal and other attractions.
The Atlanta Evergreen Lakeside Resort in Stone Mountain with Bruce Backman's Pesach in the Southeast: The resort has a golf course, heated pools, playground, spa, fitness center and more. The program includes delicious farm-to-table meals, BBQs, day camp for the kids, multiple minyanim, lectures and entertainment.

Passover programs in Stone Mountain Park, Georgia (Shutterstock)
Passover Programs 2024 in Arizona
The Sheraton Mesa Arizona with Grand Pesach: Luxury program offers a perfect blend of exceptional amenities, beautiful weather, world-class day camp programs, delectable cuisine by Diamond Caterers, and entertainment.
Embassy Suites by Hilton Scottsdale Resort with World Wide Kosher Tours: Newly renovated resort with stunning views, located in the heart of Scottsdale. Enjoy delicious meals, lectures, entertainment, activities and amenities.
Passover Programs 2024 in New York
Villa Roma Resort & Spa in Callicoon with FFH Events: Hotel is only two hours from NYC and is exclusive for guests of the program. The hotel boasts a spa, gym, indoor pool, playground and more. Enjoy delicious food, delightful entertainment and uplifting speakers.
The Ocean Place Resort & Spa in Long Branch with Leisure Time Tours: Newly renovated hotel on the beach with spa, indoor and outdoor pool. The program offers gourmet cuisine, entertainment and day camp. Nearby attractions include Six Flags, golf and Atlantic City casinos.
The Berkeley Oceanfront Hotel in Asbury Park with the Mandels: Hotel on the Jersey Shore near local attractions in NJ and Philadelphia. Program will keep you busy with lectures, shiurim and entertainment, programming for the kids and delicious meals. Entire hotel will be kosher for Pesach.

Passover Programs in Connecticut 2024
Pesach at Isabella Freedman Jewish Retreat Center in the Berkshire Mountains with Adamah: Features programs and activities for all ages, and communal seders with semi-private options available. Enjoy classes on various topics, tours of the organic farm, guided trail hikes with extended excursion options, boating and more fun activities.
Pesach at the Pearlstone Center: OU gourmet cuisine, scholars in residence, beautiful land, nature hikes, multi-generational programming and social activities, day camp for kids, and many other unique amenities.
There were many popular Pesach programs last year in the US. Most Passover programs in Florida, Georgia and California sold out early. Many Passover programs in the USA have early bird deals so the earlier you book the better, lock in the price and reserve a spot before the program sells out. There are Passover programs 2024 in the United States that cater to different budgets. There are
Passover programs close to NYC
that are convenient for those who don't want to travel far. The
costs of Pesach programs
vary according to location and amenities. We expect Passover programs in the US for 2024 to sell out quickly. Take advantage of those early bird specials and book your
Pesach vacation
as soon as possible.