Passover programs in Europe have become increasingly popular over the past fifteen years. There was great demand for the limited, post-COVID Passover programs in Europe and we expect that to continue this year. Pesach 2023 begins on Wednesday, April 5th and ends on Thursday, April 13th in Europe and Wednesday, April 12th in Israel. Passover is an ideal time to vacation in Europe without having to worry about where to eat or daven. The Pesach hotels in Europe provide Kosher for Passover food as well as daily minyanim. There are Pesach hotels that offer golfing, skiing,pools and spas. Chol Hamoed is a great time to explore the local cultural and heritage sights or lounge on the beach.

Passover programs in Italy (Lake Maggiore - Shutterstock)
Check out our full list of
Passover programs in Europe
. See below a brief description of each hotel and program. Please click on the program for more information.
We are updating our Pesach guides on a daily basis so check back with us frequently.
Passover Programs 2023 in Italy

Passover programs in Prague (Shutterstock)
Passover Programs 2023 in Prague
Hotel King David is the only kosher hotel in the Czech Republic and offers its own synagogue, spa, steam room and mikvah. The hotel is walking distance to popular sights: the Jewish Quarter, Wenceslas Square, Old Town Square, Charles Bridge and Prague Castle. The Pesach package includes meals and entertainment.
The Radisson Blu Balmoral Hotel with Travellux: Luxury hotel in the village of Spa, known for its healing springs. Enjoy delicious meals, lectures, shiurim, kids club and entertainment.
Georgia Palace Hotel & Spa Kobuleti with Mikud Tours: Luxury hotel on the beach, just 30 minutes from Batumi. The hotel boasts pools, spa, fitness room, basketball, billiards and more activities. The program includes delicious gourmet meals, kids club, minyan, lectures, shiurim and entertainment.
Dreamland Oasis Hotel Batumi with Kosher Tours: Five-star hotel with private beach, water park, pools, activities and beautiful grounds. Enjoy gourmet meals, lectures, shiurim and entertainment.

Passover programs 2023 in France


Pesach Programs in Greece for 2023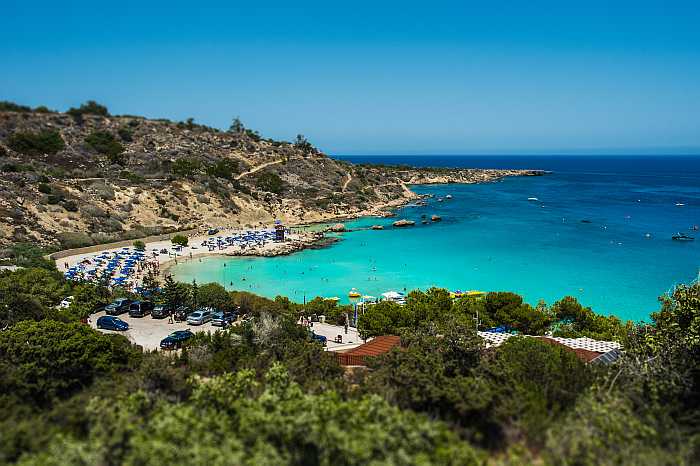 Passover programs in Cyprus (Shutterstock)
Passover Programs 2023 in Cyprus
The Blue Lagoon Kosher Spa Hotel on the beach in Paphos has a private beach, spa, synagogue, tennis courts and pools. The program offers rich meals, minyan, entertainment and excursions.
Sentido Sandy Beach Hotel & Spa on the beach in Larnaca with Luxury Club: Hotel with private beach, pools, spa and water sports. Program offers delicious food, synagogue, kiddush, Mimouna, kids club and entertainment.
Secret Forest Resort & Spa located in the heart of the mountains: Spa resort surrounded by nature with medicinal sulfur pools and springs. Relax, recharge, take long walks, yoga, healthy meals, pool and more.
Passover Programs in Turkey 2023
Amara Premier Palace in Antalya, Turkey with Vered Holidays: Enjoy fine Glatt kosher cuisine, kids club, lectures and shiurim.

Pesach Programs in Spain 2023
Aurelius Hotel in the Carpathian Mountains with Avimor Tourism: Luxury hotel with swimming pools, fitness room and spa center. Enjoy gourmet meals, entertainment, outdoor activities and excursions.
There were many successful Pesach programs in Europe for Passover 2022, including those in Croatia, Greece, Italy, France, Spain and Prague. Most Passover programs in Europe sold out early and had long waiting lists. Those who booked their Pesach vacation early enjoyed lower rates for both programs and flights. This year, airlines should be better prepared for the increase in international travel so there will be fewer cancellations and the low dollar/euro exchange rate helps to compensate for the effects of inflation. There are Pesach programs in Europe to accommodate a range of budgets.
Passover program prices
vary based on the location, amenities and programming. Many programs have early bird deals so the earlier you book the better, lock in the price and reserve a spot before the program sells out.