Many families take there winter vacations during "yeshiva week". Temperatures in the east coast tend to be very cold in January and February so many kosher travelers choose a warm location for winter vacation. There is no universal "Yeshiva Week" break. Different cities and even different schools in the same cities have different "Yeshiva Week" breaks. Jewish schools have off for yeshiva week break from the middle of January through the first week of February.

Winter vacation in Miami Beach (Photo: Envato)

Growing up in New York, there weren't many options for Yeshiva Week vacation. Most people went to Grossinger's (until it closed in 1986) or to Florida. Dubai? Nobody had even heard of Dubai. I'm from New York. We didn't learn geography. There was New York and then there was everywhere else.. Today, we live in a global society where everybody is connected and the internet has expanded our knowledge of other cultures. Although, I would guess that New Yorkers still think that New York is the center of the world.
Now let's talk about kosher food on these winter vacations in the 1980s. I remember trips to Disney World meant eating lots of tuna fish sandwiches. Kids today don't realize how good they have it, with so many kosher restaurants in vacation destinations around the world. Today I'm going to talk about four popular warm-weather kosher vacation destinations for winter 2024: Florida, Panama, Mexico and Dubai.
Yeshiva Week 2024 in Florida
Seems like most of the action during yeshiva week is in the Orlando and Miami areas but there are also people going to Boca, Hollywood and Ft. Lauderdale. There are
kosher restaurants
in all these areas, some have more than others. If you haven't made a reservation yet then it might be too late to get into some of the very popular restaurants or any of them for that matter.. People make reservations well in advance of yeshiva week because the restaurants book up early.
The average high temperature in Florida ranges from 62 to 74 degrees fahrenheit. Might not be beach weather but perfect weather for the theme parks in Orlando and for the many outdoor activities available in other areas near Miami and Ft. Lauderdale.
Frost Science Museum in Miami - with an Aquarium and Planetarium, it's great for families
The Miami Zoo has more than 3,000 animals
Everglades National Park - there are easy to moderate trails, see the wildlife and natural beauty of the park
Head to the Florida Keys for snorkeling, kayaking or glass-bottom boat tour
Gumbo Limbo Nature Center on a barrier island in Boca Raton - butterfly gardens, marine aquariums and more
Sugar Sand Park in Boca - Children's Science Explorium and the Willow Theatre; and the Field House, which features an indoor gymnasium
Bonnet House Museum and Gardens in Ft. Lauderdale - house dating back to the 1920's is a blend of art, history and nature

Winter vacation in Panama (Photo: Shutterstock)
Yeshiva Week 2024 in Panama
Panama has become a super popular kosher vacation destination over the past decade. It's close proximity to the New York area, flight time of around five hours, and the myriad
kosher restaurants
might have something to do with that. There are almost 50 kosher restaurants in Panama City. Panama is hot all year round and January is the hot dry season so you are almost guaranteed perfect beach weather every day.
If you're not a beach lover, don't worry, there are plenty of activities to keep you busy:
The Miraflores Visitor Center has exhibits and activities about the Panama Canal.
Biomuseo - natural history museum of Panama
Hike the rainforest
Visit Monkey Island and see the monkeys native to Panama
Jet ski rentals, fishing boat charters and speed boats
Metropolitan Natural Park - the only tropical rainforest located within the city limits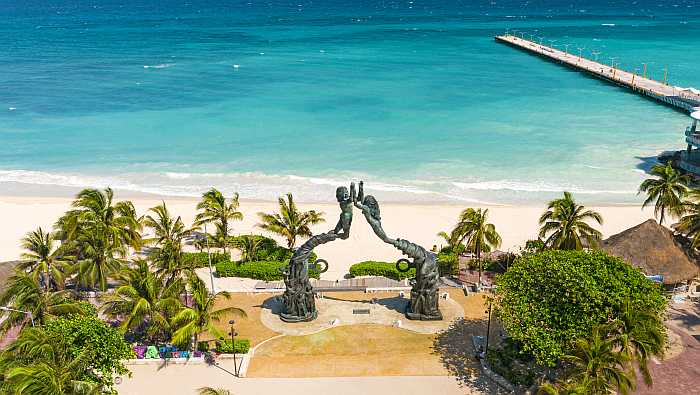 Winter vacation in Playa del Carmen, Mexico (Photo: Envato)
Yeshiva Week 2024 in Mexico
Most of those heading to Mexico for yeshiva week are going to Cancun or the Riviera Maya (which includes Playa del Carmen), both sit on the Caribbean coastline on Mexico's northeastern Yucatán Peninsula. Mexico is another convenient warm weather destination just south of the border. With just a 4 and a half hour flight, warm weather and kosher food, it's perfect for a winter getaway. There are
kosher restaurants
and a few
hotels with kosher food
options to choose from. Enjoy the warm weather and beautiful beaches or head out for some sightseeing and adventure.
Boating or snorkeling tour - jump in, the water is warm
Swim in one of the many cenotes (natural sinkholes filled with water formed in limestone caves) that can be found in the Riviera Maya
Tour the ancient Mayan ruins of Tulum
Visit the Mayan city of Chichen Itza - a UNESCO world heritage site famous for its ancient pyramids
Whale shark tours - better chance of seeing the sharks, nesting turtles and sea turtles in the summer months
The Hotel Zone (Kukulcan Boulevard) is the tourist area with resorts, catamarans and beaches
Visit Downtown Cancun and check out the local culture
Zip lining at one of the adventure theme parks
Check out the amazing views of the Caribbean coast from the Cancun Scenic Tower

Winter vacation in Dubai (Photo: Envato)



Yeshiva Week 2024 in Dubai
Dubai is the newest "hot" kosher vacation destination. At 12 and a half hours, it is definitely the furthest but many agree that it is worth the trip. Since the signing of the Abraham Accords in 2020, Dubai has become popular for kosher vacations, Sukkot and Passover programs. Dubai has great weather in January, with very little rain and average daily temperatures in the mid-70s but you might want to bring warmer clothing for the evenings. The
kosher food scene
has exploded over the past two years, with kosher restaurants, a kosher supermarket, kosher catering and kosher food at the hotels. There are many sights and exciting activities for an unforgettable vacation.
The Dubai Aquarium
Ski Dubai, an indoor ski hall in sub-zero temperatures, with five different slopes covering 22,400 square meters
Dubai Mall
Glatt Kosher Dubai attractions - evening cruise or kosher jeep tour with Ephraim Camissar
Atlantis Aquaventure Waterpark
Miracle Garden is the largest natural flower paradise in the world
Beautiful beaches, that are free or have a minimal charge, featuring lifeguards, showers and changing rooms
Many activities including jeeping, sandboarding, camel safaris, speedboat tours and more

Wherever you are headed for Yeshiva Week, enjoy quality time with the family and just be thankful that you don't have to schlep along food and subsist on tuna fish sandwiches.