Aerial view of the city of Garda, Lake Garda and Verona (Photo: Envato)
The Lake Garda region in Northern Italy is a popular summer getaway for travelers from all over the world. Its Mediterranean climate and warm weather make it the perfect place to relax and unwind during the summer months. There is something for everyone in the area, from historical landmarks and charming villages to hiking, water sports and theme parks. Whether you are traveling as a couple, a family with younger children or older children, you will have no trouble finding things to do. There are certain things that you must be aware of and come prepared for - and this is not only kosher food preparation. Read on for our guide of activities, attractions and tips.
Lake Garda has long been a popular kosher vacation destination. While it doesn't look like there will be kosher hotels in the area for summer 2023, there is a new
Chabad House
opening in June. The Chabad House will operate during the season, serving Shabbat meals, catering, and offering kosher products throughout the week. Additionally, several hotels in the area are within walking distance, making it easy for visitors to access the Chabad House and explore Lake Garda.
Lake Garda, the largest lake in Italy, is the star attraction of the region. The crystal-clear waters of the lake are surrounded by the majestic Dolomite mountains and rolling hills, making it a picture-perfect spot for a summer vacation. The lake is a hub for water sports, such as windsurfing, sailing, and kayaking. Take a leisurely stroll or cycle along the lake's shore, soaking in the breathtaking views of the mountains and the picturesque towns dotting the landscape. Unfortunately, Italy is in the second year of a drought and according to
Euronews
: " Lake Garda reached its lowest wintertime levels in over 30 years, revealing a sandy pathway to the isolated island of San Biago." We're not sure what this will mean for summer vacationers.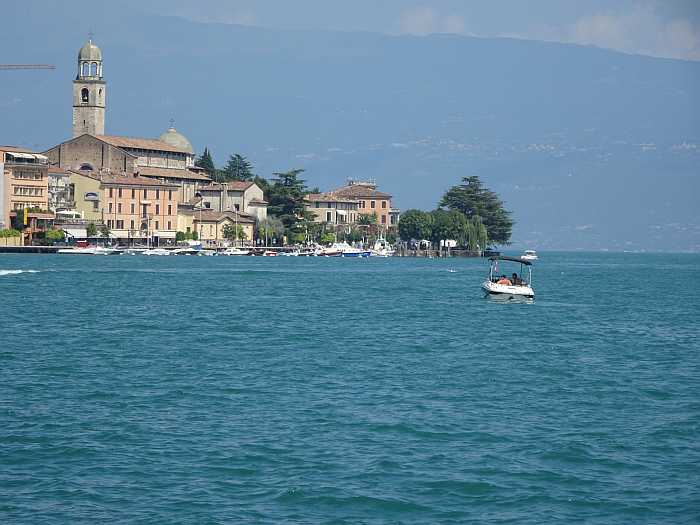 Lake Garda (Photo: Yaniv Madar)
Discover the stunning beauty and charm of this Italian paradise
Visit the charming towns in the area. Desenzano, Sirmione, and Peschiera are must-visit destinations, offering a blend of history, culture, and modern amenities. Desenzano is the largest town on the southern shore of the lake, boasting a beautiful promenade. Sirmione, on the other hand, is a charming medieval town that sits on a narrow peninsula jutting out into the lake. Peschiera is a fortified town on the southern end of the lake, famous for its Venetian-style buildings and its strategic importance in the past.
The ancient Roman ruins of Grotte di Catullo in Sirmione is a must-visit attraction for history buffs. The ancient villa complex, dating to the 1st century, is one of the largest and most well-preserved Roman sites in northern Italy. Explore the ruins of the villa and its surrounding gardens, taking in the stunning views of the lake and the mountains.
Another historical attraction in the area is the Scaliger Castle, a medieval fortress in Sirmione. The castle dates back to the 13th century and offers a glimpse into the region's rich history. Take a guided tour of the castle and its grounds, which include a drawbridge, towers, and a moat.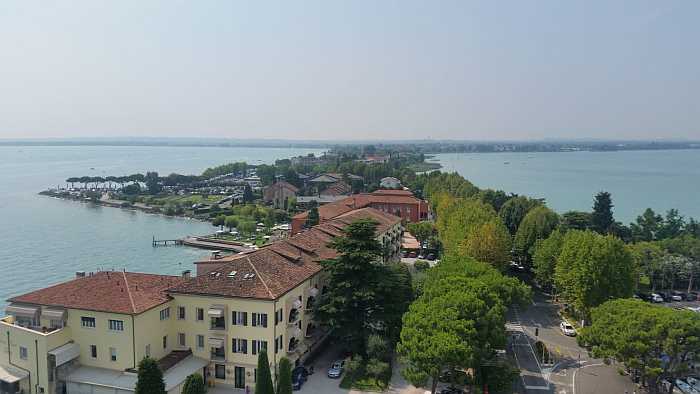 Sirmione on Lake Garda (Photo: Yaniv Madar)
Riva del Garda and Limone sul Garda are two picturesque towns on the northern end of the lake, surrounded by lush greenery and rolling hills. Riva del Garda is popular with outdoor enthusiasts, offering a range of activities such as hiking, biking, and rock climbing. Limone sul Garda is known for its lemon groves and offers a scenic cable car ride to the top of the nearby mountains, offering breathtaking views of the lake and the surrounding landscape.

Get active and enjoy the great outdoors in the Lake Garda region
With the crystal-clear waters of Lake Garda at your doorstep, it's no surprise that water sports are a popular activity in the region. Take a refreshing swim in the lake, or rent a sailboat and explore its vast expanse. For thrill-seekers, windsurfing and kiteboarding are popular options, with lessons and rentals available at many of the lakeside towns.
The mountains surrounding Lake Garda offer endless opportunities for hiking and cycling enthusiasts. From leisurely walks to challenging treks, there are trails for different levels of fitness and experience. The panoramic views from the top of the mountains are breathtaking, making the effort to get there more than worth it.
For those looking for a more relaxed outdoor activity, golfing and horseback riding are popular options. The region boasts several golf courses, including the Golf Club Paradiso del Garda and the Gardagolf Country Club, both offering stunning views of the lake and the mountains. Horseback riding is also a popular way to explore the surrounding countryside, with many stables and riding schools offering guided tours.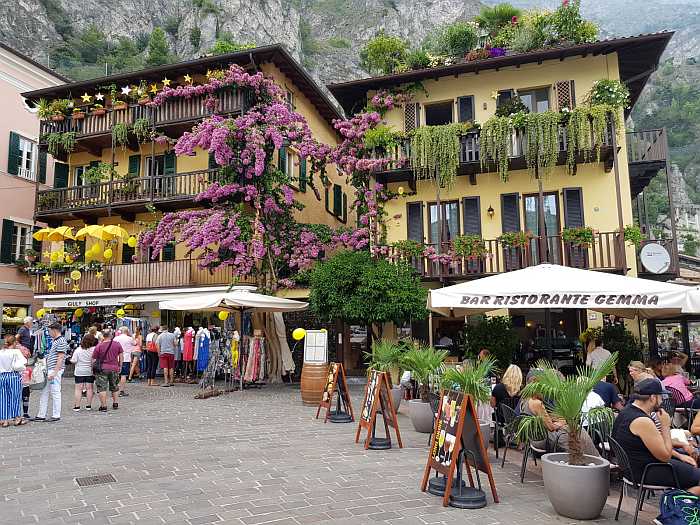 Limone sul Garda (Photo: Yaniv Madar)
Family-friendly attractions in the Lake Garda region
Gardaland is the largest amusement park in Italy, with over 30 rides and attractions to choose from. Highlights include the Raptor roller coaster, the Jungle Rapids water ride, and the Magic House interactive exhibit. There are also plenty of family-friendly rides, like the Flying Island and the Funny Express train.
Caneva is another popular theme park in the Lake Garda region, with a focus on water rides and attractions. Kids will love the Pirates of the Caribbean water ride, the Rio Bravo river rapids ride, and the Caribbean Bay wave pool. There's also a dedicated kids' area with smaller rides and play areas.
Movieland is a must-visit destination for movie lovers. This park is dedicated to the world of cinema, with attractions based on popular films and TV shows. Kids can ride the Terminator 5D ride, explore the horror-themed Nightmare Castle, or watch live stunt shows and performances.
Parco Natura Viva is a wildlife park, home to over 500 animals from all over the world, including lions, tigers, giraffes, and zebras. Visitors can take a safari-style tour of the park, or explore on foot.
Jungle Adventure Park features ziplines, rope courses, and other challenges set in a beautiful forest setting. It's a great way to get some exercise and enjoy the natural beauty of the area.
Aquardens is one of the largest thermal water parks in Italy, with dozens of pools, waterfalls, and jacuzzis fed by natural hot springs. It's a great place to relax and unwind after a busy day of sightseeing.
Sigurtà Garden Park is a sprawling botanical garden that is home to over 350,000 plants from around the world. It's a great place for a leisurely stroll, and kids will love the hedge maze and playgrounds.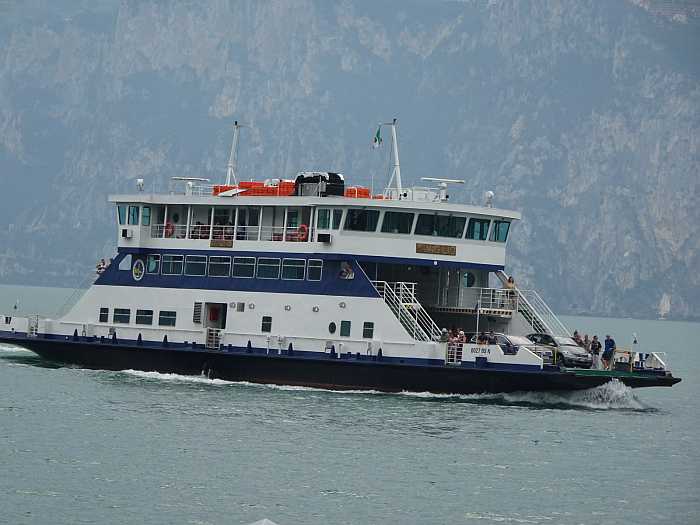 Lake Garda ferry (Photo: Yaniv Madar)
Tips for planning your summer vacation in Lake Garda

Best time to visit for summer activities and events:

Summer is the peak season in Lake Garda, and for good reason. With sunny weather and warm temperatures, it's the perfect time to enjoy all the outdoor activities the region has to offer. June to August is the busiest time, with many events and festivals taking place, including the Sirmione International Prize for Short Stories and the Garda Jazz Festival.

Beware of the Mosquitoes: The combination of summer rain, warm weather and a sweet water lake are a breeding ground for mosquitoes. Be sure to pack insect repellent and treatments for bug bites. Wear long-sleeved shirts and pants, especially during dawn and dusk and avoid standing water, where mosquitoes tend to breed. Stay in air conditioned accommodations so you can keep doors and windows closed. The local shops sell citronella scented candles, a natural mosquito repellent. The supermarkets actually have a dedicated section for mosquito repellents, in case you forget yours at home.
Accommodation options, including hotels, resorts, and vacation rentals: The Lake Garda region offers a wide range of accommodation options to suit every budget and preference. From luxurious hotels and resorts to cozy bed and breakfasts and vacation rentals, there's something for everyone. Popular towns to stay in include Desenzano, Sirmione, and Peschiera, all offering easy access to the lake and surrounding attractions. Check out our guide to JOFY hotels and apartments near the Chabad House in Desenzano del Garda.
Kosher food in Lake Garda: Other than the Chabad House, which will be open during the tourist season, there is not much kosher food to be had in the area. There are currently no kosher restaurants in the Lake Garda region. It is a good idea to bring kosher food products with you and be in touch with the Chabad House in Lake Garda to find out what products they sell. You can usually find kosher snacks and ice cream at the local supermarket. Look for a kosher symbol and check the kosher product lists put out by Italy Kosher Union and ItalyKosher.com. If you are up for a day trip then head to Venice or Milan to have a kosher family meal and pick up some kosher products. It's between a two and half and three hour drive to each city, depending on where you are staying on the lake. It is also a good idea to stay in a place that has a kitchenette so that you can prepare kosher meals.
Transportation options, including car rentals, buses, and ferries: Getting around the Lake Garda region is relatively easy, with several transportation options available. Renting a car is a popular choice, giving you the freedom to explore the region at your own pace. Buses and ferries also offer convenient and affordable transportation, with regular schedules connecting the towns around the lake.
Safety tips and travel advice for the region: While the Lake Garda region is generally safe for tourists, it's always a good idea to take some basic safety precautions. Make sure to keep your valuables safe, be aware of your surroundings, and follow any local rules and regulations. It's also important to respect the natural beauty of the region and leave no trace behind when enjoying the outdoors.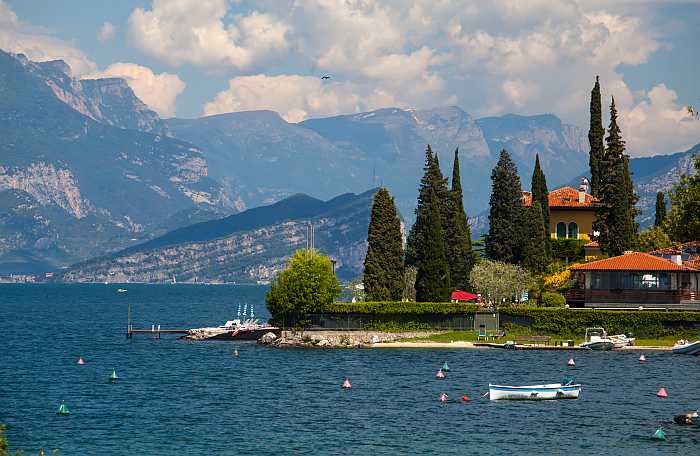 Lake Garda in summer (Photo: Envato)
Conclusion
Lake Garda has so much to offer - from the stunningly clear waters of the lake to the quaint towns and villages, historical ruins, and breathtaking landscapes. With all these options, visitors will never be bored. Whether you're looking for outdoor adventures, cultural experiences, kid-friendly activities or simply a relaxing escape from the hustle and bustle of everyday life, Lake Garda has something for everyone.
While there are no kosher restaurants in Lake Garda, there is a Chabad House and with a bit of preparation, you can have an amazing kosher summer vacation. Plan accordingly with an apartment that allows you to cook, bring along kosher food and contact the Chabad rabbi in Lake Garda for information about kosher meals and food products offered. So, pack your hiking boots, swimwear, and golf clubs, and get ready to make some unforgettable memories amidst the breathtaking beauty of this Italian paradise.