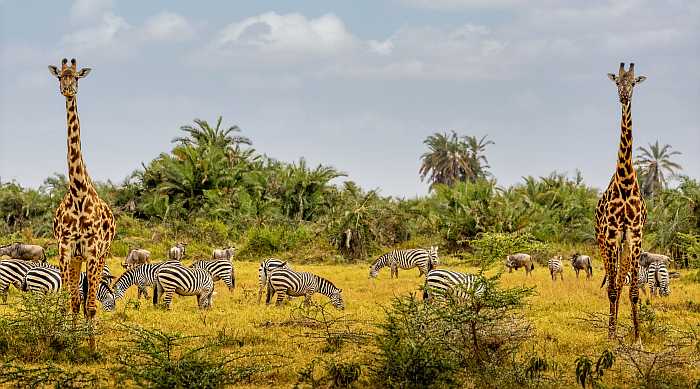 Safari animals (Photo: Envato)


If you're a traveler who adheres to Jewish dietary laws, finding kosher food options while on vacation can be a daunting task. Fortunately, there are now more and more destinations around the world catering to the needs of kosher travelers, and South Africa is one of them. In recent years, South Africa has emerged as a popular destination for kosher safaris, offering visitors an unforgettable safari experience while also providing kosher meals and accommodations. From spotting the Big Five to exploring the stunning landscapes, a kosher safari in South Africa is an incredible adventure that should not be missed. Whether you're a seasoned safari-goer or a first-time visitor, read on to discover why South Africa should be on your list for your next kosher travel adventure.
2023 - kosher safaris are back!
There are also several tour operators in South Africa that specialize in kosher safaris. These operators provide an all-inclusive experience that includes gourmet kosher meals, game drives, and other activities. The tour operators ensure that all the food is prepared according to Jewish dietary laws and that the ingredients used are of the highest quality. They also provide a wide range of menu options, catering to different tastes and dietary requirements. This means that you can enjoy an authentic African safari experience without having to worry about sourcing kosher food or preparing it yourself. The tour operators take care of everything, allowing you to focus on enjoying your adventure.
While the wildlife is undoubtedly the highlight of any African safari, there are also many other fascinating sites to see throughout the continent. In South Africa, the Cape of Good Hope is a popular destination, offering stunning views of the ocean and the rugged coastline. Table Mountain, located in Cape Town, is another must-see attraction, offering panoramic views of the city and surrounding areas. Other popular sites to visit on a safari include Victoria Falls in Zimbabwe, the Serengeti National Park in Tanzania, and the Maasai Mara National Reserve in Kenya. Each of these destinations offers a unique experience, from the incredible natural wonders to the rich cultural history of the local communities. A safari is truly a journey of a lifetime, offering visitors the opportunity to see some of the world's most incredible sights and experience the natural beauty of Africa.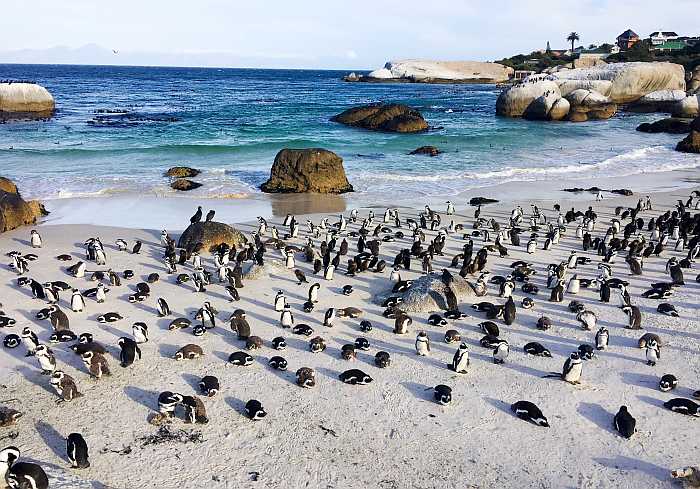 Penguin colony (Photo: Envato)

Jewish communities in Cape Town and Johannesburg
Cape Town and Johannesburg are two of the largest cities in South Africa and home to vibrant Jewish communities. The Jewish community in Cape Town dates back to the 19th century and is one of the oldest Jewish communities in the country. The Jewish community in Johannesburg, on the other hand, is relatively new and was established in the early 20th century.
Cape Town has several Jewish sites of interest, including the South African Jewish Museum, which tells the story of Jewish life in South Africa through interactive exhibits, artifacts, and photographs. The museum is housed in the historic synagogue building on Hatfield Street, which was built in 1905 and is a beautiful example of early 20th-century architecture. Another site of interest is the Garden Shul, which is the oldest synagogue in Cape Town and is still in use today. The shul was established in 1849 and has been beautifully restored, with stained glass windows and a wooden ark.
Johannesburg also has several Jewish sites of interest, including the Holocaust and Genocide Centre, which is dedicated to educating visitors about the Holocaust and other genocides. The center has exhibits on the history of the Holocaust and the stories of survivors, as well as a memorial garden. Another site of interest is the Beyachad Cultural Centre, which is home to several Jewish organizations and has a beautiful art gallery showcasing Jewish and South African art.
In addition to these sites, both cities have active Jewish communities that offer a range of cultural and religious activities. Visitors can attend services at synagogues, participate in cultural events, and even enjoy kosher dining options. Overall, Cape Town and Johannesburg offer a fascinating glimpse into Jewish life in South Africa, and visitors are sure to find something of interest in these vibrant cities.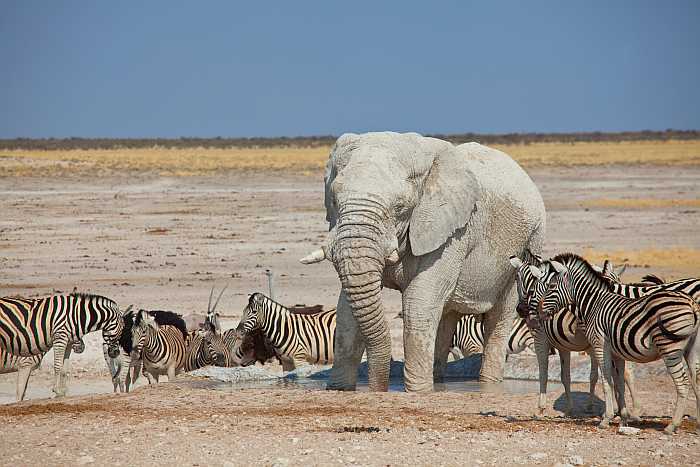 South Africa safari animals (Photo: Envato)


Get up close with the local wildlife - Kosher game drive and cruises
South Africa is renowned for its incredible wildlife, and one of the best ways to experience it is through game reserves, game drives, and game cruises. There are several excellent game reserves throughout the country, including Kruger National Park, Sabi Sands, and Addo Elephant National Park. These reserves offer visitors the opportunity to see a wide variety of wildlife, including lions, elephants, rhinos, leopards, and buffalo, among others.
One of the best ways to experience the wildlife is through a game drive. Game drives are typically led by experienced guides who take visitors on a tour of the reserve in a 4x4 vehicle. The guides are knowledgeable about the wildlife and their behaviors, and they can help visitors spot animals that they might otherwise miss. Game drives typically take place early in the morning or late in the afternoon when the animals are most active, and visitors are often treated to stunning sunrises or sunsets during their tour.
For those who prefer to take to the water, game cruises are another popular option. Game cruises take visitors on a tour of the waterways in the reserve, allowing them to see wildlife from a different perspective. Visitors can see hippos, crocodiles, and a variety of bird species during their cruise, and some reserves even offer sunset cruises with drinks and snacks on board.
Overall, game reserves, game drives, and game cruises are a must-do for anyone visiting South Africa. They offer a unique and unforgettable opportunity to see some of the world's most incredible wildlife up close and in their natural habitat. Whether you choose to go on a game drive, a game cruise, or both, you're sure to have an incredible experience that you'll never forget.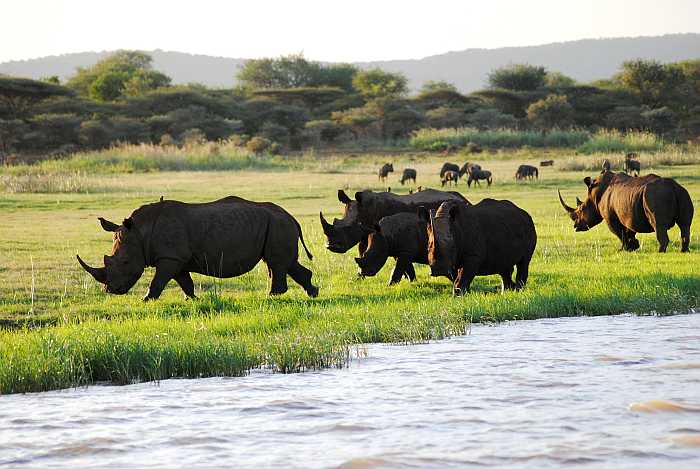 Rhinos in South Africa (Photo: Envato)


Check out these amazing Kosher safaris
South Africa Safari with Lebor Tours:
June 26 - July 4, 2023. An opportunity to see Africa's unspoiled natural beauty and wildlife, lions, leopards, elephants, and rhinos, in their natural habitat while staying in first class accommodations with gourmet kosher food. Highlights include Victoria Falls, Chobe National Park, Game Viewing Cruise, Kapama Game Reserve, Kruger National Park and Johannesburg.
Lucky Kosher Tours to South Africa:
July 31 - August 8, 2023. This once-in-a-lifetime adventure takes you to a Safari Elephant Sanctuary, Pilanesberg game reserve, Lion Park as well as tours of the local Jewish areas. Visit the oldest synagogue in South Africa, penguin colony, Cape Point and the Cape of Good Hope, just to name a few of the sites visited on this tour.
The Kosher Safari Southern African tour:
July 31 - August 10, 2023. The Kosher Safari is proudly presented by local South Africans to international standards, featuring luxurious accommodations and gourmet glatt kosher cuisine. Our tour is thoughtfully designed to offer you an all-in-one experience, where you can witness the best sights and unique African adventures. From awe-inspiring safaris to Cape Town's finest attractions and the breathtaking Victoria Falls, this is an opportunity you won't want to miss.
African lions (Photo: Envato)


Conclusion
A kosher safari in South Africa is an unforgettable experience that combines breathtaking wildlife with delicious gourmet cuisine. With tour operators providing all-inclusive packages that cater to kosher requirements, visitors can enjoy the thrill of a safari without compromising on their dietary needs. The Jewish community in South Africa, particularly in Cape Town and Johannesburg, offers an opportunity to experience Jewish culture and history in the context of a vibrant and diverse country.
From game reserves and game drives to game cruises, South Africa's wildlife offers a truly unique and unforgettable experience. With expert guides and stunning scenery, visitors can see some of the world's most incredible animals up close and in their natural habitat. Whether you are a seasoned traveler or a first-time visitor, a kosher safari in South Africa is an adventure that is sure to leave a lasting impression.