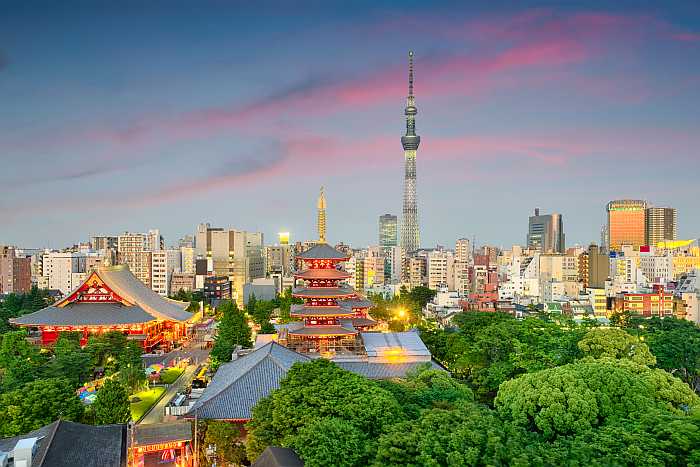 Tokyo (Photo: Envato)
Nestled to the east of Asia, Japan is a fascinating blend of old-world charm and sleek modernity. Made up of four main islands - Honshu, Hokkaido, Kyushu, and Shikoku - this country offers a little bit of everything, from bustling cities to serene landscapes.
Depending on where you go, you might need a light jacket or a sun hat. The northern parts are cool, while the south gets quite warm. And no matter the season, there's always something magical happening, be it cherry blossoms in spring or bright city lights year-round.
Here's a fun fact: Japan isn't just four islands. There are over 6,800 of them! And if you're looking to relax, you're in luck - there are more than 3,000 hot springs scattered across the country. This blog will focus on attractions in Tokyo, Kyoto, Kobe, and Takayama because those are cities that have Chabad houses and kosher food.
So, let's dive into Japan and see what it's all about!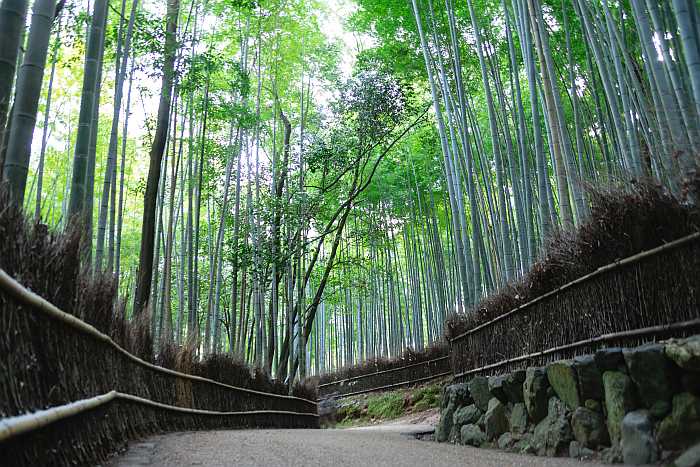 Arashiyama Bamboo Grove in Kyoto (Photo: Envato)
Jewish Community & Kosher Food in Japan
The Jewish connection with Japan began in the mid-19th century. As Japan started welcoming foreign trade in the 1850s, Jewish merchants, mostly from the Middle East and Russia, began arriving. They initially set up shop in port cities like Yokohama and later found homes in Tokyo and Kobe. Post the Russian Revolution in 1917, more Jewish families made their way to Japan.
But it's during the dark days of the Holocaust that an extraordinary tale unfolds. Chiune Sugihara, the Japanese consul in Lithuania, bravely issued visas to Jewish refugees against his government's orders. This act saved thousands from the horrors in Europe. In recognition, Yad Vashem in Israel honored him as "Righteous Among the Nations."
Today, Japan houses a modest but active Jewish community of around 1,000 members. Most reside in Tokyo, Kyoto, and Kobe. For those considering a kosher vacation, Japan has a lot to offer. There are four Chabad houses across these cities, with Tokyo hosting two as well as a Chabad house in Takayama. They offer Shabbat meals and kosher catering. Some even deliver kosher meals to various Japanese cities. Accommodation-wise, Tokyo has a small kosher hotel, and there are mikvahs in Tokyo and Kobe. If a unique blend of tradition and modernity is what you're after, Japan might just be the place. Check our guide to
kosher and Jewish life in Japan
when planning your vacation.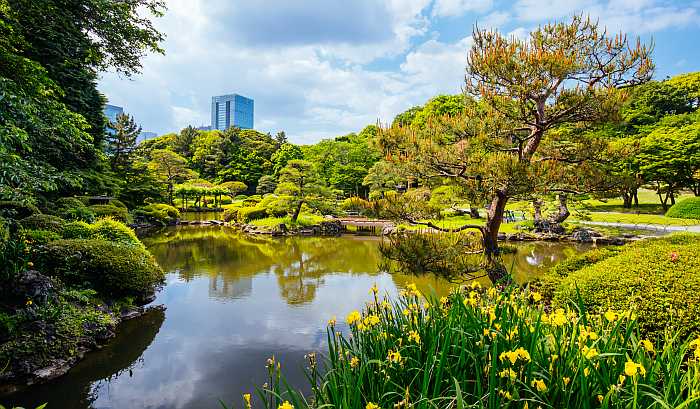 Shinjuku Gyoen National Garden in Tokyo (Photo: Envato)
Tokyo, Japan's Capital
A bustling metropolis, Tokyo effortlessly blends the ultramodern with the traditional. Skyscrapers tower next to historic temples, and neon-lit streets coexist with serene gardens, offering visitors a wide variety of experiences.
Tokyo Skytree: A contemporary broadcasting and observation tower, it's Japan's tallest structure offering panoramic views of the city.
Tokyo Tower: Inspired by the Eiffel Tower, this iconic red and white lattice structure serves both as a communication tower and a tourist attraction with observation decks.
Imperial Palace and East Gardens: The main residence of the Emperor of Japan, surrounded by moats and massive stone walls, with the East Gardens showcasing beautiful seasonal flora.
Koganeyu: A traditional sento (public bath) known for its unique "golden bath", offering visitors a relaxing soak in a historical setting.
Shibuya Crossing: The world's busiest pedestrian crossing, it epitomizes the organized chaos of Tokyo, with hundreds crossing at once from all directions.
Shinjuku Gyoen National Garden: A vast park with diverse gardens, including traditional Japanese, French, and English landscapes, it's especially popular during cherry blossom season (the last week of March and the first two weeks of April).
Yoyogi Park: Once an Olympic village, this spacious park is now a popular spot for picnics, performances, and witnessing the diverse street culture of Tokyo.
Sumo Tournament: Experience Japan's traditional sport in its full glory; the tournaments (basho) are held in Tokyo in January, May, and September.
Ghibli Museum: Dive into the whimsical world of Studio Ghibli; this museum showcases the art and animation of Japan's beloved film studio.
Akihabara: Tokyo's electric town, it's a mecca for electronics, anime, manga, and video game enthusiasts with its neon-lit streets lined with shops and arcades.
Odaiba: A futuristic entertainment hub on a man-made island, it features shopping malls, the giant Unicorn Gundam statue, and attractions like TeamLab Borderless.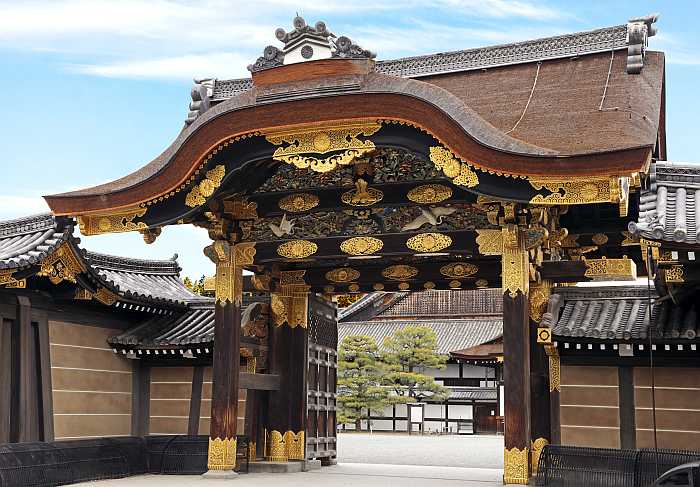 Entrance to Nijo Castle in Kyoto (Photo: Envato)

Kyoto, Japan's Ancient Capital
Once the imperial capital of Japan for over a millennium, Kyoto is a city where the past comes alive. Here, traditional wooden machiya houses and cultural arts thrive amidst modern urban life.
Arashiyama Bamboo Grove: A magical forest of towering bamboo stalks, it offers a serene walking path that makes for a quintessential Kyoto experience.
Philosopher's Path and Higashiyama District: A stone-paved walkway along a canal lined with cherry trees, leading to the historic Higashiyama District known for its preserved streets.
Fushimi Inari Taisha: A vibrant Shinto shrine famous for its thousands of red torii gates that create a mesmerizing path up the mountain.
Nijo Castle: Seventeenth century castle known for its "nightingale floors" that chirp when walked upon, and its beautifully painted sliding doors.
Samurai and Ninja Museum with Experience: Delve into Japan's warrior history, with hands-on experiences like sword demonstrations, ninja star throwing, and even dressing up as a samurai or ninja.
Sento Imperial Palace: A former residence of retired emperors, it boasts beautiful gardens with ponds, bridges, and teahouses.
Kyoto Railway Museum: A modern museum showcasing Japan's railway history, featuring old steam locomotives, modern Shinkansens, and interactive exhibits.
Day Trip to Nara: Just an hour away by train, this ancient city has a rich history and peaceful deer-filled parks.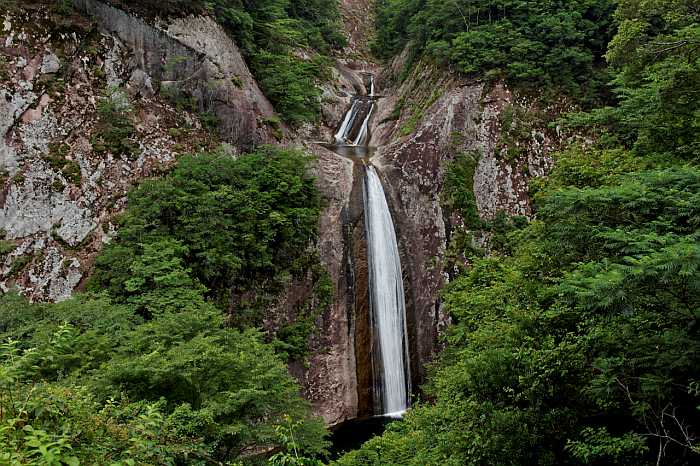 Nunobiki Waterfall (Photo by: Nunobiki waterfall 2 - By shinohal, CC BY-SA 3.0, https://commons.wikimedia.org/w/index.php?curid=54063333)
Kobe, a Cosmopolitan Port City
Nestled between mountains and sea, Kobe is one of Japan's most picturesque and international cities. With a rich maritime history, the city offers a blend of modernity and tradition, with a touch of foreign influences.
Arima Onsen: Japan's oldest hot spring town, it's renowned for its gold and silver waters that offer therapeutic benefits amidst a historic setting.
Nankinmachi (Chinatown): A bustling enclave of Chinese culture, Kobe's Chinatown is a hub for vibrant markets and festivals.
Harborland: A waterfront district that offers shopping and entertainment options with beautiful views of the port and cityscape.
Mount Rokko: Boasts panoramic views of Kobe, Osaka Bay, and even distant Awaji Island, it's a popular spot for sightseeing, hiking, and seasonal attractions.
Meriken Park: A seaside urban park featuring contemporary art installations, memorials, and the iconic Kobe Port Tower with views of the harbor.
Nunobiki Herb Gardens: A fragrant escape in the city, these terraced gardens display a myriad of herbs and flowers, with themed gardens and glasshouses.
Nunobiki Waterfall: A set of cascading waterfalls considered one of Japan's most famous scenic spots, it's linked to Japanese literature and mythology.
Earthquake Museum (Disaster Reduction and Human Renovation Institution): Dedicated to the 1995 Great Hanshin Earthquake, this interactive museum educates visitors about earthquakes and the city's impressive recovery.
Shin-Kobe Ropeway: A cable car journey offering panoramic views of Kobe and leading to Nunobiki Herb Gardens and the observation deck atop Mount Rokko.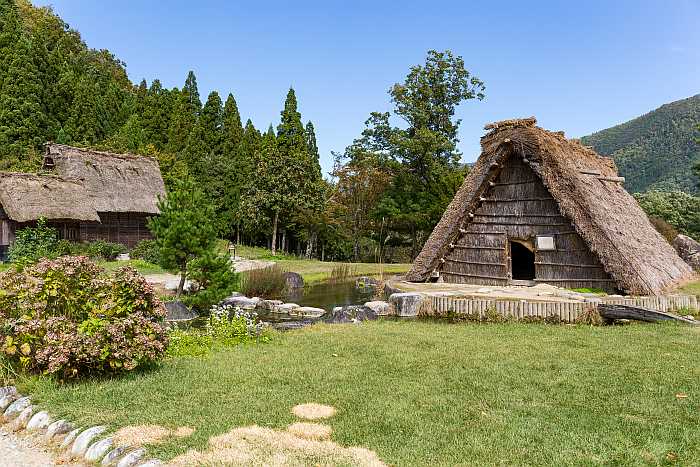 Shirakawa-go (Photo: Envato)
Takayama, a Timeless Treasure
Nestled in the Japanese Alps, Takayama is often referred to as "Little Kyoto." Its beautifully preserved Edo-period streets and traditional architecture offer visitors a journey back in time, amidst mountain serenity.
Old Town: The Sanmachi Suji district features beautifully preserved wooden buildings, merchant houses, and sake breweries from the Edo period, offering a genuine old-world charm.
Takayama Jinya: Once the local government office during the Edo period, it's the only remaining building of its kind in Japan, showcasing historic architecture and interiors.
Shirakawa-go: A UNESCO World Heritage site nearby, this village is renowned for its traditional gassho-style thatched-roof houses, resembling hands in prayer.
Hida Folk Village: An open-air museum showcasing over 30 traditional houses from the mountainous Hida region, offering insights into rural Japanese life from centuries past.
Shin-Hotaka Ropeway: Ascend through the Northern Alps to panoramic observation decks, with breathtaking views, especially during autumn and winter.
Limestone Cave of Hida: Delve deep into this natural subterranean wonder, adorned with stalactites, stalagmites, and unique rock formations sculpted over millennia.
Matsuri no Mori Museum: Celebrate Takayama's festival culture year-round at this museum, showcasing massive festival floats, traditional music, and puppet performances.
Shiroyama Park: Located atop a hill, this park offers panoramic views of the city, remnants of Takayama Castle, and is especially beautiful during cherry blossom season.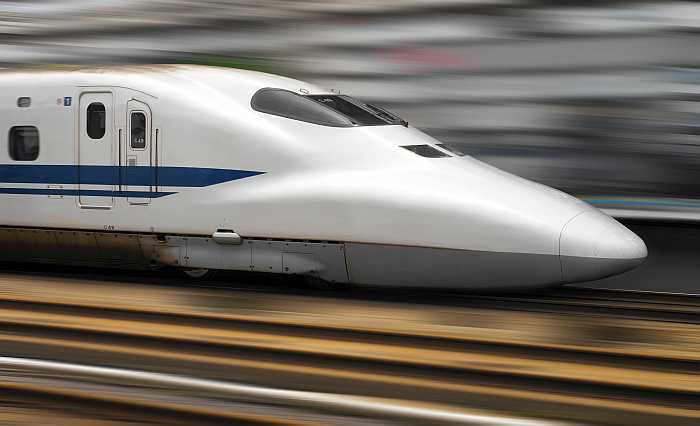 Bullet train speeding through railway station in Tokyo (Photo: Envato)
Exploring Japan's Gems: Tokyo, Kobe, Kyoto, and Takayama
For those looking to experience the vibrant contrast of Japan's bustling cities with its serene countryside, plan your trip to visit Tokyo, Kobe, Kyoto, and Takayama. However, it will really depend on how long you plan to spend in Japan. You might only have time to visit one or two cities and it will also depend on how much time you want to spend in each city.

Here's a quick geographical and transportation overview of these destinations:
Tokyo is located on the eastern coast of Honshu. Tokyo's transport network, spearheaded by the extensive Tokyo Metro, connects it effortlessly to other parts of Japan. The Shinkansen (bullet train) departing from Tokyo Station will be your main gateway to the other cities.
Kyoto is the first city you will come to when traveling westward from Tokyo. The Shinkansen ride from Tokyo to Kyoto is approximately 2 to 2.5 hours. Kyoto Station serves as a major hub, making excursions to nearby cities straightforward.
Kobe is a stone's throw further west from Kyoto, only about a 30-minute train ride from Kyoto using regular trains or the Shinkansen. The city itself boasts an efficient urban transport system, including the Kobe subway and the Port Liner.
Takayama is located north of the Kansai region, nestled in the Japanese Alps, offering a serene escape from the urban rush. Reaching Takayama involves a more scenic route, often combining a Shinkansen ride to Nagoya followed by a limited express train to Takayama. The entire journey can take roughly 4 to 5 hours from Tokyo or Kyoto.
Travel Tip:
While individual train tickets can be purchased, if you're hopping between these cities, consider getting the
Japan Rail (JR) Pass
. It's an economical choice for tourists, offering unlimited travel on JR lines, including most Shinkansen routes, for consecutive days.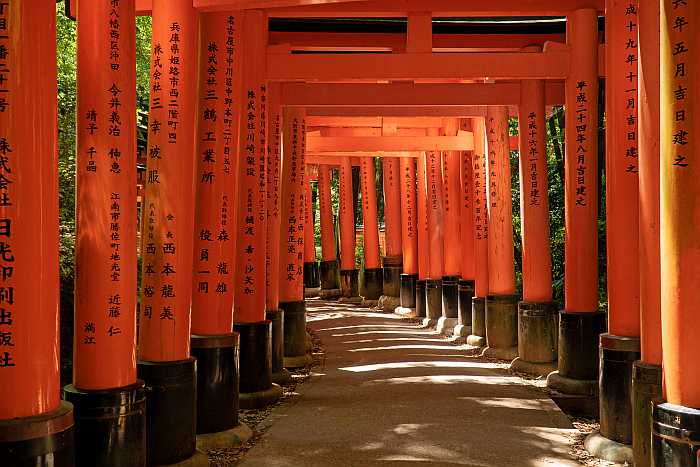 Torii gates at Fushimi Inari Taisha in Kyoto (Photo: Envato)
Conclusion
Embarking on a journey across Japan, we've wandered through vibrant streets, taken nostalgic steps back in time, and experienced the heartfelt warmth of kosher hospitality. From the pulsating heart of Tokyo to the tranquil beauty of Takayama, each city unveiled a facet of Japan's intricate mosaic – where modernity meets time-honored traditions. Plan your trip with our
guide to kosher food and Jewish life in Japan
. You can order kosher food in advance to be delivered to your hotel. And remember, with a plethora of attractions waiting, one trip might just be the beginning.
Embrace the adventure, and let the tales of Nippon enrich your soul.
Safe travels and sayonara!