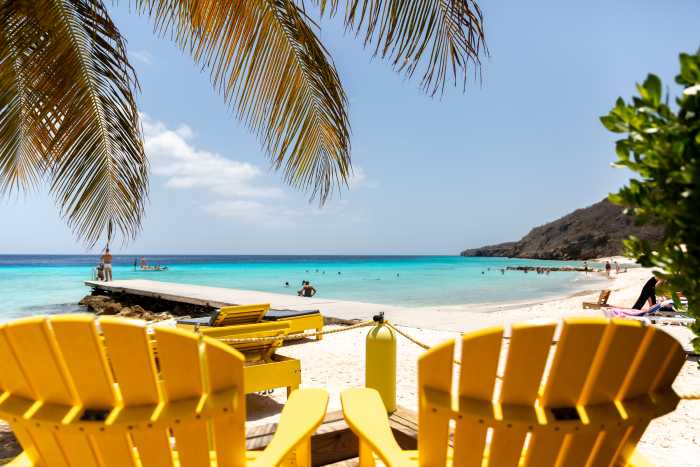 Playa Porto Marie beach in Curaçao (Photo: Curaçao Tourist Board)
Curaçao is a Dutch Caribbean island located in the southern Caribbean, around 40 miles north of Venezuela. Curacao is warm and sunny all year round with an average temperature of 86 degrees. Willemstad, the capital of Curaçao and the island's only city, was designated a UNESCO World Heritage site more than 25 years ago. Its history is evident in the authentic European architecture, much of which has been preserved and protected in the city's historic buildings and monuments. Scharloo, an area once known for its congregation of Jewish families, has become the epicenter of Curaçao's street art culture with larger-than-life murals splashed against the buildings.
Jewish history of Curaçao goes back 500 years
The first Jews to come to the island in the middle of the 17th century were Sephardi Jews, originally from Spain. They left in 1492 and wandered around until they found their way to Curaçao, from Amsterdam. They founded the Congregation Mikve Israel, which is the oldest synagogue in the western hemisphere. The current synagogue was consecrated in 1732. Mikve Israel-Emanuel is the oldest continually used synagogue structure in existence in the New World. The Beit Haim cemetery, which is no longer in use, has graves dating back to 1668.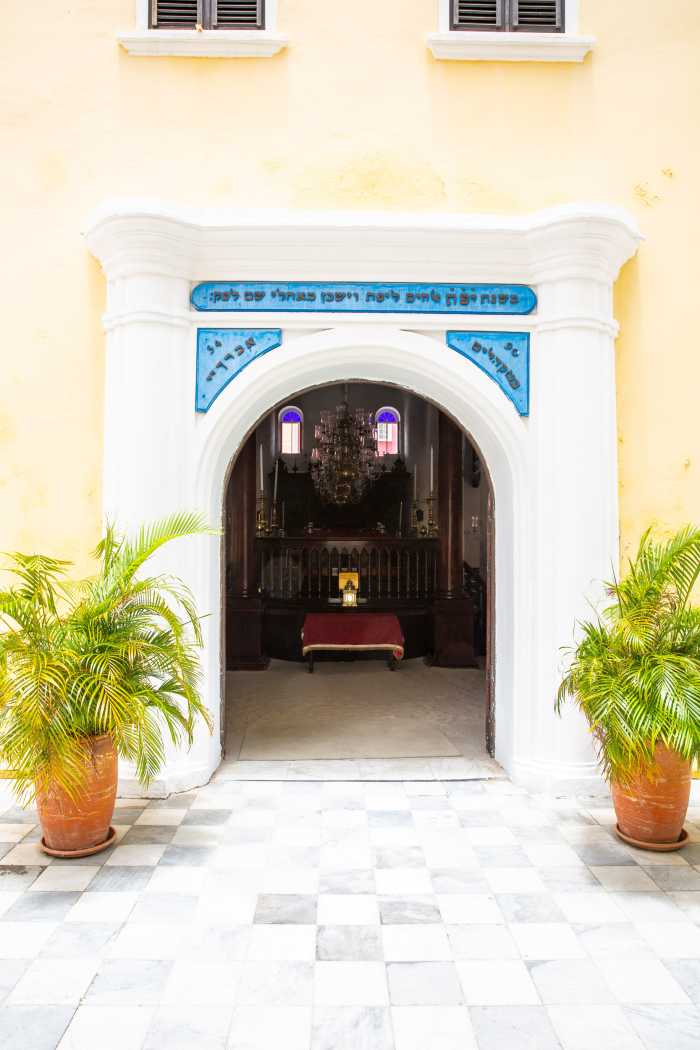 Entrance to the Mikve Israel-Emanuel Synagogue (Photo: Curaçao Tourist Board)


In the early 20th century, Curaçao saw an influx of Sephardic Jews from the Middle East. They joined the congregation of Mikvé Israel, and were active mainly in retail and tourism. Ashkenazi Jewish started arriving on the island in the 1920's, fleeing from pogroms in Eastern Europe and later the Holocaust. They established their own synagogue, Shaarei Tsedek and followed Orthodox rituals according to Ashkenazi traditions and customs.
Today, the Jewish community features a mixture of Ashkenazi and Sephardic traditions at the
Mikve Israel-Emanuel Synagogue.
The synagogue is now affiliated with the Reconstructionist Jewish Movement. They have services on Shabbat so check their website for details. Curaçao's Jewish Cultural Historical Museum is adjacent to the synagogue. It houses the Jewish community's religious and cultural artifacts. Many pieces in the collection continue to be used today in the Congregation's services and rituals. Such religious objects include a set of circumcision chairs, a Passover table set for the Seder, baby-naming and circumcision clothes, spice boxes, candlesticks, Torah covers, and the remains from a 1728 mikvah.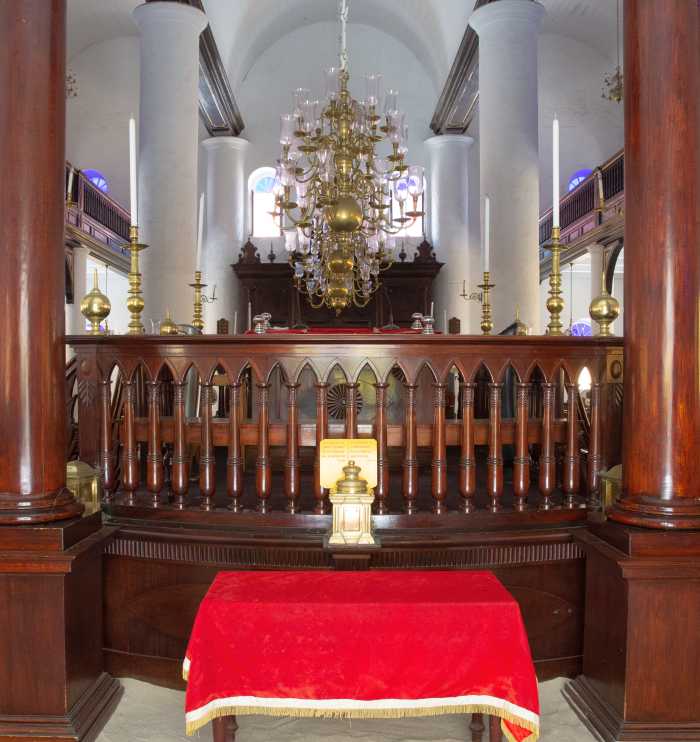 Mikve Israel-Emanuel Synagogue Interior (Photo: Curaçao Tourist Board)


Sharei Tsedek & Chabad of Curacao
Rabbi Refoel Silver, the Chabad representative in Curaçao, arrived on the island with his family in September 2017. Rabbi Silver is the rabbi of
The Sharei Tsedek Jewish Center - Chabad
, which continues to follow Ashkenazi Orthodox customs. The Sharei Tsedek Chabad of Curaçao moved to its current building in 2006. The shul has 184 seats and has a traditional minyan on Shabbat. The shul has around 70 members, kids programming and a small Hebrew school (that is joint between the Sephardi and Ashkenazi communities). The community is very active. There were around 160 people at the Chabad Chanukah candle lighting last year.
There is Shabbat hospitality in Rabbi Silver's home each week. There are seasonal weekday minyanim so best to check with Rabbi Silver if you need a minyan. The shul is located in the residential area of Mahaai, which is home to the Jewish community of Curaçao. The shul is not walking distance to the beach and tourist area. There is only one hotel in the area near the shul and it fills up very quickly. Rabbi Silver advises booking in advance because it is always full so it is difficult to get last minute reservations.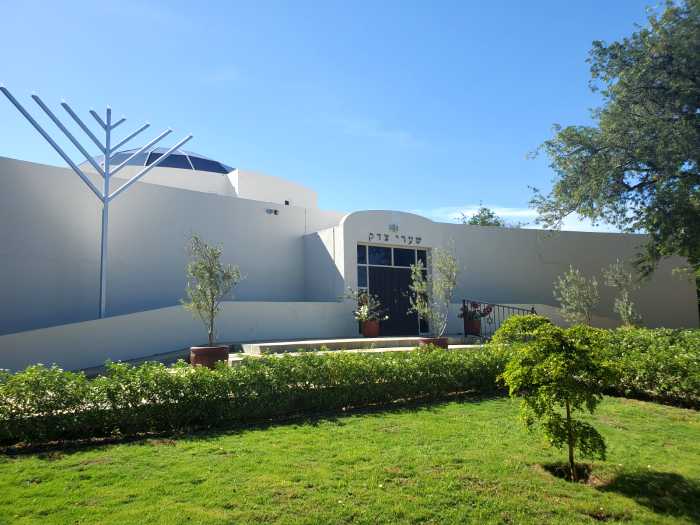 Shaarei Tsedek Chabad of Curaçao (Photo: Chabad of Curaçao)


More than 200 Jews live in Curaçao year round. Rabbi Silver caters to the local Jewish community as well as to the tourists who come to the island. Rabbi Silver imports kosher meat and chicken from Miami. The Chabad provides catering service (with advance orders) and delivery to the hotels on the beach. Rabbi Silver also offers kashering services for apartment and villa rentals. He works with a number of chefs who can cook kosher meals for guests renting villas on the island. Rabbi Silver also helps families organize kosher destination weddings and bar mitzvahs on the island. There are plans to build a social hall and guest apartments on the property near the shul.
Rabbi Silver said, "Kosher tourism is growing every year. Five years ago, there was maybe one family every few weeks, now there are constantly Jewish families coming to the island. The main problem has been so few flights from New York to Curacao but starting in April, there will be five flights a week." He is expecting many more kosher tourists to come to the island once the number of flights increase. He has a relationship with hotels and villas on the island and is happy to help people arrange their holidays.
Shaarei Tsedek Chabad of Curaçao interior view (Photo: Chabad of Curaçao)

Curaçao is an "undiscovered gem" according to Rabbi Silver. It is more exclusive than other Caribbean islands and caters to more adventurous tourists (see the list of activities below). The weather is hot and dry, more like the desert. There is not so much rain, even during the rainy season. The history and culture are not fake and touristy like some of the other islands. It is like walking around an old European city.
Jewish sights, local landmarks & fun activities
With such a long Jewish history, there are Jewish sights to see on the island as well as local landmarks. If you like adventure, beautiful beaches, water sports, especially diving, you will not be disappointed. According to Rabbi Silver, tourists love Curaçao and they keep coming back year after year.
Jewish Sights
Mikve Israel-Emanuel Synagogue & Jewish Cultural Historical Museum: display of many interesting and unusual objects highlighting the culture and history of the Jewish community. Many of these objects are still in use in the Synagogue today.
Beit Hayim Blenheim Jewish Cemetery: oldest Jewish cemetery in the Western Hemisphere with the oldest tombstone dating to 1668. Open for visitors Sunday - Friday: 8:00-18:00
Curaçao Kosher Liquor Factory: tour of the distillery and a look at the kosher certification process
Mangui Maduro Library: unique collection of Antillian and Jewish publications on social, cultural and economic history of Curaçao, dating back to the 17th century.

The Handelskade historic waterfront stip (Photo: Curaçao Tourist Board)
Local Sites
Aloe Plantation: Curaçao's warm, dry climate makes it an ideal place for aloe vera plants to thrive. Tour CurAloe's expansive Aloe Plantation.
The Queen Juliana Bridge: the tallest in the Caribbean offers stunning views of downtown Willemstad.
Curaçao Ostrich Farm: one of the largest breeding farms outside of Africa., offers guided tours and ostrich feedings.
Hato Caves: more than 200,000 years old and open to the public to explore
Shete Boka National Park: Adjoining Christoffel park, this area spans more than 10 kilometers of the north coast.
Christoffel National Park: on the island's highest point of elevation, Mt. Christoffel, this is the largest national park in Curaçao, with eight hiking trails and lots of local flora and fauna.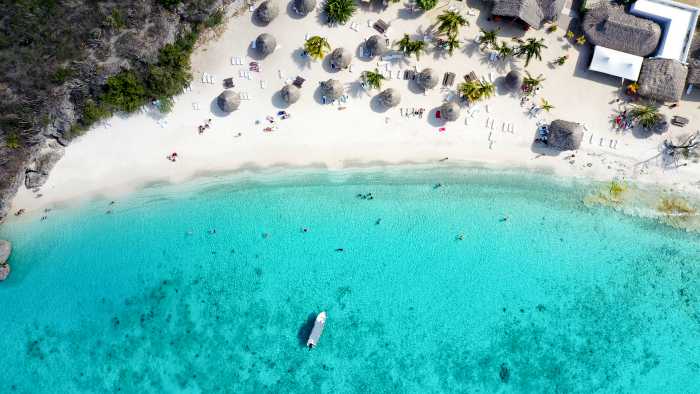 Cas Abao Beach (Photo: Curaçao Tourist Board)
Activities
Beaches: the island has many small beaches, some are in secluded coves.
Water activities: sailing, kiteboarding, windsurfing, animal encounters, stand-up paddle boarding
DIVE IN: A hidden gem of the Caribbean, Curaçao offers 65 individual dives sites. Reefs surrounding the island are accessible by boat or shore and remain untouched by industrial and meteorological pollution.
ATV-ing: Explore areas of the island unreachable by traditional vehicle.
Mountain Biking: Road and trail biking with trails for every experience level, each exposing a unique side of the island.
Substation: Now anyone can discover the sea at a depth of 1,000 feet (320 meters). The Curasub descends four times a day from the Curaçao Sea Aquarium to depths unreachable for divers. On-board, four passengers and a captain explore places few have ever seen.
Conclusion

Curaçao has a little something for everyone looking for a kosher vacation destination. It is an old island so you can explore the Jewish history as well as the local history of the island. There are beautiful beaches, national parks and stunning views. If you are craving a bit of adventure then maybe ATV-ing, mountain biking, diving or water sports. The Chabad of Curaçao makes sure that you don't need to worry about kosher food. Discover this "hidden gem" of the Caribbean!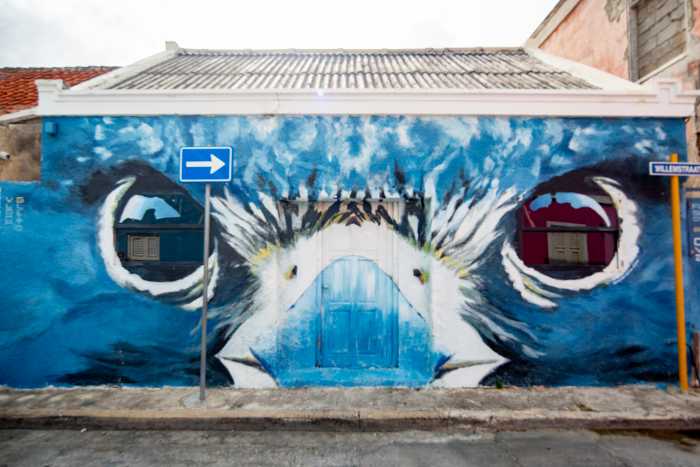 Local street art (Photo: Curaçao Tourist Board)