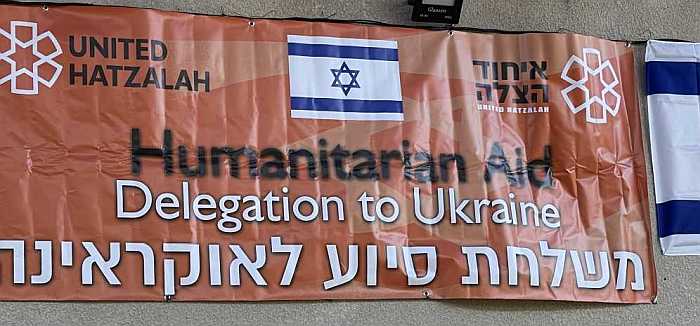 United Hatzalah Headquarters at the synagogue in Chisinau, Moldova. (Photo: Volunteers of United Hatzalah)


Moldova lies on the Southwestern border of Ukraine. As millions of Ukrainians flee their homes seeking safety from war, thousands of refugees are making their way to the Moldova border. After days of travel on a journey which ordinarily just takes a few hours, a journey filled with fear, missile dodging, and sometimes standing face to face with tanks, Ukrainian refugees arrive exhausted, starving and filthy. By the time they reach the border, they have run out of food and money, their babies are dirty and in desperate need of a replenished diaper supply, and they are replete of any hope.

Trek to the Border
But this is only a glimpse of their story. When the families finally arrive at the Moldovan border ready to cross, all men ages 18-60 are refused passage. They are required to stay in their home country and fight; they may not leave Ukraine. Families are faced with a heartbreaking dilemma. There is little choice. The women must protect themselves and their children; the men must take the family's car and make the journey back home and wait. Wait to be called on to fight, perhaps even to give his life. And so, the mothers take whatever bags they can manage to carry, they unload their scared and hungry children from the car and they start walking. Walking and waiting in line for what could be days. Days of waiting in the cold. No food. No money. No toilets. Minimal contact with their husbands. And then when they finally do make their way across the Ukrainian border and shuffle their way through the Moldovan border control, they step into a new country. And then….

Over a month ago, the end of that sentence was unknown. They had nowhere to go. A country with a new language (Romanian), a different currency, a different cell phone provider. The capital of Moldova, Chisinau, is a long three-and-a-half-hour drive away from the border. The winter is cold. And though the generous Moldovan people have made their best efforts to welcome in the refugees, they are not equipped to sustain the necessary effort to support and absorb this humanitarian crisis indefinitely.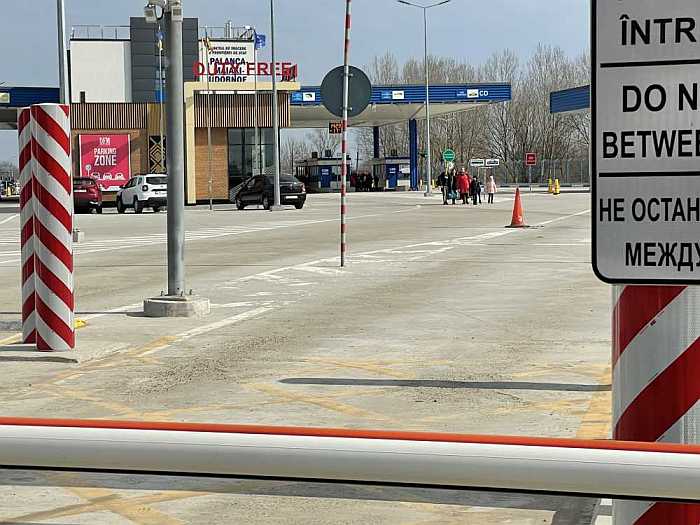 Ukrainian families (mostly women and children) crossing into Moldova at the Palanca border
(Photo: Volunteers of United Hatzalah)
Angels in Orange
I am not sure what would have happened had a small brigade of Angels in Orange not landed in Moldova a month ago. United Hatzalah (UH), an organization based in Israel comprised of volunteers who deliver lifesaving emergency medical response, was on a mission to save lives. With Linor Attias at the helm, United Hatzalah recognized a need. Attias, being plagued by the pain of the Ukrainian refugees' plight, did a simple Google search and realized that Moldova, a non-EU member without NATO status, was a relatively easily accessible border to many Ukrainians. She realized that despite not getting much media attention, thousands of Ukrainians were flocking to Moldova. Attias realized that with its scarce resources and poor infrastructure, they couldn't possibly manage the thousands of people arriving in their country. She worried about who would provide medical care, housing, food. How would they find a place to settle their families?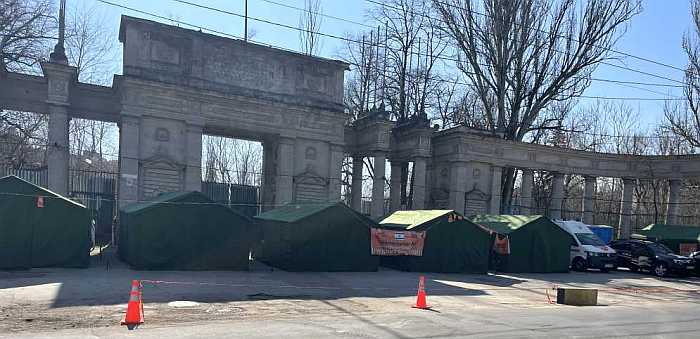 Tents set up by United Hatzalah outside of its headquarters in the center of town in Chisinau equipped with mattresses and generators. (Photo: Volunteers of United Hatzalah)
Attias made a decision. She hatched a plan and mobilized. With a background in Emergency Planning, Attias led a team of 12 volunteers with a few bags of supplies on a mission to Moldova. They flew to the nearest possible airport in Bucharest, drove 12 hours to Chisinau, and immediately began assessing the situation. Within hours, Attias, working with the local government, set up tents to provide shelter for refugee families. Tents were fully equipped with generators to provide heat and a place to charge their cell phones, mattresses and linens were set up for the exhausted bodies to get some much-needed rest.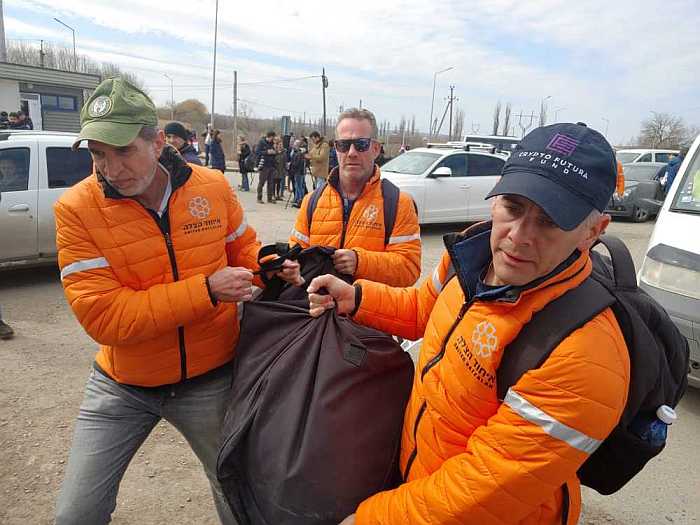 United Hatzalah volunteers assisting refugees carry their bags. (Photo: Volunteers of United Hatzalah)
Attias recruited supplies and volunteers. United Hatzalah sent more volunteers with tons (literally) of supplies. They converted a local unused bar into a kosher kitchen where they currently supply 4,000 meals per day to refugees as well as pack sandwiches to supply at the border, in addition to being a makeshift "restaurant" for all the volunteers. The local synagogue was cleaned out and converted to a refugee shelter where there are piles and piles of clothes, a place to sleep and a place to eat. Assistance is provided to everyone and anyone who arrives: helping to complete, file and process required paperwork, finding shelter placements or housing, and coordinating individual needed services.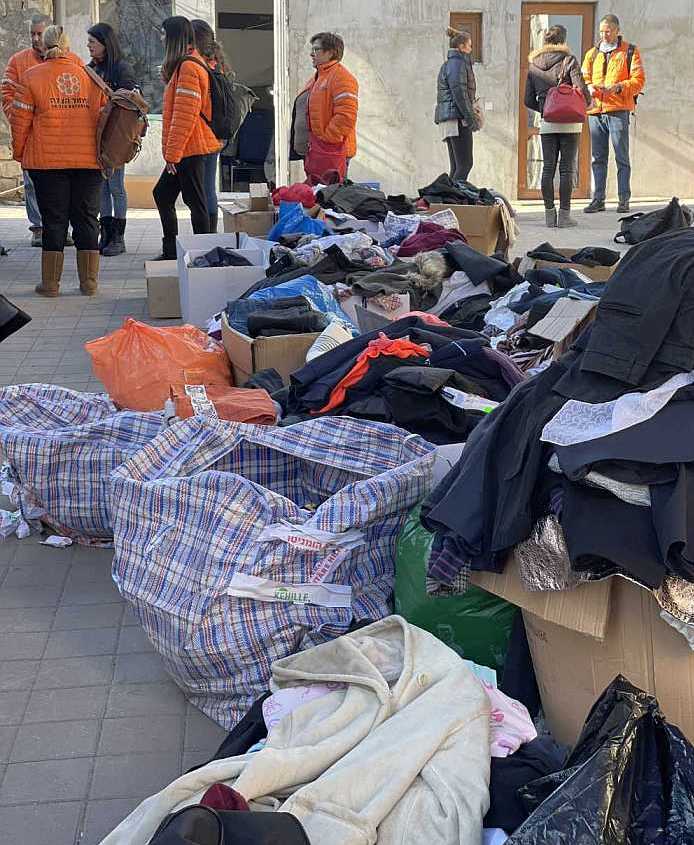 United Hatzalah Headquarters turned into a center to help refugees. (Photo: Volunteers of United Hatzalah)
The upstairs floor of the synagogue was converted into the UH Headquarters with a communications room from where all logistics are operated, people seeking refugee or Aliyah are processed through a bureaucratic office, and free medical care at any level is given to anyone who needs it. There is a makeshift medical clinic for any person who needs observation. And of course, the prayer room is open 24/7, sacred, quiet and intact, so that anyone seeking a moment to pray, or perhaps in this case, a moment to be left alone to cry, can find space and solace. This room is never empty.
No one is turned away. Everyone is given food, clothing, medical care, necessary medications, a place to stay, and assistance in any way that United Hatzalah can. No matter religion, country of origin, language spoken, or race. Flights to Israel are offered to those interested, with the options to make Aliyah for those eligible for permanent settlement in Israel or as a temporary residence for those seeking a haven until they can safely return home or reunite with their families.

Boots on the Ground
As a humanitarian delegation with United Hatzalah, we came to Moldova to help in any way that we could. We helped unload boxes and boxes of vegetables and kitchen supplies from the delivery van into the kitchen. We welcomed refugees into the shelter and directed them to appropriate resources. We packed food for the people arriving at the borders and meals for the refugees that would be flying to Israel. We played with the children in the refugee shelters. Anything that could be helpful to ease the burden or bring a smile to someone's face.

On our second day in Moldova, we traveled to the Palanca border. On a crisp winter morning, under a sunny cloudless sky, we stood at the border and witnessed one family at a time making its way across the border.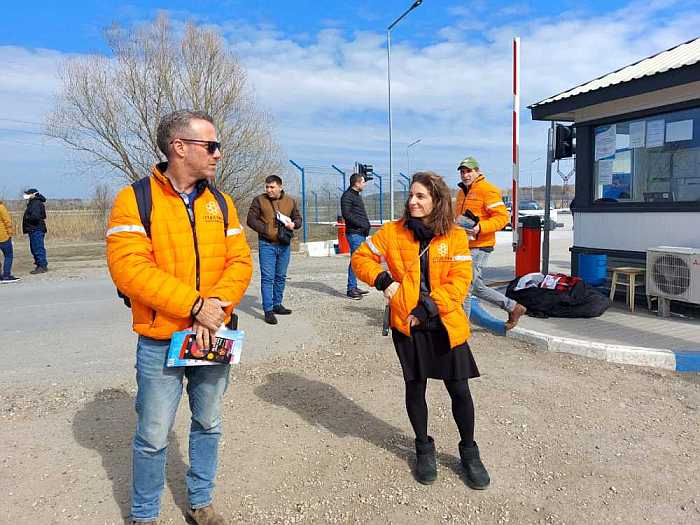 United Hatzalah volunteers assisting at the Palanca border. (Photo: Volunteers of United Hatzalah)
Just women. Children. Babies. No men. Maybe a few elderly men who were brave enough to attempt the journey bravely shuffling their way across. Holding hands with each other, carrying their entire life in a small bundle or suitcase, some even in plastic shopping bags. They are tired and hungry. Scared and untrusting. We stood there as best as we could, offering just what we had. A warm smile, a sweet candy, a small toy, a clean diaper. Sandwiches and granola bars. Small mittens and winter hats. Help with their bags. Just something to ease their pain. Just a bit. Undoubtedly not nearly enough. We guided them to the white vans that awaited them to carry them to their first stop. Their futures unknown and uncertain.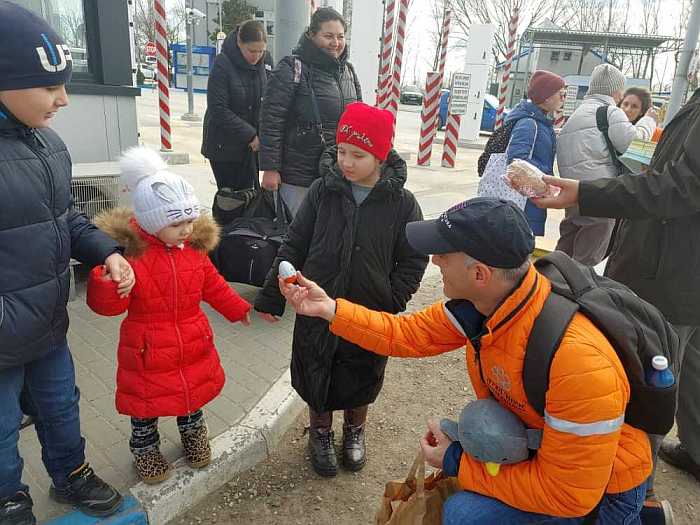 United Hatzalah volunteers greet children with a candy or a small toy. (Photo: Volunteers of United Hatzalah)
Later that day, we visited a refugee center. An old dilapidated hotel reminiscent of a black and white photo of Eastern Europe you may recall having seen as a child. Two floors have been converted into a temporary shelter. Kids are running around playing, mothers stand together sipping black coffee and talking. If you zoomed out, you might for a second think it is an ordinary event where families are gathered to socialize or celebrate an event. But then you zoom in. You can see the pain on the adults' faces. You might notice the mismatched clothing most likely donated. If you manage to be able to communicate with one of the children, you might learn that they have been living there for 3 weeks and don't know where their father is. They also have no idea how long they will be staying. You might learn that one child's favorite activity is to play the piano (Sonia). Another loves to learn English in school (Alessa). Another biology (Nikka). You might hear the children talk about Zoom school which is eerily normal and familiar. You might also meet their pet dog that came along for the journey. Charlie or Henry. You might notice some of the moms with their well-manicured nails, grown out and due for their next appointment. Which won't happen.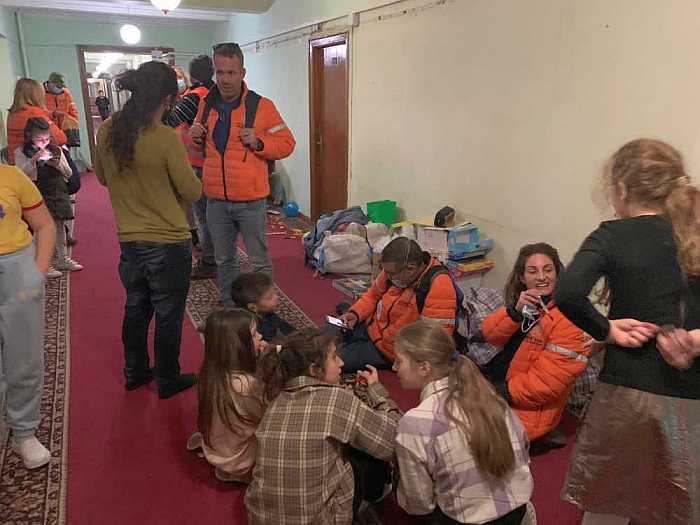 Volunteers spend time at Hotel Chisinau which has been converted into a refugee center. They talk to the women, play with the children, and sing songs. (Photo: Volunteers of United Hatzalah)

You might even hear talks that some families are planning to return to the only life they know- back in Ukraine.
And so, you ask me about traveling to Moldova. The hotel we stayed in was, surprisingly, quite nice; the equivalent of a 5-star hotel by Moldovan standards. A Moldovan hotel owner trying to repay the volunteers of UH in some small way for the free medical care they provided so expeditiously and professionally to her Ukrainian family members who could not get medical care elsewhere. Perhaps when life one day is normal again, it's not a bad place to stay. You can visit the famous vineyards of Moldova, drive through Mileștii Mici, the world's second largest underground wine cellar, visit ancient castles, fortresses, and monasteries, and hike beautiful scenic trails.

And the food? Nothing compares to the Israeli cuisine provided with the love and generosity of an open heart by the volunteers that arrived from Israel to cook for anyone and everyone that needed it. Food that fills the belly and the soul.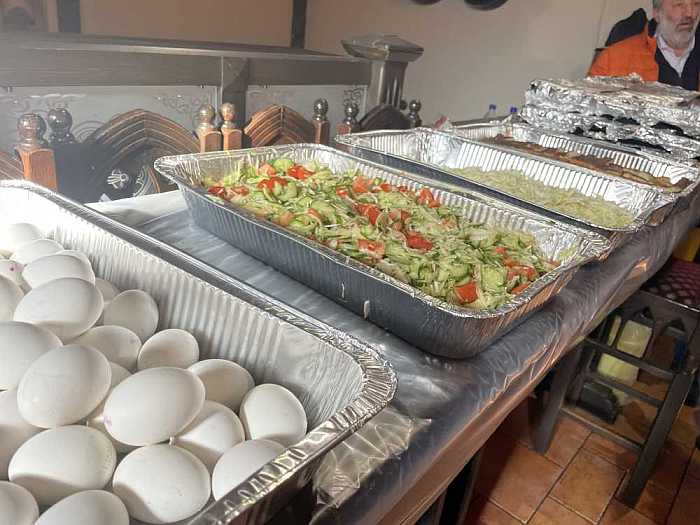 Food prepared for both refugees and the volunteers by United Hatzalah volunteers. (Photo: Volunteers of United Hatzalah)


"How was your trip?" "Was it amazing?" "That must have been a trip you will never forget!" We all travel for many reasons. Sometimes it is for the tourist sites, the local attractions. For some it's the family time or the break from the busyness of life. But not this trip. These are not the experiences I had. What I can answer is that being in Moldova was an opportunity to feel. To feel the pain of broken people, the sadness of their stories. To feel the strength of my impact, even in a small way. Perhaps I made a difference. To feel inspired by the work of just a few people that are literally changing lives, saving lives, and bettering the world.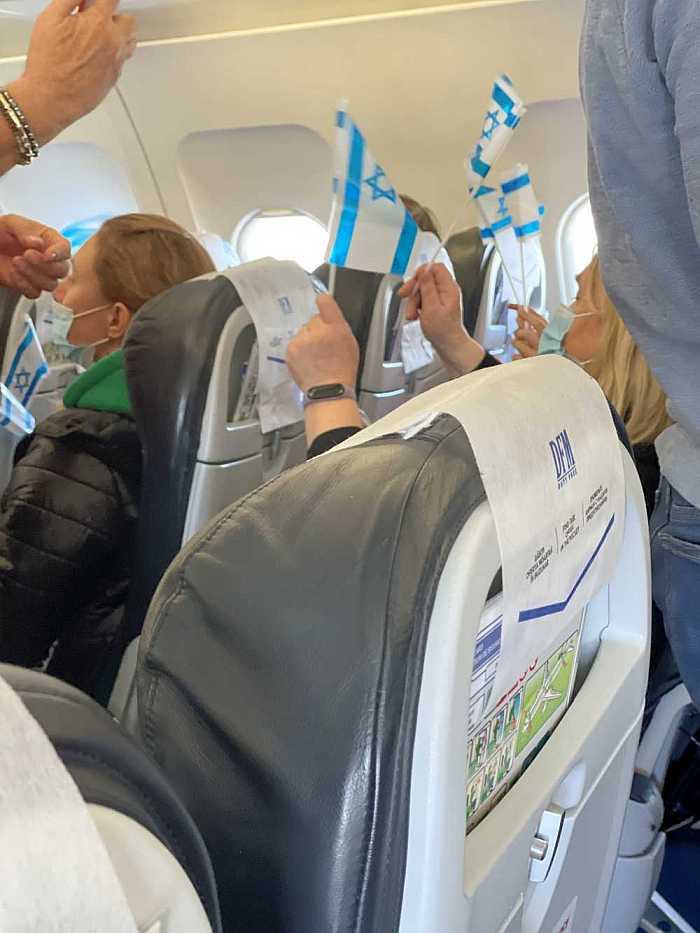 Ukrainian refugees seeking safety aboard Air Moldova flight to Israel. Many reuniting with family in Israel.
(Photo: Volunteers of United Hatzalah)
My travels to Moldova reminded me that there are angels out there making a difference in the world. One step at a time. One person at a time. One smile at a time. So maybe there is hope. Inspiring us to at least try. Inspiring us to give. Even without a trip to Moldova.
Bayla Samter made Aliyah from New York five and a half years ago with her husband and five wonderful children. She is an advanced practice nurse (A-NP) and a certified yoga instructor. Bayla's lives in Modiin where she volunteers as a medic for United Hatzalah.
https://www.linkedin.com/in/bayla-samter-a8084444/