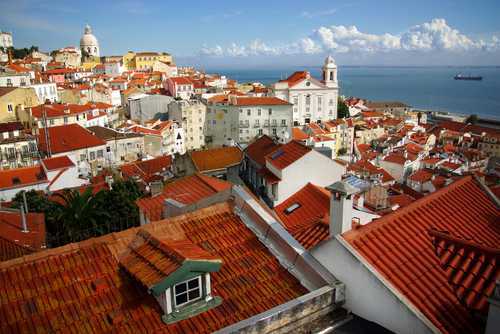 Overview of Lisbon's historic quarter by the Tejo River (Photo: Lisbon Explorer Tours)
This sleepy old country hanging off the westernmost edge of Europe was often viewed by travelers as a step-sister of Spain, known for its quaint whitewashed fishing villages, Moorish castles, and sandy stretches of golden beaches. For centuries, Portugal seemed to be living in the shadow of its former glory days of the 16th century when its empire ruled the high seas and ushered in The Age of Discovery and established the world's first global trade network. Known for the introduction of bulk spices, textiles, slaves, precious metals, and gems to Europe for the first time in history.
Today, Lisbon's capital city and Porto's northern municipal hub are no longer enigmatic cities with crumbling buildings and aging residents. Within the span of a decade, Portugal has become one of the hottest new travel destinations that has transformed the country's once-outdated infrastructure and inspired swarms of digital nomads toting surfboards and laptops through the city streets.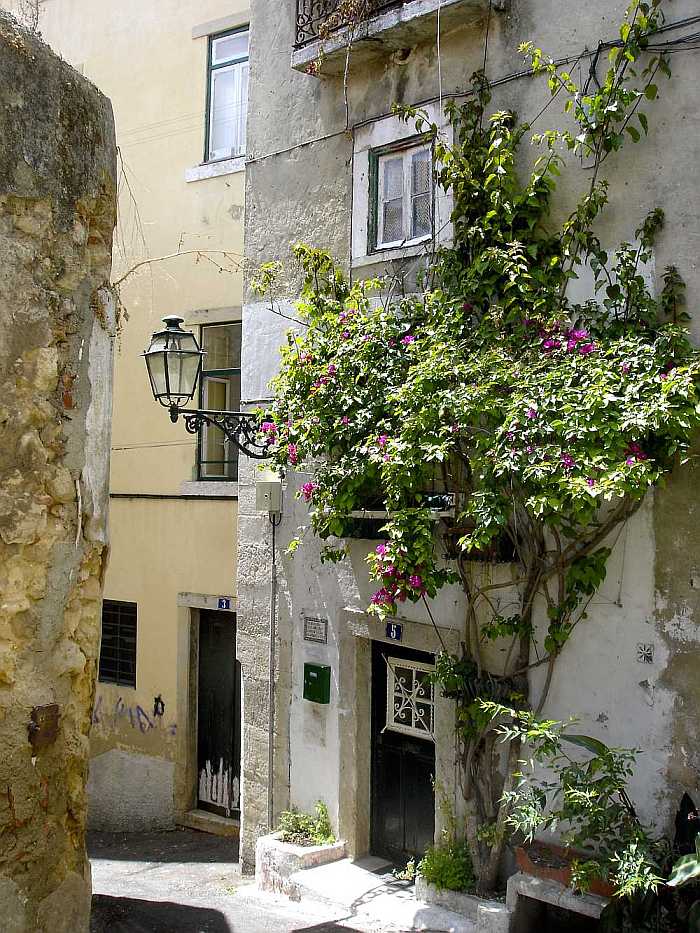 Old Alfama quarter of Lisbon's historic center (Photo: Lisbon Explorer Tours)
Jewish Right of Return
A country that only a decade ago was desperate for immigrants to refresh its once-stagnant economy had extended the Jewish Right of Return on April 12, 2013. The law allowed descendants of Jews who fled in the years after the 16th century to become citizens if they belong to a Sephardic community with ties to Portugal.
Today, Israelis represent by far the largest block of immigrants to Portugal, with over 20,000 receiving residency each year in the last 3 years. Far outnumbering immigration from Portugal's native-speaking former colony of Brazil.
Not only are Sephardic Jews re-discovering their former heritage, but Jewish travelers from around the world are flocking here for Passover programs at the luxury resorts of the Southern Algarve coast. Cruise ships are now taking advantage of Lisbon's modern cruise terminal designed by João Luís Carrilho da Graça with a series of ramps to reach a rooftop viewing platform that offers an amazing panorama of the Tagus river and old Alfama district.

Savvy, independent Jewish travelers are also eager to explore the cities and take on the adventure of navigating Portugal's pristine rural interior to reach remote stone villages like Trancoso, famous for its walls festooned with Hebrew inscriptions. One of the country's most interesting remote villages is Belmonte, 3 hours by car from Lisbon, where in 1917, a Polish mining engineer named Samuel Schwarz discovered a community of Jews still living in secret for over 500 years. He slowly gained the trust of Belmonte's crypto-Jews when he recited the Shema Yisrael prayer and uttered the name of G-d (Adonai), which they recognized.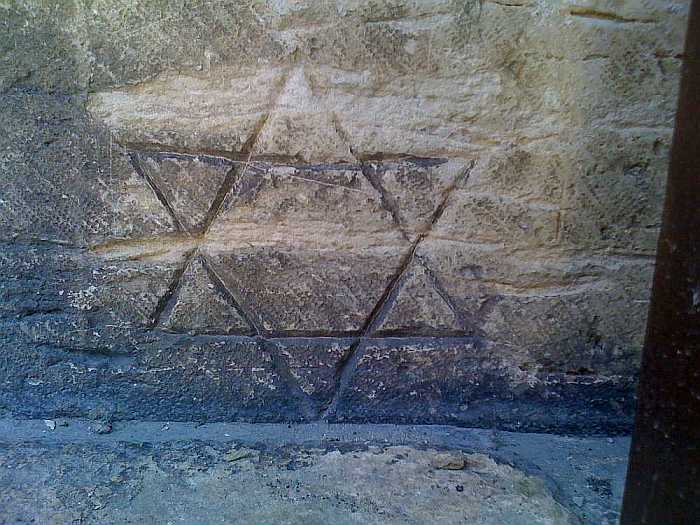 Graffiti talisman of the Star of David on a church near lisbon's Jewish quarter (Photo: Lisbon Explorer Tours)

History of Crypto-Judaism in Portugal

Unlike its contentious neighboring kingdoms of Castile and Aragon, (Spain) presenting Portugal with a threat of occupation for centuries, Portugal's kings Joao II and Manuel I had motivations that were different from the religious zealotry of Castile and Aragon monarchs, Ferdinand and Isabella whose infamous Alhambra Decree of 1492 provided their Jewish citizens with four months to decide on three options; convert, leave or die.
Joao II and Manuel I knew their greatest asset contributing to the success of their seaborne explorations and colonial expansion was their courtly Jewish subjects.
After Joao II died, push came to shove for Manuel I to solidify his legitimate claim to the throne, the solution was to marry the regent queen of Portugal, daughter of Ferdinand and Isabella. The terms of the marriage were dictated by Spain's monarchs and specified the marriage would not happen if Portugal tolerated Spain's Jews in their kingdom. In 1497, Manuel I, by means of trickery, promised his Jewish subjects safe passage out of Portugal. Instead, they were wrangled into Lisbon and cornered in a walled section of the city where they were coerced by bloodshed and forcibly baptized as Cristãos-Novos (New Christians). Manuel I was then able to marry and solidify his position as King of Portugal because his Jews were now all declared as Christians.
However, thirty years before the Inquisition arrived in Portugal to conduct their first auto-de-fe in 1536, tolerance for the open secret of Jewish practice that had continued since the forced conversions in 1497 reached a tragic boiling point when a horrific riot led by Dominican friars from Lisbon's Sao Domingo Church massacred thousands of Jews within a week and dashed the flame of prosperity for Sephardic Jews in Europe that would not be matched in scale until World War II.
Unlike Spain, getting out of Portugal for Jewish "New Christians" was very difficult and a slow trickle over the centuries proceeded. This would often involve finagling, secrecy, bribing, and other creative means, which by best estimates allowed for 5% of the Jews to escape the kingdom.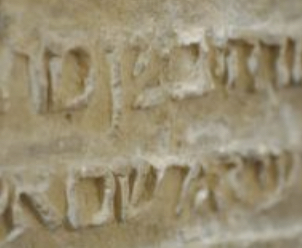 Dedication stone from medieval synagogue in Lisbon (Photo: Lisbon Explorer Tours)


As a result of these unusual historical circumstances, Jews tempted their fate, and many clung to their practice and Jewish identities in secret for centuries. Crypto-Judaism in Portugal evolved over the centuries into a phenomenon unlike anywhere else in Europe, and the rest of the world.
Today, there are very few physical artifacts of Judaica left in Portugal. However, unearthing the details of the brave people, events, and history of the country's Jewish heritage is best discovered through the living descendants who survived here in secret for centuries, informed historians, and official guides who can take you beyond the myths and legends repeated by many tour operators.
Jewish Tours of Lisbon


In 2008 I was fortunate to have made the acquaintance of a descendant of a Portuguese crypto-Jewish family. His name is Professor Paolo Scheffer, a passionate historian who is deeply steeped in research on the subject of crypto-Jewish practices, and the Jewish history of Portugal. His lectures around the world and Zoom classes receive only the highest praise and his presentations are riveting, to say the least.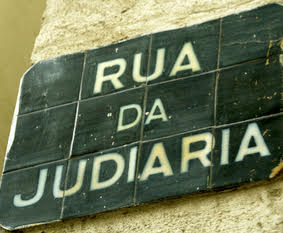 One of several street signs in Lisbon's city center referencing the Jewish people (Photo: Lisbon Explorer Tours)
His enthusiasm and ability to convey stories are captivating and have inspired me to learn more about Portugal's Jewish history. My friendship with Paolo evolved over the years and in 2010, I asked Paolo if he would be interested in offering Jewish tours for my customers at Lisbon Explorer Tours.
I feel fortunate that Professor Paolo Scheffer has now worked as a guide in his spare time exclusively with Lisbon Explorer since 2010. If you would like to reserve a private tour with him and see important Judaic artifacts that no other Jewish tours visit, please reserve at your earliest convenience as he is often sold out in advance.
Unfortunately, there are no kosher restaurants in Lisbon, although there is one
kosher restaurant in Porto
. For
kosher meals, in Lisbon
, there are a few private kosher catering services with delivery available through members of the Shaare Tikvah Synagogue in Lisbon and Casa Chabad community in the nearby village of Cascais. There are several options available in Lisbon for buying food items at grocery stores and mini mercados where Kosher certificates can be found on the packaging and under the supervision of local Rabbis. The Lisbon Explorer staff will be happy to connect travelers with these community members, their menu options, and up-to-date addresses for stores with Kosher food items in advance of a visit.
Lisbon Explorer is a Lisbon-based tour operator in Portugal They are a network of carefully selected scholars, professors, researchers, authors, and licensed guides specializing in the study of art history, archeology, architecture, literature, and other subjects. Many of the scholars who lead their tours hold MA, or Ph.D. degrees, and are known for their vibrant and enthusiastic presentations. Their guides provide accurate information, dispelling legends and myths recited by countless guides, and answering questions with a depth of knowledge that only comes from scholars with academic qualifications.