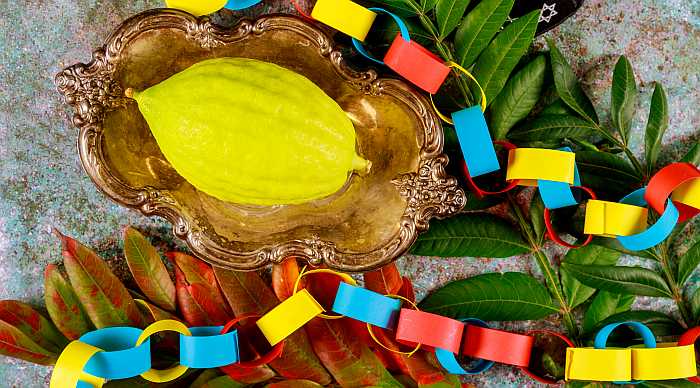 Sukkot Programs 2023 (Photo: Envato)
Countdown to Sukkot! Sukkot 2023 begins on Friday night, September 29, 2023 and ends on Friday night, October 6, 2023 followed by Shmini Atzeret/Simchat Torah which is one day in Israel (October 7) and two days outside of Israel (October 7-8). This is a great year to go away for Sukkot as there is an entire week of Chol Hamoed because the first day of chag is on Shabbat.
Known as the "Feast of Tabernacles" or the "Feast of Booths,"
Sukkot
is a joyous Jewish celebration that marks the end of the agricultural year in Israel. This unique holiday is one of the Three Pilgrimage Festivals, a time when Jews would journey to the Temple in ancient times. The core spirit of Sukkot is twofold: it serves as a commemoration of the 40-year journey of the Israelites in the desert, living in temporary shelters, and as a moment to express gratitude for the year's harvest. During Sukkot, Jews eat all meals, and some even sleep, in a sukkah, a temporary hut adorned with branches. The Sukkot programs have large Sukkot in order to accommodate all the guests.
Sukkot provides a golden opportunity for a family getaway. It is a long holiday, lasting for eight days in Israel and nine days outside of Israel, the kids are on vacation and the weather is usually pleasant. This makes Sukkot an ideal time to explore new destinations, delve into cultural sightseeing, or simply unwind on sun-kissed beaches. This year, there are some great Sukkot programs in places like Mexico, Cyprus, Greece, Italy, Morocco, Prague, and Israel.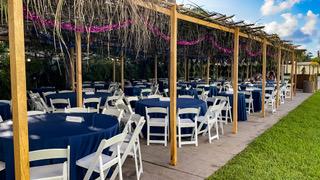 Sukkot in Cancun with Kosher Dream
Sukkot Programs in Tunisia
Radisson Blu Hammamet Tunisia
with
D'Holydays
: Unforgettable Sukkot vacation at a luxury hotel with a private beach, swimming pools and spa. Enjoy gourmet meals in a giant sukkah with a pool and sea view. There will be minyanim, shiurim and excursions during chol hamoed.
Sukkot Programs in Italy
Sukkot Programs in France
Villas Raphaël
luxury kosher villa rentals on the
French Riviera
. Each villa has a pool, beautiful views and can accommodate up to 16 guests. Enjoy personally designed Sukkah and daily minyan. There is an option to do your own cooking and cleaning or choose to have daily cleaning, private chef, concierge service and nanny service.
Sukkot Programs in Cyprus
Secret Foreset Resort & Spa: Rejuvenate at this adults only Sukkot program with spa, yoga, walks in nature, workshops and more.
Blue Lagoon Kosher Spa Hotel in Paphos: Kosher dining room, Private beach, pools, spa, synagogue, entertainment and nearby attractions.
Kosher Luxury Travel at Herbal Boutique Hotel & Spa in Protaras: Boutique hotel in a beautiful location with a private beach. There are water sports near the hotel and an excursion program to visit sights around the island. Enjoy delicious gourmet food, kids club, lectures, shiurim and entertainment.
Sukkot Programs in Morocco
Mazagan Beach & Golf Resort with Sarah Tours: private beach, golf course, pool, kids club, spa, full board, minyan, lectures and Chol Hamoed day trips.
Fairmont Taghazout Bay in Agadir with White & Blue: Enjoy all the amenities of this luxury hotel, including pool, private beach, golf, Spa and more. Dine in one of 3 sukkot and take advantage of the kids club.
Movenpick Hotel & Resort in Marrakech with First Kosher Club: Enjoy the pools, kids' programming, delicious meals, minyan, lectures and entertainment.

Sukkot program at Hotel King David in Prague
Sukkot Programs in Prague
Hotel King David
in Prague: kosher hotel open all year round offering full board, religious services, mikvah and great location in the center of the city within walking distance of tourist attractions and shopping malls.
Sukkot Programs in the USA
Chabad of Flagstaff's Molly Blank Jewish Community Center
in
Arizona
. Stay at a nearby hotel or Airbnb and enjoy meals, davening and lectures at Chabad's state-of-the-art facility. There are many activities and sights to visit nearby.
Sukkot Programs in Israel
Neve Ilan Hotel

in the

Judean Hills

with

Zvi Lapian

. Recently upgraded hotel, conveniently located in Central Israel. The program offers kids club, shul, meals in the hotel's spacious sukkah, lectures and shiurim.

Daniel Hotel & Shizen Spa in Herzliya with Ophir Tours. Luxury spa hotel with direct access to the beach, newly renovated rooms and spa. Program offers delicious cuisine, scholar in residence, kids club and entertainment.
Theatron Jerusalen Hotel & Spa: Brand new luxury hotel in the heart of Jerusalem, walking distance to the kotel and other main attractions. Hotel has a spa, yoga studio, fitness center and indoor heated pool. Shul in the hotel, second day minyan, delicious festive meals and option for private sukkah.

Sukkot Programs in Mexico
The Hyatt Ziva Riviera Cancun with Royal Passover. Resort on the sea boasting pools, spa, water park and kids club. Enjoy gourmet cuisine, lectures, workshops, entertainment and more.

Sukkot is a great time for vacation. It is a long holiday, the kids are off from school and the weather is pleasant. There are a lot of holiday meals with guests to cook for if you stay home for the holidays. By joining a Sukkot program, there is no worrying about cooking or building and decorating the Sukkah. So, seize the moment and make the most of Sukkot this year by embracing the wonderful opportunities it brings.

Related articles
When is Sukkot? Planning for the future: Sukkot 2023-203

Originally published: June 4, 2023