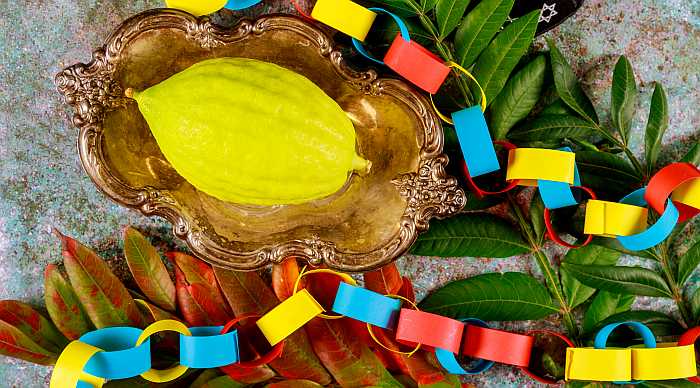 Sukkot Programs 2022 (Photo: Envato)
Sukkot 2022 is less than four months away. The seven-day holiday begins on Sunday night, October 9th and ends on Sunday night, October 16th and is immediately followed by Shemini Atzeret/Simchat Torah, which is one day in Israel (Monday, October 17th) and two days outside of Israel (Monday, October 17th and Tuesday, October 18th). While the Passover programs industry has seen tremendous growth over the past 20 years, Sukkot programs have only recently started catching on in the Jewish community.
The holiday of Sukkot (or Tabernacle) is one of the Three Pilgrimage Festivals when Jews would travel to the Temple in Jerusalem in ancient times. Sukkot means "huts" and the holiday commemorates the temporary shelters that the Jews lived in during their 40 years of wandering in the dessert. Jewish families build a sukkah or "hut" and eat all their meals there. All meals during the week of Sukkot need to be eaten in a sukkah so all Sukkot programs have a large sukkah to accommodate all guests for all of the meals.
Sukkot is a long holiday, eight days in Israel and nine days outside of Israel, so it's a great time to take a family vacation. The kids are off from school and the weather is great during that time of the year. It's the perfect opportunity to visit other countries, do some sightseeing or lounge around on the beach. This year, there are great Sukkot vacation options in Mexico, Cyprus, Italy, Morocco, Prague and Dubai. Sukkot programs in the USA are popular with those who don't want to travel abroad.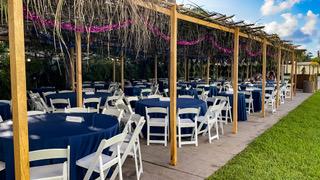 Sukkot in Cancun with Kosher Dream
Sukkot Programs in Tunisia
Radisson Blu Hammamet Tunisia with D'Holydays: Luxury hotel with private beach, pools (separate swimming) and spa. There will be a large sukkah, shiurim, minyanim and Chol Hamoed day trips.

Sukkot Programs in the USA - Flagstaff, Arizona
Chabad of Flagstaff's Molly Blank Jewish Community Center: Enjoy 3 meals a day, davening, classes, state-of-the-art facility, mountain weather and local attractions. Accommodations are booked separately - stay at a nearby hotel or Airbnb.

Sukkot Programs in Cancun
Dreams Natura Resort & Spa with Organization Hafikoman: Ten day vacation on the beach includes three meals a day, daily minyan and entertainment for all ages.
The Sensira Riviera Maya with Royal Passover/Sukkot: Vacation on the beach with meals, day camp, optional tours, minyan and Simchat Beit Hashoeva.
Sukkot Programs in Italy
Imperiale Palace Hotel in Portofino with Leisure Time Tours and the Minkowitz Family: Private beach, heated outdoor pool, spa, religious services, lectures, children's programming, optional tours and delicious food.
Hotel Aurelia in Milano Marittima with Avi & Belinda Netzer with their MY Kosher Hotel Chefs: full board, pool, spa, Shabbat elevator, Synagogue, musical Simchat Beit Hashoeva, optional trips and activities for Chol Hamoed.
Hotel Riva Del Sole in Moniga Del Garda with Kosher Holidays: Hotel near the lake with a kosher restaurant, beautiful sukkah, synagogue and many great Chol Hamoed day trips.
MyOne Kosher Hotel in Canazei with Avi & Belinda Netzer: all year round kosher hotel with indoor heated pool, kosher restaurant, synagogue, mikveh and opportunity for outdoor activities and Chol Hamoed excursions.
Chabad of Naples at the Olimpia Cilento Resort on the Amalfi and Salerno Coast. Celebrate Sukkot on the beach and enjoy Mediterranean food, entertainment and shiurim.
Sukkot Programs in Cyprus
Blue Lagoon Kosher Spa Hotel in Paphos: Kosher dining room, Private beach, pools, spa, synagogue, entertainment and nearby attractions.
Cap St Georges Hotel & Resort in Paphos with Pearl Club: New hotel with private beach, spa, fitness center, sukkah on the Mediterranean SEa, minyan, lectures, kids' club and entertainment.
Sukkot Programs in Morocco
Mazagan Beach & Golf Resort with Sarah Tours: private beach, golf course, pool, kids club, spa, full board, minyan, lectures and Chol Hamoed day trips.
Fairmont Taghazout Bay with White & Blue: Enjoy all the amenities of this luxury hotel, including pool, private beach, golf, Spa and more. Dine in one of 3 sukkot and take advantage of the kids club.
White Beach Resort in Taghazout Bay with Virtuoso: Stunning resort with pools, spa, beach access and lots of activities. Program has synagogue and sukkah on site, kids club and delicous food.
Movenpick Hotel & Resort in Marrakech with First Kosher Club: Enjoy the pools, kids' programming, delicious meals, minyan, lectures and ententainment.

Sukkot Programs in Montenegro
The Chedi Luštica Bay Resort in Montenegro with Vered Holidays: Luxury 10-night Sukkot vacation at five-star resort hotel on the water. Full board, large sukkah, lectures, shiurim and entertainment.
Sukkot Programs in Dubai
Taj Exotica Resort & Spa
at the Jumeirah Palm Dubai with Treat Kosher: full board, entertainment, kids programs, dedicated concierge services and discounted rates at Dubai's best attractions.
Park Hyatt Dubai 5 Star Resort & Spa
with Gaya Tours: full board, kids club, shiurim, air-conditioned sukkah and fantastic tours. Ten days and nights with option to come before Shabbat.
Sukkot program at Hotel King David in Prague
Sukkot Programs in Prague
Hotel King David in Prague: kosher hotel open all year round offering full board, religious services, mikvah and great location in the center of the city within walking distance of tourist attractions and shopping malls.

Sukkot Programs in Greece
Hotel Amaronda Resort & Spa with Gourmet Travel: Resort on the beach, reserved exclusively for the group includes Glatt kosher meals in the Sukkah, swimming pool, spa, kids club and other activities.

Mediterranean Village Hotel & Spa in Thessaloniki with Moshe Engel: Family friendly hotel with private beach, pools, water sports and spa. The program includes full board, synagogue, Chazzan, spacious sukkah, entertainment and tea room. There are many local attractions in the area for fun day trips on Chol Hamoed.

Sukkot 2022 at the Porto Elounda Golf & Spa Resort 5* with My Tours Glatt - Nightly entertainment, Chazanim, French gourmet Glatt Kosher food, Kids Club, Daily minyanim, shiurim, lectures & Daf Yomi, plus more


Sukkot Programs in Israel
Zvi Lapian at the Neve Ilan Hotel in the Judean Hills. Recently upgraded hotel, conveniently located in Central Israel. The program offers kids club, shul, meals in the hotel's spacious sukkah, lectures and shiurim.


The Sukkot program industry is on the rise. People are looking for any excuse to travel now that skies are open, people are vaccinated and many countries have lifted their COVID restrictions. It seems like, for now at least, that vacation travel and tourism are back. People who might have been hesitant to travel and join programs the past two years because of COVID are feeling more confident since most are vaccinated and are determined to return to normalcy. This includes going on vacations with the family, exploring new cities and enjoying life.
Sukkot is a great time for vacation. There are a lot of holiday meals with guests to cook for if you stay home for the holidays. By joining a Sukkot program, there is no worrying about cooking or building and decorating the Sukkah.

Originally published: July 4, 2022