The Passover program industry began in the United States and continues to thrive. Programs were completely booked the past couple of years even when international travel was limited. More people are traveling abroad but make no mistake,
Pesach programs in the US
are selling out fast. Passover 2023 begins with the first Seder on Wednesday, April 5th and ends on Thursday, April 13th ( Wednesday, April 12th in Israel). Many people want to go away for Pesach but don't have time for the longer flights. There are Passover programs in the US that accommodate a range of budgets and interests. There are programs on the beach, the ski slopes and programs surrounded by nature.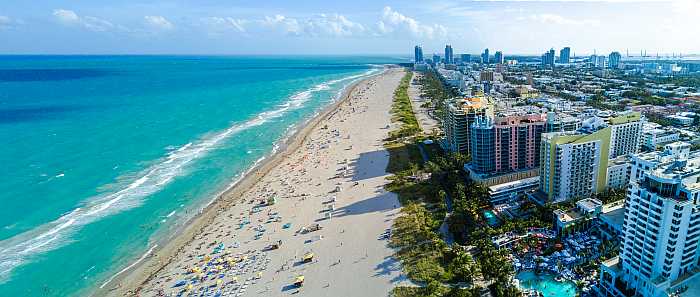 Passover programs in Miami Beach (Envato)


Check out our list of Pesach programs in the United States. We provide a brief description of each hotel and program. Please click on the program for more information. We are adding new programs on a regular basis so check back with us frequently.
Sonesto Redondo Beach Oceanfront Resort & Marina, just 30 minutes from Los Angeles, with Passover Resorts: This oceanfront resort boasts an outdoor heated pool, fitness center, tennis and basketball court and spa. The program features lavish meals, minyan, lectures, kids' programming and entertainment. Only minutes from Magic Mountain, Universal and other attractions.
Hilton La Jolla Torrey Pines Resort in La Jolla with World Wide Kosher Tours: Resort overlooking the golf course with breathtaking oceain views, spa, fitness center and pools. Enjoy delicious meals, tea room, lectures, daf yomi, entertainment and more. Opportunity for CME, CDE and CLE credits.
The Arrabelle Resort in Vail with Pesach on the Mountain: The resort features skiing, golf, mountain biking and white-water rafting. The program includes meals, entertainment and children's programming.

Passover programs in Stone Mountain Park, Georgia (Shutterstock)


Passover Vacations 2023 in Georgia
The Atlanta Evergreen Lakeside Resort in Stone Mountain with Bruce Backman's Pesach in the Southeast: The resort has a golf course, heated pools, playground, spa, fitness center and more. The program includes delicious farm-to-table meals, BBQs, day camp for the kids, multiple minyanim, lectures and entertainment.
Villa Roma Resort & Spa in Callicoon with FFH Events: Hotel is only two hours from NYC and is exclusive for guests of the program. The hotel boasts spa, gym, indoor pool, playground and more. Enjoy delicious food, delightful entertainment and uplifting speakers.
The Ocean Place Resort & Spa in Long Branch with Leisure Time Tours: Newly renovated hotel on the beach with spa, indoor and outdoor pool. The program offers gourmet cuisine, entertainment and day camp. Nearby attractions include Six Flags, golf and Atlantic City casinos.
The Berkeley Oceanfront Hotel in Asbury Park with the Mandels: Hotel on the Jersey Shore near local attractions in NJ and Philadelphia. Program will keep you busy with lectures, shiurim and entertainment, programming for the kids and delicious meals. Entire hotel will be kosher for Pesach.
The Claridge Hotel in Atlantic City with Aryeh Tours: Complete hotel buyout. Hotel features heated pool, parks, beach, health club and rooftop terrace. Enjoy gourmet meals, day camp, shiur, kids and teen programming and family entertainment.
Pesach at the Pearlstone Center: OU gourmet cuisine, scholars in residence, beautiful land, nature hikes, multi-generational programming and social activities, day camp for kids, and many other unique amenities.
Le Grand Lodge in Mont Tremblant with Sivan Tours: Luxury resort on the shores of Lake Ouimet, featuring world class spring skiing, golf and spa. Enjoy Glatt kosher cuisine, Ashkenaz and Sephardic minyanim, daf yomi, lectures and activities.

Pesach 2023 in Nevada
Resorts World Las Vegas with The Shabbat Inc: Luxury accommodations, pool, spa and fitness center. There will be singing, davening, lectures, entertainment and day trips.
There were many popular Pesach programs last year in the US. Most programs in Florida, Georgia and California sold out early. Many programs have early bird deals so the earlier you book the better, lock in the price and reserve a spot before the program sells out. There are Passover programs in the United States that cater to different budgets. The
costs of Pesach programs
vary according to location and amenities. We expect Passover programs in the US for 2023 to sell out quickly. Take advantage of those early bird specials and book your
Pesach vacation
as soon as possible.