French Riviera Bay (Photo: Shutterstock)
The French Riviera, also known as the Côte d'Azur, is a dazzling stretch of coastline that spans approximately 550 miles (885 kilometers) along the southeastern edge of France. This stunning region is home to several remarkable cities, each with its own unique charm and allure.
If you associate the French Riviera with James Bond then you are not alone. The French Riviera features prominently in the books by Ian Fleming - Juan les pins is where Bond goes to recover. You can also find scenes in some of the James Bond movies that take place on the French Riviera. There is even a book as well as numerous websites that document which cities feature in which movies. You might want to rewatch Diamonds are Forever, Never Say Never Again and Goldeneye before your trip.
The great thing about a
kosher vacation on the French Riviera
is that there is so much to do and you don't need to worry about food. Each town has its own style and character. You can relax on the beach, walk around the city, go for a hike, spend the day on the water or discover the history of the area. There are plenty of kosher restaurants as well as a few Chabad houses if you are looking for a minyan or Shabbat meals while vacationing on the French Riviera.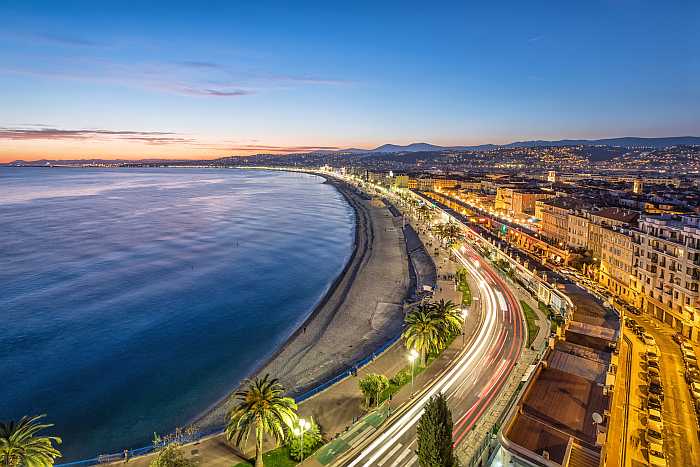 Nice promenade at dusk (Photo: Envato)


Nice: Where Old-World Charm Meets Riviera Glamor
Nice, the capital of the French Riviera, is a city that combines old-world charm with a modern cosmopolitan atmosphere. Take a stroll along the iconic Promenade des Anglais, a famous waterfront promenade that offers breathtaking views of the azure Mediterranean Sea. Bask in the sunshine, take a dip in the refreshing waters, or simply relax on the pebbly beaches. For a taste of history and culture, venture into Nice's Old Town, Vieux Nice, where you can wander through a maze of narrow streets filled with colorful buildings, charming boutiques, and bustling markets.
In addition to its natural and cultural attractions, Nice has a rich Jewish history - check out this blog post about the
Jewish history and heritage sites in Nice
written by an expert guide. Kosher summer vacation in Nice is a breeze since there is a thriving Jewish community, kosher restaurants, synagogues and a Chabad House.
During the summer months, Nice comes alive with festivals and events. The city hosts the renowned Nice Jazz Festival, attracting world-class musicians and jazz enthusiasts from around the globe. The Promenade du Paillon, a beautiful green park, provides a refreshing retreat from the summer heat and hosts open-air concerts, art exhibitions, and family-friendly activities. Art lovers will appreciate the Musée Matisse and the Musée Marc Chagall, which showcase the works of these renowned artists.
In Nice, you can immerse yourself in a world of captivating beauty, rich culture, and the warmth of the local Jewish community. Explore the city's stunning landmarks, savor its delectable
kosher cuisine
, and embrace the vibrant atmosphere that makes Nice a truly unforgettable destination on the French Riviera.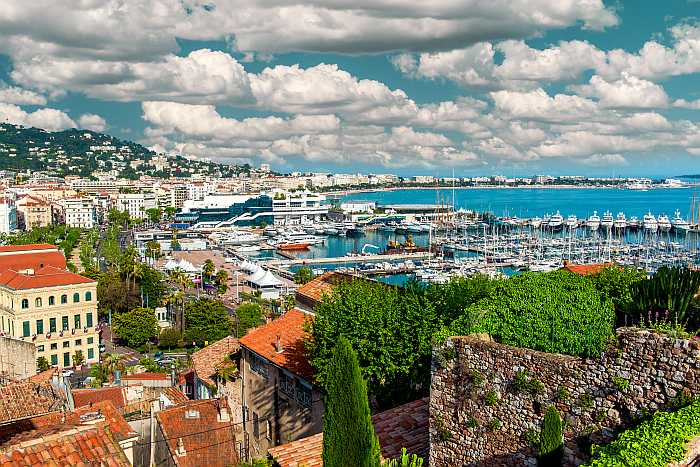 Le Suquet - old town in Cannes (Photo: Shutterstock)
Explore the allure of Cannes
Cannes, best known for its annual
international film festival
, exudes an air of glamor and luxury. The city is famous for its iconic Boulevard de la Croisette, lined with palm trees, prestigious hotels, and high-end boutiques. Venture beyond the boulevard and explore the historic Le Suquet neighborhood, the oldest part of Cannes. Climb up to the top of the hill, where the charming streets wind their way through ancient buildings and narrow alleyways. At the peak, you'll discover the stunning Notre-Dame de l'Espérance Church and enjoy breathtaking panoramic views of the city and the coastline.
Of course, a trip to Cannes wouldn't be complete without spending some time at the city's beautiful sandy beaches. Relax in the sun, swim in the crystal-clear waters, or try your hand at various water sports activities. The city's private beach clubs offer a touch of exclusivity and impeccable service, while public beaches provide a lively atmosphere and opportunities for people-watching. In Cannes, you'll experience a blend of elegance, natural beauty, and cultural heritage. No need to worry about kosher food as there is a nice selection of
kosher restaurants and a Chabad House in Cannes
.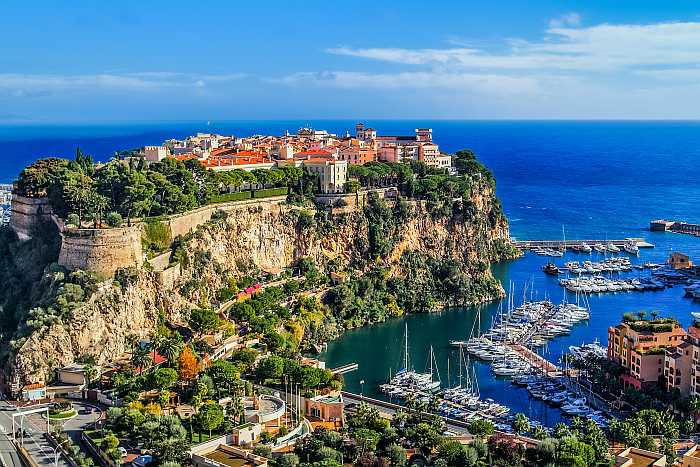 Monaco (Photo: Shuttertock)
Discover Monaco's Charms
Nestled on the French Riviera, Monaco is a captivating city-state synonymous with opulence and elegance. Despite its independent status, Monaco is closely associated with the charm of the French Riviera. Marvel at the breathtaking Prince's Palace perched high atop a rocky promontory. Its stunning architecture and panoramic views of the Mediterranean Sea create an unforgettable experience. The world-renowned Monte Carlo Casino offers a glimpse into a world of glamor and excitement. Try your luck at the gaming tables or simply indulge in people-watching at one of the elegant bars. If you are a James Bond fan then you'll recognize the Monte Carlo Casino from a couple of the movies.
Don't miss a stroll through Monaco-Ville, the old town area also known as Le Rocher. Lose yourself in its enchanting streets, lined with charming shops and historical landmarks. The Monaco Grand Prix, held on the winding streets of Monte Carlo, is a highlight for motorsport enthusiasts, bringing an electrifying atmosphere to the city. Explore the city's captivating landmarks, embrace the splendor, and immerse yourself in the lavishness that defines this extraordinary city-state on the French Riviera. There are no kosher restaurants in Monaco but Nice is only around 20 to 30 minutes by car and Cannes is about 45 minutes to an hour, depending on traffic.

Antibes on the French Riviera (Photo: Envato)
Antibes: Blend of history and culture
Antibes is an ancient town with a rich history dating back to Roman times. It features the renowned Picasso Museum, and Saint-Tropez, a picturesque village that became a jet-set haven in the 1950s and continues to attract celebrities and high-profile visitors. Antibes is a blend of old-world charm and coastal beauty. Step into the enchanting Vieil Antibes, the town's well-preserved old town, where narrow cobblestone streets lead you through a maze of medieval architecture, charming boutiques, art galleries, and local craft shops. As you explore, don't miss the opportunity to visit Fort Carré, a historic fortress situated on a hilltop overlooking Antibes and its picturesque harbor. Dating back to the 16th century, this fortress offers panoramic views of the Mediterranean Sea and provides a glimpse into the town's military past.
Antibes is known for its stunning sandy beaches, inviting visitors to relax, soak up the sun, and take refreshing dips in the azure waters. The town's vibrant Provençal market is a must-visit, offering an array of fresh produce, regional specialties, and local crafts. Antibes is a true gem on the French Riviera, where history, culture, and coastal beauty intertwine to create an unforgettable experience. There are
kosher shops and restaurants in Antibes
as well as the neighboring town of
Juan-les-Pins
.
Juan-les-Pins: Modern resort town
While Antibes is a historic town, Juan-les-Pins is more of a modern resort town featuring beautiful beaches, a buzzing nightlife, and Mediterranean charm. Visitors can bask in the warmth of the sun on the pristine beaches, immerse themselves in the crystal-clear waters of the sea and delight in a variety of beachfront activities. The town's lively nightlife scene includes bars, clubs, and music venues for all tastes. Juan-les-Pins has a long-standing association with jazz, and the annual Jazz à Juan festival draws world-renowned artists and jazz enthusiasts from around the globe. Wander through the charming old center, known as the "Village," with its colorful Provençal architecture. As mentioned above, Antibes and Juan-les-Pins have kosher shops and restaurants as well as a Chabad House, making it a convenient place for a kosher summer vacation. Juan-les-Pins perfectly combines relaxation, entertainment, and cultural exploration, adding a captivating touch to any French Riviera adventure.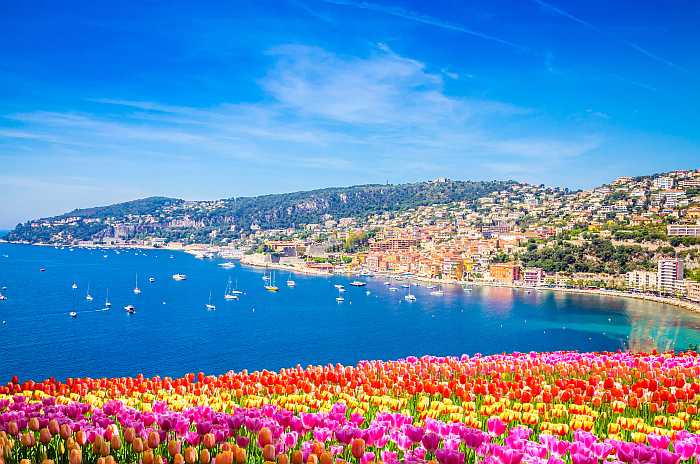 French Riviera (Photo: Shutterstock)
Conclusion
The French Riviera brings to mind a world of glamorous lifestyles, where luxury yachts dot the azure coast, haute couture dazzles at prestigious events, and elegant promenades are adorned with chic boutiques. It evokes images of iconic film festivals, where the silver screen's brightest stars gather to showcase their latest works, adding an air of cinematic allure to the region. And for some, like myself, it symbolizes the thrilling world of James Bond movies, from the iconic casino scenes in Monte Carlo to high-speed chases along scenic coastal roads.
If you're looking for kosher options, the
French Riviera caters to the kosher traveler.
You'll find a variety of kosher shops and restaurants throughout the region. Additionally, Chabad houses are present in several cities, providing a warm and welcoming atmosphere for Jewish travelers looking for a minyan and Shabbat meals.
A summer vacation on the French Riviera promises an unforgettable experience of natural beauty, coastal charm, and cultural richness. Whether you're lounging on the sun-drenched beaches, exploring the captivating landscapes, or savoring kosher delights, the French Riviera is sure to leave you with cherished memories of an extraordinary summer getaway.