Barcelona (Photo: Shutterstock)
Nestled along Spain's northeastern Mediterranean shoreline, Barcelona is a city where timeless traditions meet modern vibrancy. Here, golden beaches meet iconic architectural marvels, and narrow historic alleys lead to bustling modern squares. While many visitors are drawn to its rich culture, art and impressive structures—many of which were crafted by the renowned architect, Gaudí—there's an undercurrent of history that's uniquely captivating. The city boasts a deep Jewish heritage that you can explore in the city's old Jewish Quarter. There is a small Jewish community in Barcelona offering
kosher dining, synagogues and a Chabad presence.
When it comes to the weather, Barcelona is indeed blessed. Its Mediterranean climate means warm, sunny summers and mild winters. While many love to visit during the sun-soaked months of June to August, the transitional seasons of spring (April to June) and fall (September to October) offer pleasant temperatures with fewer crowds, making them ideal times to explore both the city's popular attractions and its lesser-known historical treasures. Whatever time you choose, Barcelona promises a journey of discovery.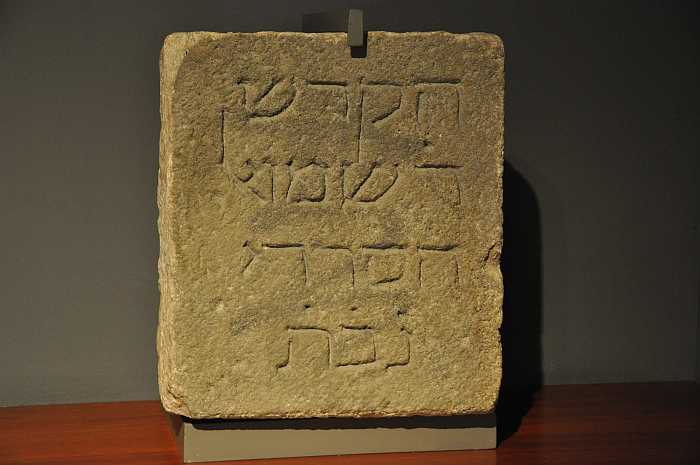 Commemorative inscription of the foundation of the Jewish Quarter in Barcelona (Photo:

JosepBC, CC BY-SA 4.0 <https://creativecommons.org/licenses/by-sa/4.0>, via Wikimedia Commons)
Jewish Heritage of Barcelona
Barcelona's Jewish roots trace back to the early Middle Ages, with a flourishing community known as "El Call." By the 13th century, the Jewish community had grown significantly and boasted a rich cultural life with schools, synagogues and its own local leadership. However, by the 14th century, the community faced escalating persecutions, culminating in the devastating attacks of 1391. The final blow was the Alhambra Decree of 1492, which officially expelled Jews from Spain, effectively ending Barcelona's rich Jewish history for centuries.
It was only in the late 19th and early 20th centuries that Jews returned to Spain, primarily due to commercial interests and the more tolerant atmosphere. The Spanish Civil War and World War II slowed this re-emergence, but post-WWII Spain witnessed a slow yet steady Jewish revival. Today, Barcelona and other Spanish cities have small but active Jewish communities, and there's a renewed interest in reviving and recognizing Spain's Jewish heritage.
Barcelona's Jewish Quarter is a fascinating area to explore and offers visitors a chance to learn about the city's rich Jewish history. Visitors can see the remains of historic buildings, visit museums and synagogues and learn about the cultural legacy of the Jewish community in Barcelona.

Jewish historical sites in Barcelona:
MUHBA El Call Museum: The Barcelona History Museum is located in the heart of the Jewish Quarter and explains the entire history of the Jewish community in Barcelona and its cultural legacy.
Ancient Synagogue of Barcelona (Sinagoga Mayor): Dating back to the 6th century, this is believed to be one of the oldest synagogues in Europe and is located in the Jewish Quarter.
Remains of a possible Mikvah: These remains are located in the Jewish Quarter and are believed to be a medieval Jewish ritual bath.
.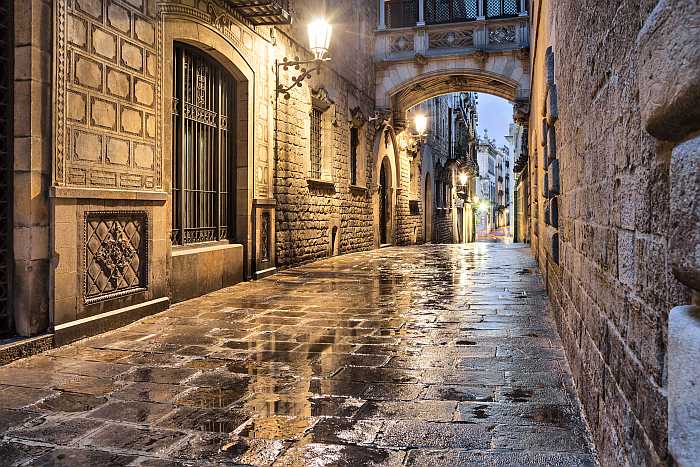 Narrow street in the Gothic Quarter of Barcelona (Photo: Envato)
Jewish life & kosher food in Barcelona
Today, Barcelona has a small but active Jewish community, with an estimated 3,500 Jews residing in the city. The Jewish community of Barcelona is officially known as La Comunidad Israelita de Barcelona (CIB). The community has a lively and vibrant religious, social and cultural life. There is an operating synagogue in Barcelona that serves the area's Jewish community.
Chabad of Barcelona
serves as a central building for Jewish activities in the city. Chabad has a Jewish Center and a tourist center in the city. The Chabad House Jewish Center offers shiurim, minyan and assistance with Jewish education. Visitors can find Wi-Fi, an information station, a coffee corner and Spanish lessons at the center. The Chabad Tourist Center offers free coffee and cake, free wifi and a place to meet fellow travelers. Chabad of Barcelona is an essential part of the Jewish community in Barcelona and offers a variety of services and activities for Jews living in or visiting the city.
There are not an abundance of kosher eateries in the city but you will find a couple of restaurants, catering and a kosher shop. If you are spending Shabbat in Barcelona then you can register for meals at the Chabad House. Unique to the Barcelona kosher scene is
Xerta
, Europe's first Michelin-starred restaurant to offer kosher cuisine. The restaurant, Xerta, is fully adapted to kosher dietary laws under the supervision of a rabbi. They offer kosher food on Wednesday nights, certified by Rabbi Libersohn from Chabad, with a minimum number of kosher reservations.
For more information, check out TJT's
guide to kosher and Jewish life in Barcelona.
Map out your vacation in advance with our
Kosher & Jewish nearby map
or use our
"Kosher Nearby"
tool - put in your location and get all the relevant data from TJT's comprehensive directory.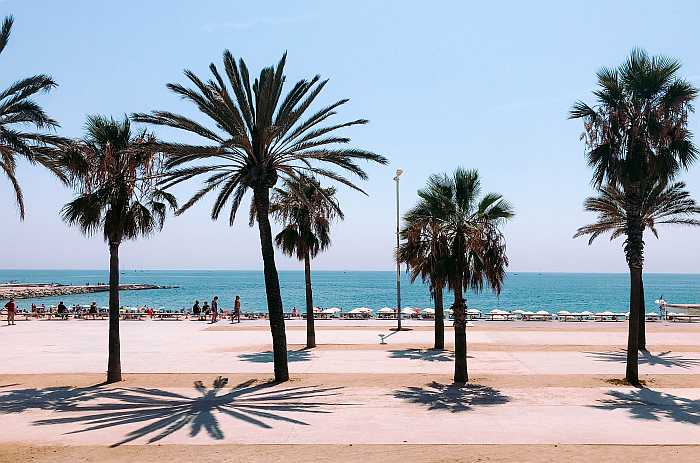 La Barcelonata Beach (

Photo by

Lucrezia Carnelos

on

Unsplash

)
Barcelona's Timeless Treasures
Barcelona, a city of art, history and coastal allure, attracts travelers from around the world with its myriad of attractions. From the awe-inspiring masterpieces of Gaudí to the vibrant streets echoing with life and culture, this Catalan capital offers an experience like no other.

Dive into our curated list of top attractions, each telling a unique story of Barcelona's multifaceted charm, ensuring you soak in the very essence of this Mediterranean marvel.
Park Güell: Designed by the legendary architect Antoni Gaudí, this public park is filled with colorful mosaics, meandering pathways and panoramic views of the city.
Casa Batlló and Casa Milà (La Pedrera): These are two more of Gaudí's most famous buildings. Their unique designs, with undulating facades and unconventional roofs, showcase his signature architectural style.
La Rambla: A bustling street in the heart of the city known for its shops, cafes and the lively Boquería Market.
Gothic Quarter (Barri Gòtic): Winding streets and hidden squares characterized by medieval architecture.
Barcelona Beaches: Especially Barceloneta Beach, a place to relax and enjoy the Mediterranean sun.
Magic Fountain of Montjuïc: Offers evening shows with music, water acrobatics and lights.
Montjuïc Castle: An old military fortress with a rich history and panoramic views of the harbor.
Picasso Museum: Home to one of the most extensive collections of artworks by the 20th-century Spanish artist Pablo Picasso.
Camp Nou: The stadium of FC Barcelona, one of the most famous football clubs in the world. Football fans might also be interested in the museum and tour.
Poble Espanyol: An architectural museum and village showcasing the different architectural styles of Spain.
Barcelona Aquarium: One of the largest in Europe, showcasing Mediterranean sea life.
Tibidabo Amusement Park: Located on Mount Tibidabo, the oldest amusement park in Spain offers rides and attractions with a backdrop of sweeping views over the city.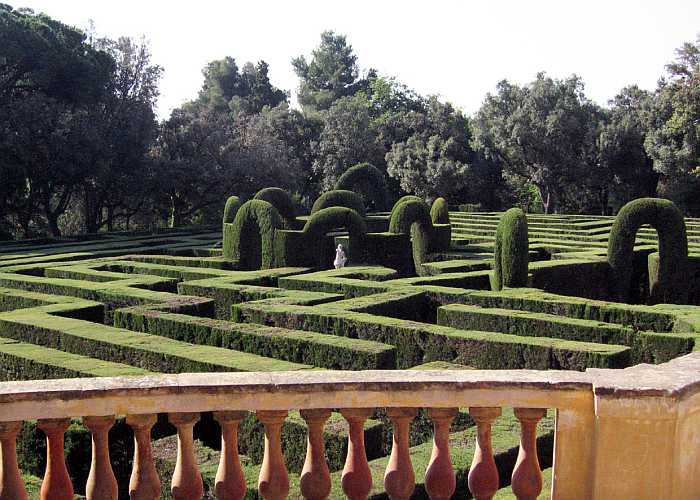 Labyrinth hedge maze in Parc del Laberint d'Horta ( Photo by

Till F. Teenck - Own work, CC BY-SA 2.5, https://commons.wikimedia.org/w/index.php?curid=1790535)
Hidden Gems of Barcelona
Barcelona is a city full of hidden gems that are not as well-known as the popular tourist attractions.
Teatre Grec: This is an open-air theater located on Montjuïc hill that offers stunning views of the city and is a great place to watch a show or enjoy a picnic.
El Jardí: This is a hidden garden located in the Gothic Quarter that offers a peaceful escape from the city and is a great place to relax and enjoy the outdoors.
Bunkers del Carmel: This is a former anti-aircraft battery that offers panoramic views of the city and is a great place to watch the sunset.
CosmoCaixa Museum: This is a science museum that offers interactive exhibits and is a great place to learn about science and technology.
Plaça Sant Felip Neri: This is a hidden square located in the Gothic Quarter that is known for its beautiful architecture and peaceful atmosphere.
Parc del Laberint d'Horta: This is a beautiful park located in the Horta-Guinardó district that features a labyrinth, gardens, and waterfalls.
Piscina Municipal de Montjuïc: This is a public swimming pool located on Montjuïc hill that offers stunning views of the city and is a great place to relax and cool off.
Mirador d'Horta Swing: This is a hidden swing located in the Horta-Guinardó district that offers stunning views of the city and is a great place to take photos.
Zona de Banys del Fòrum: This is a hidden beach located in the Sant Martí district that is known for its clear water and peaceful atmosphere.
Hospital de Sant Pau (Recinte Modernista de Sant Pau): This is a modernist hospital that features stunning architecture and beautiful gardens.
Barcelona has many hidden gems that are worth exploring and offer a unique perspective of the city. Visitors can enjoy the peaceful gardens, stunning views and beautiful architecture that are not as well-known as the popular tourist attractions.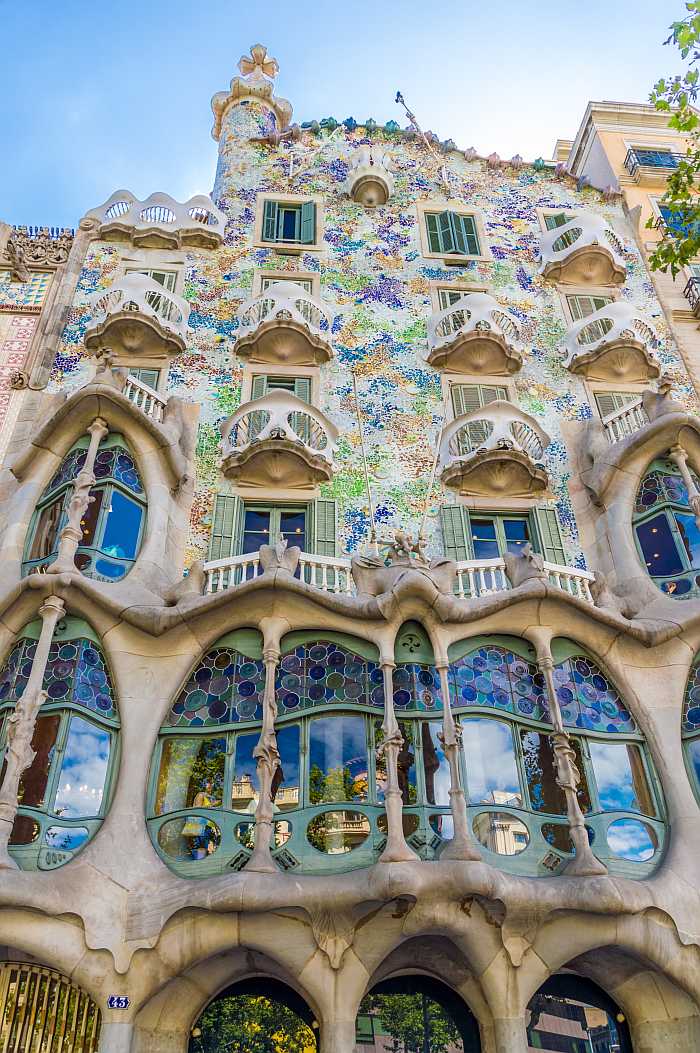 Wrapping Up the Barcelona Experience
To truly capture the essence of Barcelona, one needs more than just a few days. The city is a delightful blend of sun-soaked beaches, architectural wonders, vibrant streets and rich history, especially its captivating Jewish heritage. Take time to visit the remnants of the ancient Jewish community in the old Jewish Quarter. You can find
minyan, kosher food and mikvahs while vacationing in Barcelona
. The Chabad of Barcelona has a tourist center and a Chabad House where you can sign up for meals for Shabbat and holidays.
Whether you're lounging by the Mediterranean, exploring the intricacies of Gaudí's masterpieces or diving deep into hidden pockets of history, there's no denying Barcelona's charm. And while the well-trodden paths are a must, don't forget to take a detour to uncover the lesser-known gems. So, here's to Barcelona – a city that promises a wealth of experiences and memories to cherish. Until next time, ¡Hasta luego!