Passover Programs
Puerto Rico
Dear Users: TJT is monitoring the Passover Program industry in the age of coronavirus (COVID-19) for the upcoming year (2021). TJT will be keeping you updated as information about Passover Programs 2021 becomes available.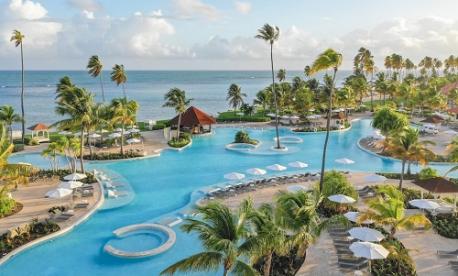 Puerto Rico
Passover Program 2021 Hyatt Regency Coco Beach Puerto Rico - CONFIRMED
Passover Program 2021 Hyatt Regency Coco Beach Puerto Rico with Kosherica- CONFIRMED
Passover Programs in Puerto Rico with Kosherica. Experience casual luxury with Kosherica at thIS exclusive 5-Star, award winning resort. This program is geared to guests that want a stunning resort and delicious food minus all the extra "fluff". We are focusing on the most basic priorities: the resort, the food and minyanim.
More Info
Passover Programs 2021 Puerto Rico
Spend Pesach vacation at The Hyatt Regency Grand Reserve Puerto Rico with Kosherica. Enjoy a family-friendly Pesach resort steps away from the beach with a beautiful pool and golf courses. Enjoy delicious food under the strict rabbinical supervision of the OK. The program includes meals, kids club and daily minyan.
There are many outdoor attractions nearby to keep you busy on Chol Hamoed. Hike to the natural waterfalls within the El Yunque National Forest, the 29,000-acre tropical rainforest, which is home to over 400 plant species and diverse animal life. Sour over the treetops on a zipline or tour the 18th century fortress Castillo San Cristobal in nearby San Juan.
Exclusive Kosher Pesach vacation in Puerto Rico!