How the Passover program industry is shaping up for 2021.

Summer and Sukkot programs did take place in Corona times. What can we learn from them? What to expect? Indication of how the Pesach programs will deal with the coronavirus.

Program operators have new terms and conditions? Yes! We asked them how they plan to deal with refunds, deposits and cancellations.

Pesach in the UAE - What do we know about this new and exciting Pesach destination for 2021.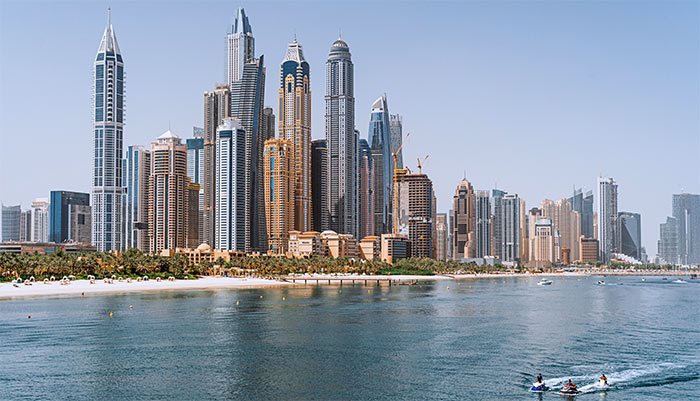 Amazing new destination for Passover 2021 / Photo: Denys Gromov
The COVID-19 impact on Passover programs in 2020 came as a shock to the entire industry (See
Reflections on Passover 2020
). Now, program operators and guests are cautiously optimistic about Passover programs for 2021.
The operators are making arrangements and the potential guests are looking into programs. With the constantly changing conditions and restrictions in countries around the world, the Passover program industry is operating with a new set of rules.
People are starting to organize their Pesach vacations but with the knowledge that those plans could potentially be cancelled. We have been in touch with many tour operators. Some shared their thoughts and plans with us as well as their cancellation policies in light of the coronavirus pandemic.
Read ahead to find out more details.

Overview of the Passover program industry in 2021


The countdown to Passover 2021 has begun. Passover begins on March 28, 2021 so that is 139 days until Passover (as of the writing of this article).
After the chagim people start planning their Passover vacations. The Passover programs are usually well into their planning and organizing stages at this point. We would normally begin to see tour operators advertising Pesach programs all over the world. Last year, we had over 130 Passover programs advertising on our site. Unfortunately, the coronavirus pandemic hit just one month before Passover and all programs were cancelled. This had devastating consequences to both the program operators and their guests.
Cancun - popular destination for Passover travelers / Photo: Michelle Maria
Passover program operators and those who go away for Pesach are looking forward to getting back to normal this year, albeit a "new normal." There are people who are wary about air travel so they will be looking for programs close to home or within driving distance.

We saw this over the summer with many people vacationing close to home or road tripping. On the flip side, there are people who will get on a plane and go as long as they don't have to quarantine when they arrive.
Summer and Sukkot Programs give us hope for Pesach vacations


After Pesach was "cancelled" last year and everyone stayed home, people were ready to get out and started booking summer programs and Sukkot programs. There were a number of successful summer and Sukkot programs, although not as many as usual.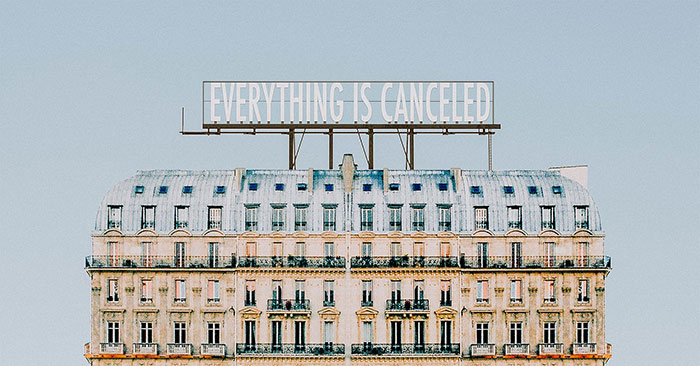 Passover 2020 was "cancelled" / Jeffrey Czum
| Pexels

There were some great summer programs in Switzerland, Italy, Morocco, France, Portugal, Israel and Cyprus. For those who preferred a smaller crowd, a very popular summer vacation option was kosher villa rentals and custom tailored kosher family vacations all over the world. Many families wanted to take a family vacation but preferred to be more isolated.
People were very happy to be able to get away for Sukkot vacation. Eli Danzig and Avi Netzer ran successful programs in Italy; Yoni Kahana in Cyprus and Royal Passover and Kosher Luxus ran successful programs in Cancun, each had close to 500 guests.
Kosher Luxus dealt with the coronavirus situation at their Sukkot program by requiring all guests to have medical insurance, fill out health forms, take temperature before arriving and every day of the program, maintain hygiene rules and sit two meters between families in the dining room and sukkah.
They offered full refunds for cancellations up to one week in advance, payment of deposit up to three days in advance and full payment for cancellations within three days of the program with the payment applied towards a future program.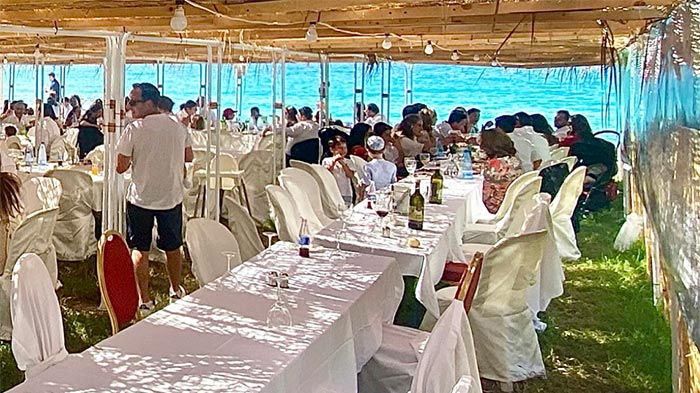 Sukkot 2020 in Paphos with 500 guests - Kahana Group / Photo:
Shlomo Galbar


Kahana Group celebrated Sukkot in Paphos, Cyprus with 500 guests. "Baruch Hashem! We were lucky to host the biggest Sukkot program in Europe this year" said Mr. Kahana. "After hosting over 1,000 guests during the summer, we were looking forward to hosting a large Sukkot Program, but the Cyprus government closed their borders for tourists from Israel and France, only allowing tourists from the UK and Belgium."

Mr. Kahana said that everyone at their program had to follow certain health procedures: negative corona test results prior to arriving in Cyprus, temperature measurement, and strict disinfection regimen in the hotel. "Our guests were very cooperative with the health regulations and all felt safe.
They were excited to be out enjoying the amazing weather after six months of lockdown. We offered cancellations for any reason and full immediate refunds." Only three families out of hundreds had to cancel their reservations.
With limited travel options and some countries not allowing foreign residents entry (such as Israel), planning programs was challenging. Israel has been closed to non-Israeli citizens since March 2020. When the hotels opened up for the summer and Israelis couldn't fly out, they filled the hotels especially up north and in Eilat. The hotels were booked for the holidays in September - October, only to be shut down with little notice when the entire country went into lockdown before Rosh Hashanah.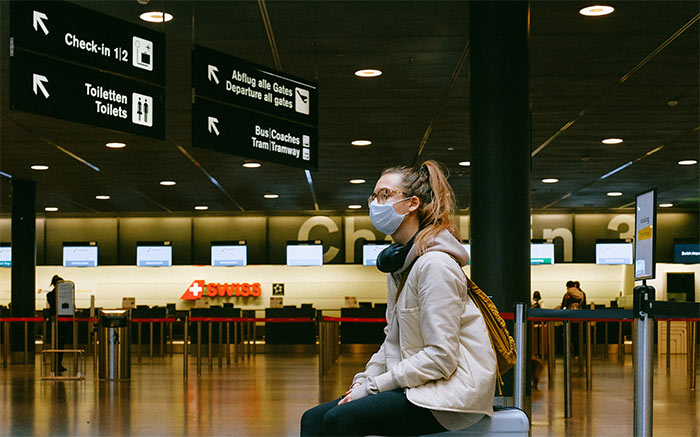 Women in the airport / Anna Shvets
| Pexels


We have seen from Sukkot programs that there is still a definite appetite to travel for Kosher travel programs and people will fly internationally. We will soon see quick corona testing at airports around the world. As long as people don't have to quarantine upon arrival and they can take COVID tests at the airport, more people will begin to travel.
What to expect from Passover Programs in 2021: reservations, deposits and refund policies


Passover programs under the veil of COVID-19 will look different from Passover programs of the past. The entire world has changed and we are all adjusting to this "new normal".

The Pesach programs will have to reflect the "new normal" and take into consideration the difficulties faced last year with program cancellations. We have already seen program operators successfully deal with these issues on Sukkot.
We will see smaller programs in terms of guest numbers to allow operators to maintain social distancing around food and tefillot. This will potentially make the programs more service oriented with better staff attention and service. It might also mean better access to amenities.
Expect to see programs introduce safety measures such as temperature checks, hand sanitizing, mask wearing, intense regular cleaning and mostly al la carte table service with limited or no buffets. Program operators will be taking reservations and deposits closer to Pesach.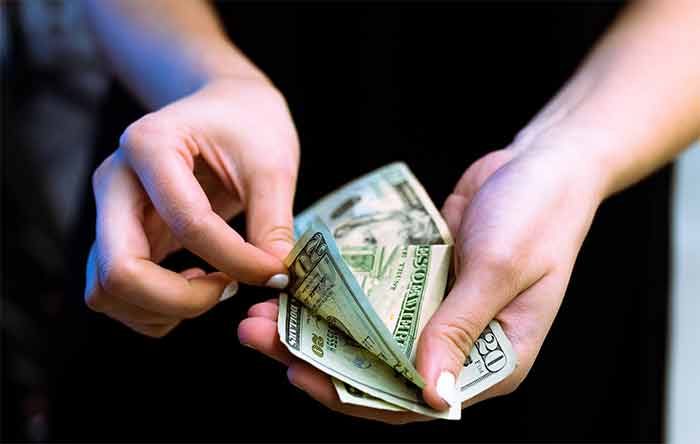 Passover 2021 - Deposits & Refunds / Photo: Igal Ness
Joey Freudmann of Ophir Tours is asking for a $100 deposit when guests make reservations for his program this year, as opposed to the $1000 that they have asked in previous years. Ophir tours gave full refunds to all of their guests after their Passover programs were cancelled in 2020. Although Joey enjoyed his first Pesach home after running successful Pesach programs for the past 20 years, he is looking forward to running his programs in 2021 at two hotels in Israel and one in the UAE.
The Kahana Group is planning three Pesach programs in Cyprus and Greece. Mr. Kahana said they are offering a full refund for cancellations for any reason up to one week before Pesach: "This year, we are dealing with our suppliers and building our programs differently in order to protect our investment."
Yisroel Shainfeld of Shainfeld Tours is planning two Pesach programs - one in Greece and one in Dubai. "We specifically chose large hotels to allow maximum space so families can social distance." Shainfeld Tours gave full refunds to guests for their programs last year. This year, they are offering full refund of the deposit (500 Euro per family) for cancellations for any reason up to two weeks before Pesach. If guests cancel because someone has corona then they get full refund at any time.
Lenny Davidman has been running Pesach programs in Israel for the past 28 years, the last 20 years at the Dead Sea. Davidman is working closely with the Crowne Plaza at the Dead Sea "to try to foresee all the customers' concerns about corona and to adapt the program to address those concerns." He is planning to have more minyanim and dining areas to allow for social distancing. Davidman will be collecting a small registration fee per room with 50% of the fee paid by the end of January and the balance paid upon arrival at the hotel. He will give full refunds if the hotel is shut down by the government due to the coronavirus.
Most programs will probably be offering full refunds in the event of cancellation due to COVID outbreaks or restrictions on travel. Programs are still in the initial planning stages and we will keep you posted as information becomes available.
Passover 2021 in the UAE


With the normalization of diplomatic relations between Israel and the UAE, kosher Jewish travellers are looking forward to vacationing in the Emirates. Of course, this includes Passover programs in 2021. There is always interest in new and exotic locations for kosher vacationers and this will be the first time that Passover programs will be operating in the UAE.

Program operators are already booking hotels and organizing Passover programs in the UAE for the upcoming Pesach. There are many beautiful beaches and tourist sites, including the world's tallest building in Dubai. Pesach is an ideal time to take a vacation to the UAE, before the heat of the summer months.
First ever public sukkah in the UAE, Armani Hotel Dubai
Shainfeld Tours is preparing for their first Pesach program at the Sheraton in Dubai. They will be taking over the entire hotel and offering lots of entertainment and amenities.
Joey Freudmann of Ophir Tours is in negotiations with hotels in the UAE for his Passover program, in addition to the two programs he is planning in Israel. Joey is going full steam ahead with plans but knows that "there is a big question mark in front of everything because of COVID-19."
Rabbi Duchman, the Chabad emissary to the UAE, told TJT, "I am very excited about the Kosher travel market to the UAE and am really looking forward to seeing the market develop and expand."
Conclusion


We are still five months away from Pesach 2021 so it is still too early to know how it will play out. COVID-19 has thrown a wrench in people's plans for the past eight months. We have seen countries opening up, only to go into lockdown a few months later. The numbers of infected fluctuate on a daily basis and local rules and regulations are constantly changing.
We see that program operators are putting in every effort to organize amazing programs around the world. People are ready to travel and would love to go on a
Pesach vacation
. Many companies are working on a COVID-19 vaccine, some in late stage trials. A vaccine becoming available in the next few months could be a game changer. We remain cautiously optimistic.