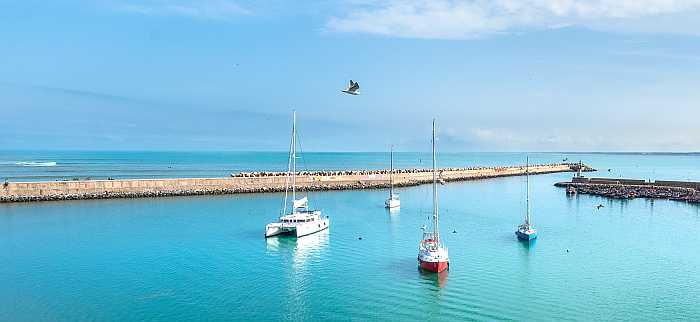 Panoramic view of the port to Mazagan in El Jadida (Photo: Shutterstock)

Quite a few successful Passover programs have been running in Morocco for a number of years. With the normalization of ties between Israel and Morocco, we expect even more programs and Jewish tourism. Pesach 2022 saw a number of great programs in Morocco. With travel back in full force, we expect Pesach 2023, which begins on on Wednesday evening, April 5th and ends on Thursday evening, April 13th, to see even more Pesach programs in Morocco. The Pesach programs took place in different cities but everyone agreed that it is a beautiful country with many sites to visit.
Some of the Pesach programs that took place in Morocco in 2022:


Passover Program with Gourmet Travel in El Jadida: Pesach at the Pullman Mazagan Royal Golf Hotel & Resort offered guests a beautiful golf course, beach house, pool, kids village, gourmet food and many activities.
Pesach Program at the Blue Pear Oasis in Saida with DJO: The hotel is on the beach and has seven pools as well as a spa. The program provided meals and entertainment and offered water activities, tours and a nightclub.
Sarah Tours Pesach Program at the Mazagan Beach Resort 5-Star Luxury El Jadida: Guests enjoyed hotel amenities such as the spa, gym, kids club, golf course and many on-site activities. The program provided delicious food, live entertainment, day trips, lectures and ended with a Mimouna.
Pesach at the Banyan Tree Tamouda Bay with Kosher Luxury Travel: The resort was a great option for people who like their privacy as it is a villa resort, private villas with pools. The program provided all the meals, minyan, lectures, kids club and entertainment.
White & Blue Passover Program a the Fairmont Taghazout Bay: Guests never had to leave the hotel which offered pools, beach, water activities, sports, golf spa, kids programs and more. The program provided meals, entertainment as well as minyan and lectures.
Pesach at The Royal Atlas Hotel & Spa with First Kosher Club: This resort by the sea offered guests pools, spa, beach and more. The program offered meals, activities, children's programming, minyan, lectures and entertainment.
Koconut Club Pesach Program at The White Beach Resort Taghazout Bay: The program at this beach-front spa resort offered many on-site activities, spa, kids club, entertainment, delicious meals and ended with a traditional Mimouna.
There were many excursions to keep tourists busy during the week of Chol Hamoed Pesach:
Exploring Morocco's coast, culture, ancient cities and history
A visit to the museums, Valley of the Birds and gardens in Agadir
Exploring the palaces, gardens and marketplaces in Marrakesh
Visiting the ancient sites of El Jadida
Exploring the Rif Mountains by Tamouda Bay if you get tired of the sand and surf
There are many historical and cultural sites to see in Casablanca, including the famous "Rick's Cafe"