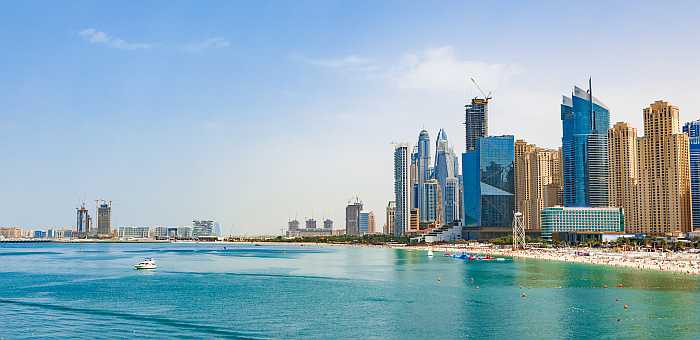 Panorama of Jumeirah Beach, Dubai (Photo: Envato)


Many will be flocking to Dubai for the Passover holiday, and for most it will be their first visit. The Abraham Accords were signed during the COVID pandemic and the majority of the Passover programs that were to take place in Dubai last year were canceled. International travel has almost returned to normal and Dubai has been a very popular vacation destination for kosher travelers over the past year with kosher food and minyanim readily available. A number of the kosher restaurants and caterers will be opening their dining rooms or offering take away for Passover. Kosher vacationers have the option to book Passover programs at luxury hotels in Dubai or to book a hotel and take advantage of one of the kosher for Passover meal plan options.
DIY Pesach Vacation & Passover Programs in Dubai
Flexible Independent Travel, also known as FIT, has become increasingly popular with people who like to make their own accommodations and plan their own itineraries. For those who want to go to Dubai for Pesach on their own this year, there are many flexible hotel and food options. With the opening of a number of kosher restaurants and caterers in Dubai over the past year, kosher travelers have a number of choices for food on Passover. Passover programs, on the other hand, are a great option for people looking to enjoy a relaxing and pampering vacation and plan to use all the services offered. Many vacationers like knowing everything is taken care of without having to plan anything, especially during the Passover holiday.
Kosher Arabia will be providing catering for Seders and a Pesach food delivery service. Hashgacha will be from OU and UOS.
This platform will benefit visitors and community members who choose not to join a formal Pesach program. We are excited about the significant increase in kosher resources that are now available for Pesach.

-Ross Kriel, conveyer of Minyan on the Palm and official Representative to the Dubai Government
Elli's Cafe in the Palm Jumeirah area will be open and will be serving meals throughout the holiday of Passover. You can book the Seder and all or some of the yom tov and chol hamoed meals. This gives you some flexibility for Passover meals. There are many hotel options within walking distance of Elli's Cafe so you can research and choose a hotel that fits your budget.
Elli's Kosher Kitchen will be taking orders for Passover Seder and meals and providing delivery to hotels in Dubai.

(Photo: Envato)
The Kosher Place is offering flexible Passover meal packages, including Seder meals, option for packed lunches and a traditional Mimouna ceremony. All meals and prayers will take place at the Address Marina Hotel. You can book your meals with The Kosher Place and stay in the Address Marina Hotel or choose from one of the many nearby hotels.
Minyan on the Palm (MOTP)
will be having Shabbat and Yom Tov davening at the St. Regis Hotel led by Chazzan David Louk. MOTP will also be having communal Seders at the St. Regis with catering by Kosher Arabia under the supervision of the OU. Minyan on chol hamoed will be held at TLV Restaurant in the H Dubai Hotel or Address Marina Hotel.
Chabad of the UAE
will be hosting a communal Seder in Dubai. Rabbi Levi Duchman, Rabbi to the UAE, brought matzahs from Kfar Chabad in Israel to the UAE in preparation of Passover. Chabad will be hosting a public Seder at the Mövenpick Grand Al Bustan Dubai. Chabad will be offering meals on Yom Tov but not on Chol Hamoed.
We are preparing for the largest-ever Seder in the UAE. Now, over a year since the signing of the Abraham Accords, and thanks to the warm support we've received from our generous hosts, the Emirati leadership, our Jewish community continues to grow, as does the stream of Jewish visitors arriving here from around the globe. The matzos that we prepared in Israel will serve us in the Seder we will be holding in Dubai and Abu Dhabi, together with our community, the Israeli Embassy, tourists and visitors – welcoming every person wishing to hold a Kosher and festive Seder dinner in the Emirates. We will be holding the ceremony in numerous languages, including Hebrew, English, French and Russian, and have already begun with preparations for the grand event.

- Rabbi Duchman, Rabbi to the UAE
The largest Passover Seder in the history of the UAE is less than a month away…and for that we need matzah…

Lots and lots…and LOTS of matzah! pic.twitter.com/IbxPiFVDEW

— Rabbi Levi Duchman (@RabbiUae) March 21, 2022
Not all of the kosher restaurants and hotels will be open for Pesach. The Armani/Kaf restaurant located in the Armani Hotel and Mul Hayam will be closed for Passover. The Hilton Garden Inn Mall of the Emirates as well as The Hilton Al Habtoor, one of the most popular hotels for Kosher FIT's, are not planned to provide kosher for Passover food during the Pesach holiday.
However, the
King David Kitchen
in The InterContinental Hotel Dubai - Festival City will be open and kosher for Passover. The
TLV Restaurant
in The H Dubai Hotel will also be open and kosher for Passover. Be sure to reserve in advance and to check all kosher certification before making your reservations.
Chol Hamoed Activities in Dubai
There are many landmarks to see and fun things to do in Dubai on Chol Hamoed:
Desert Jeep Tour with Camissar Dubai including camel riding, sand surfing and kosher for Passover dinner
Visit the Burj Khalifa, the tallest building in the world
It is expected to be very hot outside but it's cold in Ski Dubai, an indoor ski hall with sub-zero temperatures and five different slopes covering 22,400 square meters
The Dubai Aquarium & Underwater Zoo has one of the largest suspended aquariums in the world and options for animal encounters and diving experiences
The Dubai Mall is the second largest shopping mall in the world
Atlantis Aquaventure Waterpark with zip lines, slides through shark-filled lagoons and a splash area for kids
Miracle Garden is the largest natural flower paradise in the world
Beautiful beaches, that are free or charge a minimal fee and provide lifeguards, showers and changing rooms
Many adventure activities including jeeping, sandboarding, camel safaris, speedboat tours and more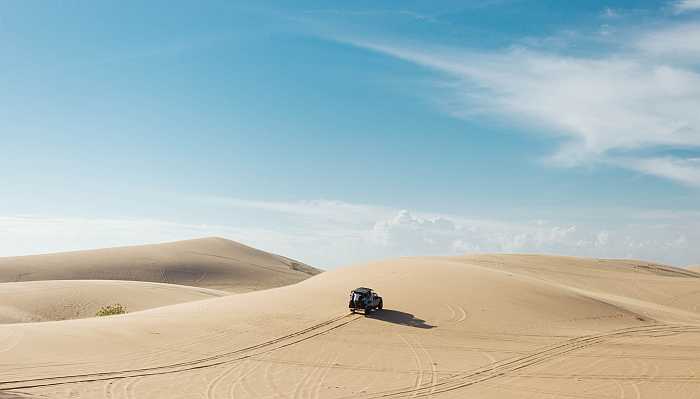 (Photo: Envato)



Passover Programs in Dubai
If you don't want the hassle of booking a hotel, meals and activities on your own, there are all-inclusive luxury Passover programs in Dubai. Some of these programs are already sold out as of the writing of this article.
Shainfeld at Conrad Dubai: full board, kids and teen programming, scholars-in-residence, famous entertainers and guided tours.
Passover by Versace with Treat Kosher: full board, entertainment, concierge service, children's programming and desert safari.
The Kosher Place at the Jumeirah Creekside Hotel: Meals, kids club, Synagogue, spa, entertainment and Mimouna
How to Behave during Ramadan in Dubai
The festival of Ramadan is based on the lunar calendar so falls on different dates on the Gregorian calendar each year. This year, 2022, Ramadan begins on Saturday evening, April 2 and ends on Monday evening, May 2. During Ramadan, Muslims fast from dawn until sunset every day. The holiday of Passover falls out during Ramadan this year. For those spending the holiday in Arab countries, including Dubai, there are certain restrictions:
It is forbidden to smoke, drink and eat in open and public areas except at the hotel or in closed, designated areas, like restaurants etc. (there will be specific signs for that)
One may not chew a gum except at the hotel and designated areas
One must wear clothes covering shoulders and knees in public, both men and women
No loud music in public areas (cars, boomboxes etc.)
One may sit and eat in a restaurant, hotel or designated areas
It is common to wish "Ramadan Karim" to locals
The city center gets crowded and very busy after sundown, to celebrate the Iftar (the meal to break the fast each night)
Spending Pesach in Dubai promises to be a great experience. For families who have been going away for Pesach for years and are looking for something new, Dubai is a great option. The weather will be warm but not too hot for all of the fantastic activities to keep you busy during chol hamoed. There are many options for different budgets of nice hotels with pools and other amenities to enjoy during your holiday stay in Dubai. Be among the first tourists to enjoy a Passover vacation in Dubai. It is sure to become an increasingly popular Pesach vacation destination in the future.
Rachel Kops is content manager at TotallyJewishTravel.com, the web's leading kosher and Jewish travel platform.