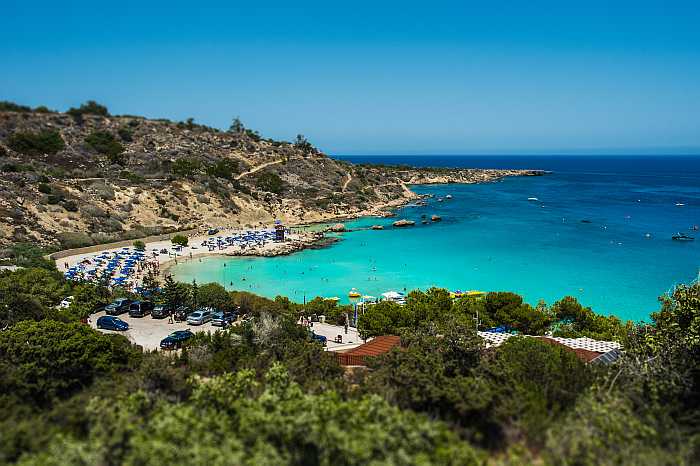 The Blue Lagoon in Cyprus (Photo: Shutterstock)
TJT is committed to providing you with the most updated information about Pesach programs for 2023. Subscribe to our
YouTube channel
to keep up with all the latest Pesach program news and updates.
Passover 2023 Programs: Our view on the upcoming Pesach vacation -

November 10



Passover 2023 begins with the first seder on Wednesday night, April 5th and ends on Thursday night, April 13th (Wednesday night, April 12th in Israel). This year is shaping up to be the biggest year for
Passover programs
since COVID. We are posting new programs almost every day. We have also created detailed guides for different destinations hosting Pesach vacations. This guide will review them all briefly - click on the links below for more details.
With five months to go until Pesach, it's time to start researching Passover programs. The earlier you book your pesach vacation, the better. Take advantage of
early-bird discounts
. Many Passover programs sold out last year and we expect them to sell out early this year. There are Pesach programs to suit a range of budgets and kashrut levels. Figure out where you want to spend your Pesach and what kind of holiday you want. Do you want to spend your Pesach on the beach relaxing or touring a new city or country. There are so many possibilities that you are sure to find the right fit for you and your family.
The Passover program industry began in the United States and continues to thrive. Programs were completely booked the past couple of years even when international travel was limited. More people are traveling abroad but make no mistake, Pesach programs in the US are selling out fast. Many people want to go away for Pesach but don't have time for the longer flights. There are Passover programs in the US that accommodate a range of budgets and interests. There are programs on the beach, the ski slopes and programs surrounded by nature.
Passover programs in Europe have become increasingly popular over the past fifteen years. There was great demand for the limited, post-COVID Passover programs in Europe and we expect that to continue this year. Passover is an ideal time to vacation in Europe without having to worry about where to eat or daven. The Pesach hotels in Europe provide Kosher for Passover food as well as daily minyanim. There are Pesach hotels that offer golfing, skiing,pools and spas. Chol Hamoed is a great time to explore the local cultural and heritage sights or lounge on the beach.

Dubai city view (Image by Kon Karampelas from Pixabay)
Over the past decade, Passover programs have popped up in some exotic locations. Although the UAE and Morocco are Arab countries, they are very popular Pesach vacation destinations, especially since the signing of the Abraham Accords in 2020. The Pesach programs in Dubai and Morocco are at luxury resorts and there are many options for day trips and activities during Chol Hamoed Pesach. After a brief hiatus due to COVID, Pesach in Thailand is once again an option for those looking for a bit of adventure. Time to start planning your Pesach vacation.
Israel has long been a popular vacation destination for Passover. If Sukkot is any indication, there will be many tourists flooding the country for the next holiday known as one of the Three Pilgrimage festivals. The Torah (Hebrew Bible) commands Jews to go up to Jerusalem for Three Pilgrimage Festivals of Passover, Shavuot and Sukkot. Jews from around the world continue to come to Israel and visit the Kotel (Western Wall) during the three pilgrimage holidays. Thousands of people flock to the Kotel on Chol Hamoed Sukkot and Pesach to be there for Birkat Kohanim (Priestly Blessing) ceremony with hundreds of Kohanim.
Passover programs south of the border have become very popular in recent years. After the harsh winter weather, many people want to join a Passover program in a warm weather destination. Heading to the tropics in March-April, before the rainy season, almost guarantees nice weather, with average temperatures in the 80's. It's a nice long vacation on the beach, enjoying the resort amenities, hiking, touring or water sports. There are great Pesach programs in the Bahamas, Mexico, Costa Rica and Panama.
Remember to check back with us often as we are adding Passover programs every day! There is a range of
pricing for Passover programs
based on location and amenities. There are some
affordable Passover program
options. Once you book a program, take steps to protect your investment by looking into
travel insurance coverage options
for Pesach programs. Most programs recommend purchasing travel insurance in case you have to cancel your vacation plans. There are different companies that specialize in travel insurance for Passover programs. We have also created a
list of tips
in order to help you choose the right Passover program, especially if you decide to go on a new or not such a well known program.