Adriatic Beach in Croatia (Photo: Shutterstock)
Summer is already underway but it is not too late to plan the perfect kosher summer vacation. Taking a vacation can be a great way to relax and rejuvenate, and what better way to do that than to experience new attractions and scenery while also enjoying delicious kosher food? The kosher tours, kosher cruises and hotels all offer fresh gourmet kosher meals. There are different programs to suit a range of budgets and levels of kashrut.
With so many options, the hardest part will be to decide what kind of vacation and where to go. There are kosher resorts on the beach, kosher tours in Europe, African Safari or the rainforest. Kosher summer hotels have expanded beyond the Catskills to include hotels throughout Europe, Morocco and other countries.
Kosher summer cruises
are lavish affairs, far from the airplane food that was the only option years ago. There are also more intimate kosher sailing adventures or luxury yacht rentals. Organized kosher tours take you to new and exciting locations around the world.
Kosher Summer Tours 2023
United States
Kosher Travelers Spiritual Retreat Tour with Rabbi Dr. Laibl Wolf in the Pacific Northwest - July 30-August 6, 2023 at the Hyatt Regency Lake Washington in Seattle. Not just another tour, but a total immersion experience – exploring nature's beauty and amazing history of the Pacific Northwest, while learning skills to deepen your life and its meaning.
KMR Tours at The Beaver Creek Resort in Colorado - August 7-17, 2023. Summer Colorado Retreat offers fresh kosher food, attentive staff, shiurim and entertainment.
Mexico
Kosher Relax
at Hotel Boutique Isla Mujeres in
Cancun:
August 1--7, 2023.
Enjoy the beach, pools and activities. There will be kosher meals, daily minyan and entertainment.
France
Royal Dream at the Hotel Teranova in the French Alps - July 30 - August 23, 2023: Recently renovated hotel with Spa, large restaurant, lounges and bar. There will be a large synagogue, lectures, Glatt kosher cuisine, entertainment, sports and activities.
Hotel Les Arolles in the village of Val Thorens with Gourmet Travel from July 20 - August 20, 2023. Modern resort in the heart of the 3 Valleys has Hammam, sauna and activities. Glatt kosher gourmet food, synagogue, kids club, themed evenings and entertainment.
Kangourou Club at the Hotel Le Mottaret in the French Alps - July 23 - August 27, 2023. Recently renovated 3-star hotel in the 3 Valleys, near many activities and attractions. Enjoy delicious cuisine, shiurim and entertainment.
Sarah Tours at the Parc & SPA Les Cigognes Hotel in Albe - June 1-August 21, 2023. Beautiful hotel with Glatt kosher meals in a great location. Enjoy the SPA, pool, sauna, hiking trails and other activities. Option for day trips to Germany and Switzerland.

England
Saviv UK
at the
Botley Park Spa Hotel
: July 31 - August 17, 2023 | Family-run hotel on the south coast of England. Glatt kosher vacation, kids club, spa, gym, indoor pool and more.
South Africa
South Africa Safari with Lebor Tours - June 26 - July 4, 2023: An opportunity to see Africa's unspoiled natural beauty and wildlife, lions, leopards, elephants, and rhinos, in their natural habitat while staying in first class accommodations with gourmet kosher food. Highlights include Victoria Falls, Chobe National Park, Game Viewing Cruise, Kapama Game Reserve, Kruger National Park and Johannesburg.
Lucky Kosher Tours to South Africa - July 31 - August 8, 2023. This once-in-a-lifetime adventure takes you to a Safari Elephant Sanctuary, Pilanesberg game reserve. Lion Park as well as tours of the local Jewish areas. Visit the oldest synagogue in South Africa, penguin colony, Cape Point and the Cape of Good Hope, just to name a few of the sites visited on this tour.
The Kosher Safari Southern African tour - July 31 - August 10, 2023. The Kosher Safari is proudly presented by local South Africans to international standards, featuring luxurious accommodations and gourmet glatt kosher cuisine. Our tour is thoughtfully designed to offer you an all-in-one experience, where you can witness the best sights and unique African adventures. From awe-inspiring safaris to Cape Town's finest attractions and the breathtaking Victoria Falls, this is an opportunity you won't want to miss.
Royal Africa summer safari - July 31 - August 8, 2023. An unforgettable journey through South Africa, from the bustling city of Johannesburg to the picturesque landscapes of the Black Rhino Game Reserve, and on to the vibrant city of Cape Town.

Elephants and zebras at sunset - South Africa safari (Photo: Shutterstock)


Iceland
Lebor Tours and Gaya Luxury Tours are returning to Iceland. They are once again offering three tour dates for the only kosher hotel in Iceland - July 31 - August 7; August 7-14; August 14-21, 2023. Book an 8-day tour in August to see the beautiful landscape, waterfalls and animal life in the area. Visit the Golden Circle, Reykjanes Peninsula, Snaefellsnes Peninsula, Westman Island and Reykjavik. Native English-speaking expert guides for the full day tours of the area.
Kosher Travelers majestic tour of Iceland - July 31-August 9, 2023. Experience the wonders of Iceland, including the glaciers, volcanoes, lava fields and more. Enjoy hikes in nature and fresh kosher meals.

Croatia
Yaya Jewish Tours is heading to Croatia on a luxury kosher yacht - July 6-16, 2023. Yacht sails out of Zagreb and ends in Dubrovnik. This Croatian adventure includes one of the longest ziplines in the world, quad bike tours, Segways, kayaking and more.
Romania
Avimor Tourism
offers three tour dates at the Aurelius Hotel în Poiana Brasov. They offer two different types of programs: the excursion program visiting the sites of Romania or an extreme hiking program that combines scenery with jeeping, skydiving and other activities. Both programs include kosher food, full board, spa and evening entertainment.
Blue Lagoon, Cyprus (Photo: Envato)

Cyprus
The Blue Lagoon Kosher Resort & Spa in Paphos is the largest kosher resort in the world. Feast on lavish breakfasts and dinners. Take advantage of the beach, spa complex, lounge with free coffee all day long, indoor and outdoor swimming pools and Synagogue.
The Secret Forest Resort & Spa in the heart of a magical forest in the mountains of Cyprus. Fill your lungs with the pristine mountain air and connect with nature. Take time to pamper yourself at the spa, hike through the forest, join a yoga class or workshop. Enjoy delicious gourmet healthy meals and take some time to enjoy your surroundings.
Luxury Club at the Mediterranean Beach Hotel in Limassol - August 2-23, 2023. Hotel with private beach, spa and health club. The program offers delicious meals, minyanim, kids club and entertainment.
Greece
The Myconian Collection Hotels and Resort
5* Luxe
in Mykonos will have a kosher programs for the month of August run by Club Turquoise. Enjoy full board kosher food at this luxury hotel. There is a kids club, spa and many other activities.

Mediterranean Cruise
TripNGo 15-day cruise - August 4-18, 2023: Discover the wonders of the Mediterranean, from Barcelona to Rome, via Savona and the magical islands of Majorca and Sicily and then sail towards the treasures of Ancient Greece like Heraklion, or Rhodes, passing through the enchanting islands of Mykonos or Santorini.

Morocco
Mazagan Beach Resort with Sarah Tours. The resort offers a private beach, golf course, fitness center, pools and more. Enjoy kosher Mehadrin meals, dedicated room for minyan, kids club, lectures and shiurim. Tours available upon request.
The Fairmont Taghazout Bay with Virtuoso - August 8-22, 2023. The five-star hotel was voted one of the 10 most beautiful hotels in the world in 2022 by Conde Naste Traveler Guide. The resort has a private beach, pools, spa, casino and activities. The program offers full board, daily services, lectures, kids club, entertainment and more.
Fairmont La Marina Rabat-Sale with Sarah Tours - July 30-August 20, 2023. Discover the harmonious fusion of elegance and comfort at this meticulously designed resort, offering top-notch amenities, breathtaking marina vistas, and exciting excursions to Rabat, Salé, Fes, Meknes, Casablanca, Chefchaouen, and Marrakech. Program offers Glatt kosher meals and evening entertainment.
Movenpick Resort in Marrakech will be open July-August, 2023. First Kosher Club offers half board, kids club and religious services. Option for day trips to see the local sites or other activities such as camel rides, jet skiing and horse riding.
Prague
The King David Hotel in Prague
is a five-star kosher hotel that is open all year round. They offer kosher food, synagogue, mikvah and kosher food. The hotel is ideally located in the center of the city near the local sites: Prague Castle, the Charles Bridge, Old Town Square. Check out TJT's
guide to Prague
- Jewish sights and local landmarks.

Switzerland
The Schloss Hotel & Spa Pontresina in the Engadin region and only four minutes from St. Mortiz. Tour Plus will be taking over the entire hotel between July 31st and August 21st. Enjoy the beautiful views, tennis courts, spa and swimming pool. There is daily minyan, kids club, entertainment and option for daily excursions.
The Maloja Palace in the heart of the Swiss Alps, 15 km from St. Moritz. Ari Galitzky and team will have a glatt kosher program at the hotel for summer 2023. This exclusive resort has a direct view of Maloja lake and is perfect for sports enthusiasts and those who like to combine nature, relaxation and outdoor activities.

Sicily (Photo: Shutterstock)


Italy
Etzion Travel 8-day tour of Sorrento in Southern Italy with trip dates in June through the beginning of September. Tour to the Sorrento Peninsula includes Naples, the Amalfi Coast, Pompei and Capri Island. All-inclusive kosher tour includes kosher food, synagogue and experienced tour guides.
Orah Kosher Events at the Altafiumara Resort & SPA in the Strait of Sicily from August 3-21, 2023. Orah will be operating a kosher kitchen, kosher restaurant and shul at this luxury hotel in southern Italy. Take a dip in the pool, pamper yourself at the spa, play sports or take a walk in the park.
Kosher Catamaran Sailing around the spectacular volcanoes of the Aeolian Islands in northern Sicily. Learn about sailing, go diving or snorkeling, hiking, cycling or touring. All inclusive kosher sailing experience.
My Kosher Hotel in the heart of the Italian Dolomites. Enjoy a large breakfast buffet, afternoon tea and four course dinners. Head over to the American Bar for a cocktail or ice cream. In addition to Mehadrin kosher food, the hotel also offers a Synagogue and mikveh on the premises. My Kosher Hotel is located in Canazei, at the foot of The Dolomites.
Grand Hotel Michelacci in Gabicce Mare on the Adriatic Coast of Italy. Kosher Holidays is running this seaside resort with a kosher kitchen, dining room and synagogue. Enjoy a private beach, pools, spa and other hotel amenities. The hotel is near Gardaland, Canevaworld, Natura Viva Park (zoo/safari) and Parco Sigurta (botanical garden).
Ideal Tours at My Kosher Hotel in the heart of the Dolomites surrounded by nature and hiking trails. Vacation package includes flights, hotel stay, trips and meals.
Beit Reuven at Hotel Relais des Alpes in the Italian Alps. August 8 -28. Enjoy the beautiful views, parks and activities. There is a synagogue on-site and meals are kosher Mehadrin.
Yaya Tours Jewish heritage tour of Puglia and Basilicata, August 21-28, 2023: Glatt kosher guided tour - explore picturesque towns, taste delicious kosher cuisine and create lasting memories.
Kosher Holidays at Hotel Kosher Garda on Lake Garda: Kosher hotel has kosher restaurant, small kosher shop and shul. The hotel is ideally located for day trips to parks, attractions and nearby cities.
Norway
Etzion Travel
is offering 8-day tours to Norway throughout July and August 2023. A tour of Norway takes you to the Norwegian fjords, glaciers, mountains and stunning views. All-inclusive kosher tour includes kosher food, synagogue and experienced tour guides.
Austria
The Sport Hotel is a state-of-the-art modern hotel with a shul, sauna, mikveh and more. Tour Olam is offering a kosher program at the Sport Hotel in Salzburg Land, close to many tourist sights and activities that the whole family can enjoy.
The Sporthotel Chalets Gaschurn in the Austrian Alps with K Vacations. Enjoy the ultimate summer experience with luxury suites, spa, gourmet Glatt kosher food, fun activities and attractions for the entire family.
Galapagos Islands
- Ecuador
Lebor Tours cruise of the Galapagos Islands - July 9-18, 2023. Enjoy the rich history and culture in Quito with its well-preserved historic center and plenty of activities like kayaking, snorkeling and more. Relax in luxurious hotels before and after your cruise.

Peru
Glatt Kosher Vacations one-of-a-kind program in Peru - July 6-12 or August 3-9, 2023. Tour starts in Lima and includes a full day excursion to Machu Picchu. Package includes three kosher meals prepared fresh daily, English-speaking tour guide, hotel and entrance fees to the attractions.
Cruise ship (Photo: Envato)
Kosher Cruises
Kosher cruises make for an ideal summer vacation. It's a great way to explore different cities without having to worry about finding synagogues, kosher food and accommodations between destinations. Plus, these all-inclusive vacations offer options when it comes to cabins that fit your budget. Meals are always included and some ships provide onboard bars and restaurants. You'll get the chance to take fantastic day trips depending on your chosen cruise, while still taking advantage of the ship's amenities like pools, water slides, basketball courts and casinos — some even have kids clubs, lectures and evening entertainment. Popular kosher cruises include Norwegian Fjords, Mediterranean Cruise, Greek Islands, Jewish heritage river cruise on the Danube, Aegean Sea and Alaska — for more info check out
TJT's Guide to Kosher Cruises
!
Kosher Villa Rentals
If you don't like crowds and you want a quiet vacation then a luxury vacation rental might be the answer. Companies such as Kosher Casas and ANI Private Resorts offer luxury vacation rentals in Costa Rica, Sri Lanka, Thailand, Dominican Republic and Anguilla. These are not your typical vacation rentals. We're talking about beautiful villas, private pools, full time concierge, fully equipped kosher kitchen, kosher chef and maid service. This is a great option for kosher travelers if it fits your budget.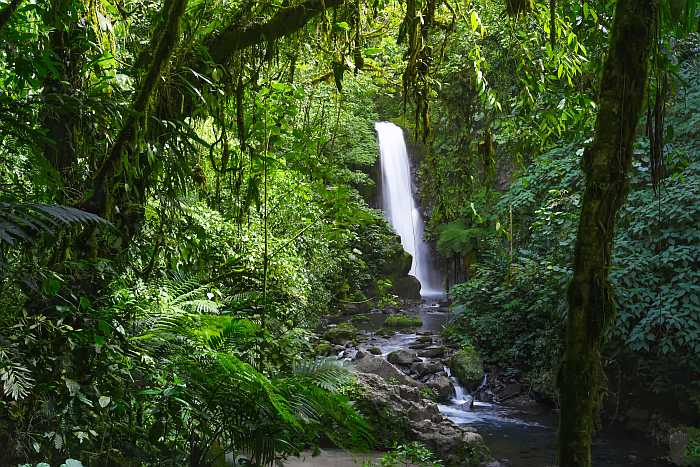 Waterfall in La Paz Gardens Nature Park in Costa Rica (Photo: Shutterstock)
Villas Raphaël
luxury kosher villa rentals on the
French Riviera
. Each villa has a pool, beautiful views and can accommodate up to 16 guests. There is an option to do your own cooking and cleaning or choose to have daily cleaning, private chef, concierge service and nanny service.
Kosher Casas in Costa Rica
offers luxury kosher villas. You can spend your day relaxing at the villa and enjoying your private pool or head out on an excursion. There are beautiful beaches to visit and many options for water sports, such as kayaking, surfing and water rappelling. Visit the rainforest, hot springs and national parts, take a wildlife tour or go river rafting. Costa Rica is a very popular vacation destination with great weather and many exciting adventures.
ANI Private Resorts
offers luxury kosher vacation packages in a number of popular destinations. Enjoy the white sand beaches, paddleboarding, snorkeling, hikes and tours in
Anguilla
. The
Dominican Republic
has stunning beaches, excellent surfing, kayaking, golf course and more. Sri Lanka promises to be an exotic vacation featuring whale watching, surfing, visits to the animal reserves and other cultural activities. Explore the island of Koh Yao Noi in
Thailand
. Don't miss the breathtaking views, tours and water sports.
"
Kasher Me Now"
will come to you wherever you are. You can choose any destination for your vacation and rent a house or villa. They will kasher the kitchen in your rental and provide concierge services and a private chef. They can also help you choose a vacation destination and find a rental.
Conclusion
With the many options available for a kosher summer vacation, it's easier than ever to pack your bags and head off to explore the world. From organized kosher tours and kosher cruises to kosher hotels, there are plenty of opportunities to find what fits your style. For those looking for a kosher restaurant while on vacation, check out TJT's directory of kosher restaurants nearby. Those wanting to connect with their roots can take advantage of a Jewish heritage cruise on the Danube or go on an adventure in South Africa, Brazil, Iceland or Morocco. Whether you're looking for relaxation at a beach or something more exotic, there's something perfect just waiting for you.
Planning your
kosher summer vacation
has never been easier. With so many choices, you are sure to find a summer vacation that suits your family's style and budget. Whatever you choose, have a great summer and enjoy your kosher summer vacation!
Published: March 28, 2023