Kosher Resorts for a Perfect Summer Vacation 2017
Kosher Summer Vacation at the Leading Resorts in Europe: Switzerland, Italy, Austria and Portugal with Tour Plus

Glatt LeMehadrin kosher hotels & Resorts for summer vacation, a culinary celebration, wide range of excursions for the entire family

Kosher Resorts for a Perfect Summer Vacation 2017
1 from 41
Contact information
Tour-Plus
6 Efal st. Kiryat Arye,
Petach Tikva
Israel
Direct contact to the advertiser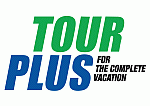 Wide Selection of Kosher Hotels & Resorts at the leading vacation spots in Europe for kosher summer vacation: Switzerland, Italy, Austria and Portugal with Tour Plus

Summer Vecation in Switzerland
05.06-05.09.2017

This summer "Tour Plus" & "Club Med" are taking you to Villars-sur-Ollon!
"Tour Plus" is proud to offer you a refreshing family vacation 1,250 meters above sea, in the Swiss mountains, with exceptional hospitality by the "Palace" hotel, which will make you all feel like Kings!

Green landscapes, Snowy white mountains, events and attractions for the entire family!

In Villar you can take a walk in the marked trails, go out shopping in the luxury brand stores avenue and enjoy the spectacular sunsets on the white snow, which turn red, just for a few moments..

What else can you ask for an unforgettable family vacation??

"Palace" hotel, which retained its original charm with elegant style wrapped in incredible luxury, has wonderful attractions nearby, for all ages: Extreme Water Park, ski slopes for beginners and advanced as well, summer slides, bicycles, scooters, Jeeps, Buggy cars and even parachutes, hiking in the snow and a magical train ride!
During the summer months (July-August) – there is a hot-air balloons festival!

Not far away from the hotel there is a train that leads to Milan, Geneva, Paris, and more.. So you can enjoy even Lake Maggiore and Isola Bella in Milan, or stroll among shops, fountains and the UN institutions in Geneva. A short drive will get you easily to the Mont Blanc or to the ice cave in France.

40-minute drive will also take you to the towns that will capture your heart –
"Gstaad" - Typical Swiss town with wooden houses decorated with flowers and a charming pedestrian street.
"Gruyère" - which has a (non-kosher) cheese dairy, numerous hiking and for the thinking games lovers – a castle with a labyrinth.
In the hotel you will find a synagogue, a spacious lobby, a dining room with a magnificent snow-capped mountains view. A fine kosher culinary experience, like you can find only at "Tour Plus".

The hotel also offers a children's club with a variety of activities. There is also a gym, spa with a wide range of health and beauty treatments, and of course a swimming pool.

Hospitality
Our glorious tradition at "Tour Plus" continues to give you a half-board accommodation, excursions, sandwiches, hot drinks and refreshments throughout the entire day.
On Shabbat, full board will be provided with a beautiful Kiddush.

Kashrut
Glatt le Mehadrin under the supervision of Rabbi Leibush Pinchas Padwa, Amsterdam.

Vacation dates
From 05.06 – 05.09.2017 (י"א סיון – י"ד אלול תשע"ז) we are in Villar.
We offer a kosher vacation, and most importantly, you can choose when & what to order!
The flights we are offering leave from Ben-Gurion airport to Geneva, Switzerland.

You choose when & what to order
Villar package includes flights, hotel accommodation and guided tours.
For your convenience you can order from us each service separately.
Experience the magic of Villar with us and enjoy an unforgettable kosher vacation!

We will be happy to see you among our guests!
"Tour Plus" - Get used to get more!



Austria
28.06.17-31.08.17


Kosher Hotel and Tours in Austria for the Jewish Traveler
Jun. 28th-Aug. 31st, 2017
Salzburg, Lake District
The cord of Salzburg- the lake district extends from the city of Salzburg to the mountains and is known as the most beautiful cord at the heart of the Austrian alps known as the "Little Heaven". The valley of Salzburg is decorated with a mosaic designed of 76 lakes with blue waters and green valleys surrounded by limestone mountains embedded in a variety of small, picturesque towns with very short distances from one to another.
The town of Kaprun
The town of Kaprun is located at the foot of Kitzsteinhorn glacier in the heart of Salzburg lake district. A pastoral town characterized with interesting houses and a variety of attractions and entertainments for the entire family - the Castle of Kaprun from the 12th century which is being used now as a museum of art, dams with huge water reservoirs, powerful waters and walking in the little wood bridges over waterfalls. The Kitzsteinhorn glacier, beautiful lookouts on the glacier and the Grossglockner. The museum of the international park, mountain slides, petting zoo for toddlers, carting and biking routes, the national park of research for predator birds, etc.
Victoria Hotel **** Kaprun
Located in the lively town of Kaprun in the heart of the Salzburg lakes, in the valley of Zell Am See, considered as the most beautiful in the Austrian Alps. A 4 star hotel decorated in a modern and elegant style with a touch of an Austrian traditional country style. A hotel with a warm and cozy atmosphere which offers a unique and relaxing holiday for a perfect summer experience. Nearby the hotel there is a waterfall Sigmund Thun with a beautiful gorge. A short drive away from the hotel, the Kitzsteinhorn glacier is located.
At the hotel, you will enjoy generous "Israeli" portions of delicious food in a European setting.
5 * deluxe culinary experience
According to the wonderful Tour-Plus tradition, your accommodation includes: half – board, sandwiches, coffee & cake and a hot drinks bar all day long. Full board on Shabbat.
Kashrut: Glatt LeMehadrin Kedassia London.
Booking options vacation package include: hotel reservations, flights, transfers and guided tours or flights/ hotel only.

Attractions
The cord of Salzburg offers a wide range of activities for the entire family and for all ages: sports activities, biking and walking routes, tennis courts and golf courses , horseback riding, water sports, water ski, sailing, parasailing, fishing, playgrounds, ropes park, steam trains, walking and climbing tours, rafting, paddling, mountain slides, Segway, salt mine tours, paragliding, balloon hovering to view all the tree tops and the lakes and mountains around, etc.
The town is a wonderful starting point for fascinating excursions

Krimml Waterfalls- the highest and the most beautiful waterfalls in Europe which attract over the year thousands of tourists. You can hike on foot the entire track with waterfalls and spectacular lookouts.

Grossglockner Mountain Pass- the main attraction in the Carinthia region. The biggest and most impressive mountain pass in Austria with a breathtaking nature trail, mountain views, glaciers and valleys and museums of history and nature.

Kitzsteinhorn glacier- "The White Glacier"- 3,203 m which is a ski resort also in the summer. The main attraction for children is the ice arena where you can slide on scooters and other skiing accessories.

Sigmund Thun Klamm- a beauty of nature canyon in the town of Kaprun, located not far from the hotel.

Hallstatt - a small town well preserved and looks as if taken from a postcard. There is a spectacular observation point over the town and its surroundings and the beautiful salt mines.

Salzburg - the capital of the Salzburg cord which attracts thousands of tourists every year and is called one of the most beautiful towns in Austria. A picturesque and charming city located in the mountain shadows and near to the Salzach river. It is known as the city of birth of the known composer Mozart and for its old city buildings Baroque style, spacious carriages, palaces and gardens that create an urban harmony. Amongst the famous sites of Salzburg- Heilbronn Palace built 400 years ago with beautiful gardens and fountains, the salt castle that presides over the city, Mirabell gardens that are famous because of the movie "The Sound Of Music" etc.

Kaprun Dams- 2 beautiful dams with a big reservoir which provide electricity to Salzburg and its surroundings. The site is known as "The World of Ice and Electricity" of Austria. There is a possibility to walk on foot around the dams which stores more then 160 million cubic meters of snow melted waters.

Zell Am See - A picturesque town offering a variety of lively activities and attractions and a relaxing cruise on the lake.



Northern Italy
02.07.17-31.08.17


Kosher hotel in Northern Italy- San Martino Di Castrozza
Jul. 2nd - Jul. 31st 2017
A lively town in the heart of the spectacular Dolomites. The town has long been a tourist attraction throughout all seasons of the year. The rocky pinnacles of the Pale di San Martino tower over this small Alpine capital, while thick woods and large meadows give the town its distinctive mountain feel.

It is an ideal destination for the whole family but also for those seeking a dynamic holiday with sports and fun. San Martino di Castrozza is set in a breathtaking landscape, surrounded by spectacular dolomitic peaks such as Cimon della Pala, Vezzana, Rosetta and Sass Maor.
During the summer the town offers a wide variety of activities for the entire family including: hiking in the breathtaking nature, cycling, mountaineering, etc.

The town San Martino Di Castrozza is a great starting point for trips including: The city of Verona- a splendid city of art, surrounded by the traces of its ancient history. Val Di Fassa, the cities Ortisei & Canazei. The picturesque island of Sirmione on Lake Garda- one of northern Italy's most popular tourist destinations. The towns of Peschiera & Riva del Garda and the amusement park Garda Land. The town of Limona- the only tourist resort located on the northwestern side of lake Garda. The mountain Monte Baldo, the dolomites and Marmolada- the highest range in the Dolomites, mountains that are unrivalled the world over and have been declared a UNESCO World Heritage Site that must be protected and safeguarded. The town Malga Ciapela, the town Sottoguda and Lago Di Alleghe. The towns Bassano del Grappa- famous for its covered bridge, Padova and Vicenza- an elegant town in the Veneto region, between Venice and Verona. The beautiful city of Venice- one of the most elegant, inimitable, exciting and romantic precious, the gem on any tour of Italy. The island of Tronchetto and the island of glass Morano.

Booking Options Vacation packages include: hotel reservations, flights, transfers and guided tours or flights/kosher hotel only.

Glatt LeMehadrin kosher hotel in Northen Italy - Hotel Savoia 4**** deluxe


Hotel Savoia is located in the town of San Martino, harmoniously set in the natural surroundings of the Paneveggio Natural Park. The Suites and rooms are spacious and comfortable, with balconies. The structure, completely renovated and extended, is among the top luxury hotels in Trentino and is the perfect destination for a relaxing summer vacation in Trentino in great comfort. The Savoia Hotel offers unbeatable services and facilities, from the spacious common areas to the large terrace, from the solarium to the children's playroom and last but not least the wellness centre. For your holidays in San Martino di Castrozza, the Savoia offers the quality of an avantgarde wellness hotel in Trentino, be awarded the four star superior. The refined and tastefully furnished rooms offer the facilities of the most modern wellness hotels in Trentino.
Around the hotel there are streams of water of the melting snow straight from the peaks of the Dolomites surrounding the hotel. The hotel is decorated in an elegant Italian style with a calm and peaceful European atmosphere. From the hotel, there are hiking paths alongside beautiful water streams.

Hospitality, elegance and top quality service are the winning ingredients for a wellness summer vacation with Tour-Plus.

The hotel offers:
Nice and spacious rooms, elegant dining room and beautiful lobby. A wellness center which includes a Finnish sauna, Turkish Hamam and Japanese bath. Kids club, a huge balcony and a synagogue.

Accommodations
According to the wonderful Tour-Plus tradition, your stay at the hotel includes: halfboard, sandwiches, coffee & cake and a hot drinks bar all day long. Full board on Shabbat with splendid Kiddush, coffee & cake.

Kashrut: Glatt LeMehadrin, Under the supervision of Rabbi Pinchas Leibush Padwa


Portugal
02.07.17-31.08.17

Serra de Lousã Park

Tour Plus offers a new summer destination! This is the first year we offer a relaxing vacation in the magical Serra de Lousã park in Portugal.
The park is a nature reserve, located in the Central Islands area, an area renowned for its wild and dramatic landscapes – get ready for a real adventure!Magnificent lakes and mesmerizing landscapes, from the depths of crystalline waters attracting dolphins and whales, to the peaks of the highest volcanoes – the archipelago attracts people from all over the world.
Around the hotel, wild animals roam freely in the park, horse-riding activities take place and an array of attractions is available for the young ones.

About the Hotel
Park de Lousã Hotel
The hotel is in the Central Islands area, an area renowned for its wild and dramatic landscapes – get ready for a real adventure!Magnificent lakes and mesmerizing landscapes, from the depths of crystalline waters attracting dolphins and whales, to the peaks of the highest volcanoes – the archipelago attracts people from all over the world.

To those who dream about a quiet vacation, relaxing to the sound of chirping birds, we promise a unique experience.
This cozy and comfortable hotel has 40 rooms of different types. Among them, there are suites with inter-connecting doors, suitable for families, and specially adapted rooms for the differently-abled.



In the hotel:
Synagogue
Spacious lobby
Luxurious dining hall, with the best Kosher culinary experience only Tour Plus can offer
Conference room
Study and reading room
Indoor swimming pool
Sauna
Jacuzzi
Spa with a variety of health treatments, a Turkish Bath
Gym
Tennis and Squash courts
Public parks for family leisure time

Kashrut: Glatt LeMehadrin, Under the supervision of Rabbi Pinchas Leibush Padwa


Culinary Celebration


A Culinary Celebration
Recipe for success!
As every year, Tour-Plus offers top quality gourmet cuisine with generous "Israeli" size
portions in a European atmosphere.
A true culinary celebration with a staff of worldclasschefs, cooks, and bakery specialists, will
allow you to savor the special tastes of a rich menu fit for a king throughout your stay, with
special emphasis on maintaining the highest standards of Kashrut, and uncompromising
levels of excellence and service.

With Tour-Plus, every meal becomes a pleasurable event. Rich, attractive smorgasbords offering a wide range of dishes, buffets of delicious foods and stylishly created deserts. Viennese bars with fruits, pastries and many other delicacies.

In the morning, the smell of freshly baked bread, cakes and the Belgian waffles that have become a hallmark of Tour-Plus, will greet you from the moment you step out of the elevator on your way to enjoy an aesthetically served, typically
European meal. A delightful way to begin a day. A wide selection of fresh vegetables, cheeses and spreads, a generous salad-bar, cereals, warm dishes, and more. Guests are invited to prepare sandwiches from the morning's offerings.
The culinary celebration continues at dinner, with huge buffets offering a variety of outstanding meat and fish entrees, soups, side dishes and more. When you have free time, you are invited to stop by the hospitality corner of the hotel,
where you can enjoy complimentary tea, coffee, and baked goods and other treats throughout the day.

On Shabbat Kodesh, you will enjoy a resplendent Kiddush and royal Shabbat feast aesthetically served, pleasing to the eye and the appetite, with the best dishes of the traditional Jewish kitchen in a genuinely Jewish atmosphere.

Kashrut: Glatt LeMehadrin, Under the supervision of Rabbi Pinchas Leibush Padwa

ATTRACTIONS
A visit to the north of the country is like traveling back in time. The north is a legendary source for stories and tales, with many antique and beautifully preserved castles that survived since the Middle-Ages and give out a fairy-tale atmosphere, while we travel back in time into the historical past.

In the green pastures of the north, some of the best wines in Portugal are produced, and each village specifies in its unique gastronomical cuisine.

Central Portugal is an area with contrasting beauties; mountain peaks that almost touch the sky and a coastline dotted with marvelous cities and villages.

The city of Coimbra, at the heart of Portugal, has served as the capital of Portugal during the Middle-Ages. However, the city earned its fame for being the place where Europe's first university was founded in the year 1290. The university exists until this day, and boasts one of the most splendid and extensive libraries in Europe.

In our excursions to Central Portugal, you will discover amazing wine routes, lush pine-tree forests and wonderful beaches.

Many songs have been written about Lisbon, the capital of Portugal and many works of art depict its light and beauty. Ancient quarters, pretty squares and viewpoints, a long promenade along the river, restaurants, bustling markets and unique boutiques – you will not want to miss a thing!

Lisbon's Parque das Nações(Nations' Park) is much more than any park – it is an enormous compound on the riverbank, featuring a long promenade, recreational activities, shopping centers, lawns, a cable car and more. Children will surely enjoy a visit in the Oceanarium – one of the major family attractions in Lisbon.

the Jewry of Portugal
Many Jews live in modern Portugal, but only a few live their lives as practicing Jews. The great Jewish community that existed in the past was devastated during the Expulsion and most Portuguese Jews today live under its shade.
For decades and centuries, there was no Jewish presence in the country. The first Jews returned to Portugal only at the turn of the 19th century, arriving mainly from Morocco, looking for a better life. Nowadays, only 700 Jews live in Portugal, most of them in the capital. It is estimated that many more Portuguese have Jewish origins ("Anusim"), following the forced conversion of most Portuguese Jewry at the end of the 15th century.

The bigger Jewish community is concentrated in the capital, Lisbon. There are also two synagogues; one for Ashkenazi Jews and another for Sephardic Jews. A smaller Jewish community exists in the city of Porto, site of the Kadoorie synagogue.

A visit to Portugal is like traveling back in time, while experiencing stories and adventures with all our senses; old memories and preserved ancient sites will give us the feeling of another world and time.
The is an old Portuguese saying: "Half a word is more than enough for those who understand" – therefore, we'll say no more…

VACATION DATES
02/07-31/08/2017
An option to order customized packages, including: hotel hospitality, flights, transfers and guided tours, or; hotel hospitality only, flights, etc.…

Direct flights from Israel


Credit for Austria Images: © Zell am See-Kaprun Tourismus - http://zellamsee-kaprun.com