Tour Plus – Luxury Kosher Cruises 2017
Choose from a selection of amazing itineraries for this summer
Tour Plus – Luxury Kosher Cruises 2017
1 from 39
Contact information
Tour-Plus
Bar Kochva St.40,
Petach Tikva
Israel
Direct contact to the advertiser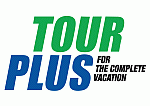 KOSHER CRUISES - IN A CLASS OF THEIR OWN
Tour Plus is glad to announce that it has teamed up with world leading kosher cruise expert Tuvia Fish to provide you with the highest standard of luxury kosher cruise experience possible.
Together with Tuvia, Tour Plus will apply its decades of experience in operating the largest number of exclusive kosher programs in Israel and abroad - year round for clientele across Traveler boutique kosher cruises of the highest and most luxurious standard at the most reasonable prices, with new and incredible itineraries and gourmet Glatt kosher cuisine all under strict kashrut supervision.
THIS SUMMER 2017
Aug 6: MSC SPLENDIDA
Italy, Spain & France – Western Med; with more & better destinations

Aug 13: MSC FANTASIA
Baltics
Aug 20: MSC MUSICA
Italy, Greece & the Isles; a unique itinerary
FOR MORE INFORMATION - ITINERARY, PRICING, CABINS, SEE OUR WEB SITE:

en.tourplus.co.il
THE TOUR PLUS TOUCH

At your leisure and choice
, find a quiet corner, gorgeous Mediterranean view and simply relax with a book, or head off to enjoy the myriad of facilities and programming that the luxury ship has to offer around the clock, while always enjoying the choice of availing yourself of the rich program available to you from Tour Plus.
Each day brings another experience and another opportunity to enjoy yourself in whichever way you choose.
AND STILL MORE – SHORE EXCURSIONS SPECIALLY DESIGNED FOR YOU
In addition to our full onboard program, we offer you the opportunity to explore the sites and highlights of the places we visit with shore excursions specially tailored to your interests and including Jewish interests wherever relevant.
SHIP ENTERTAINMENT AND FACILITIES:
The new class of MSC vessels have been lavishly designed to take their place amongst the largest and most stylish European Vessels. Depending on the specific vessel, facilities include:
Miniature Bowling lanes
Aqua Park with indoor and outdoor pool and fountains
Multiple Pools and jaccuzzis
Many bars and lounges featuring various flavors of live entertainment and themes
Huge Theatre with spectacular shows
Massive and lavish spa offering a wide range of massages and other wellness and beauty treatments.
Impressive gym, Solarium
Basketball and tennis facilities.
WII game consoles,
3D & 4D-cinema and a Formula1-simulator.
Casino
Incredible service in the fun and welcoming atmosphere that is particularly Italian